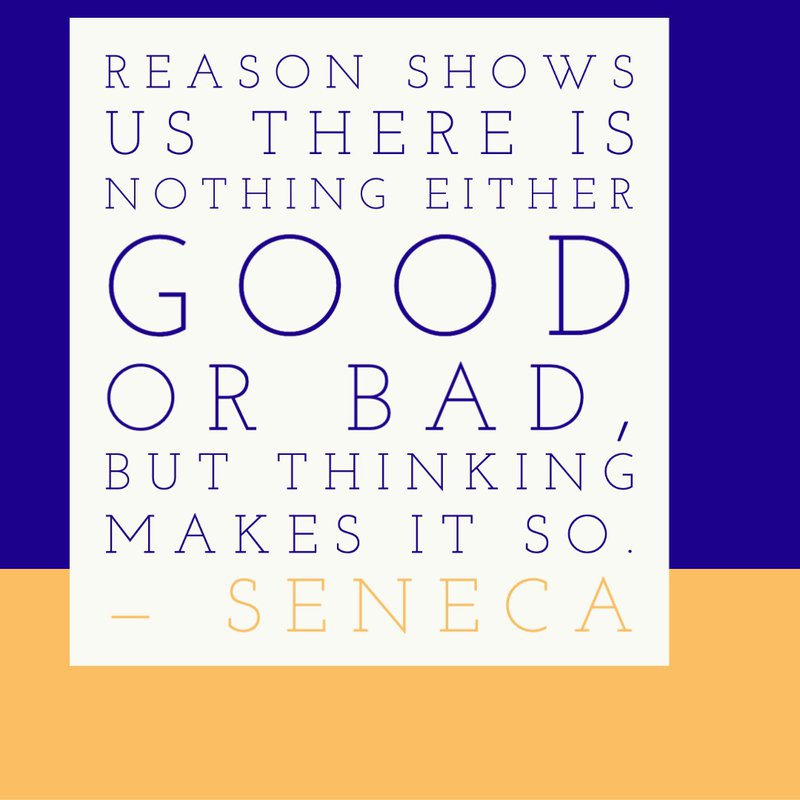 I want you to take a moment and think about the biggest regret in your past. Is there some choice you made that you still kick yourself for? Were there circumstances, such as physical or emotional abuse, that you had no control over? Maybe there was something that you did, or didn't do, that you still regret? Maybe there was the "one that got away" or you chose this job over that job. Every one of us has regrets about the past.
Today I want to talk about how holding onto the past is something that spoils your present and poisons your future.
"All this hurrying from place to place won't bring you any relief, for you're travelling in the company of your own emotions, followed by your troubles all the way"

– Seneca
One of the core tenants of Stoicism is to be aware of, and to focus on what we can control and let go of those we can't. One area that we don't have control over is what happened in the past. It is not something that can we can change, yet it is one of the hardest things for us to let go of. Regrets are a prison of our own making, but we are the ones that hold the key to our escape. Learning how to untangle ourselves from past can bring us so peace and freedom to move more lightly in the present.
"Regrets are a prison of our own making, but we are the ones that hold the key to our escape."
Why do we hold on to the past?
So much of our identity is wrapped up in the memories of things that happened to us and things we did or didn't do. Experiences shape how we think the world works and our behavior in all kinds of situations. Our perspective on the past informs us of who we think we are.
As a thought experiment, what would happen if you woke up with no memory of the past? How would you know who you are? Would it change who you are as a person? How would you know what you like, dislike, feared or consider as important? Do you like peanut butter and hate whiskey? Do you appreciate rainy days or do you find them intolerable? If you had no memories of the past, you wouldn't know what you think about so many things. It is our memories, and the importance that we give them, which inform how we feel about things in the present, and how we decide what we think is important.
Another difficult part of letting go of the past is that because our minds are prediction making machines, we get stuck in the trap of "if only" thinking. We think about how much better our life would be if only we had made a different choice, or if only we had been born into different circumstances. We play back all kinds of alternate scenarios of how we think things should have been. But this kind of thinking hold us hostage to the past, to something that cannot change.
Since you can't change the past, how to you let go of the past? How to stop painful memories from holding power over your daily life? How do you let yourself out of the prison of your own mind? Since you can't change your past, the only thing you can change is how you think about it. Your perspective on what those memories is what gives them a positive or negative meaning. By changing your perspective, you change what those memories mean. This is called reframing.
How do we reframe the past?
"Reason shows us there is nothing either good or bad, but thinking makes it so."

— Seneca
By changing the story that we tell ourselves about the past, we can change what it means to us. For example, I grew up in a very chaotic environment. My father was often violent and angry, and there was a lot of fear in our home. Now I could focus on how terrible it was, but what good does that do me? If I spend my time thinking about how awful it was and how I was so afraid of my father, I keep myself in a place of unhappiness. I create my own prison from the memories of something that I cannot change.
But what if I decide to change my perspective? What I focused on how my father was smart, curious, and funny? How he used to make us laugh so hard that we'd be doubled over on the floor? Or how he would talk about fascinating ideas that he had just read about the cosmos, or chaos theory? What if I look at my father with compassion and empathy, and decide that it's a lesson for me in learning how to forgive others, and how to be loving towards people who have hurt me? By changing what the past means, I can can use those experiences as lessons. I can decide to focus on the good things and reframe the bad things as lessons I can learn from. Holding onto the past and allowing it to impact me negatively, doesn't change what happened, and it the person it harms the most is myself.
Amor Fati
Now some people may disagree with handling things this way. They may think that doing so minimizes what happened or that we're denying what happened. This is not the case. The Stoic idea of amor fati, "to love your fate", means that we need to embrace our past. Because we cannot change the past, the more we resist accepting and acknowledging our past, the more power we give it over our lives. When we acknowledge and accept what happened, we also get to decide what we make it mean. We can make dark memories feel awful, or we can look at them as things that we survived, and how we got through them.
Also, remember that everything that happened to you in the past made you who you are today. Every choice you made, every experience you had was something that you can learn from if you're willing to look for the lesson. By reframing it, you can look at it as an experience that you survived, and figured out how to get through. Because of the choices you made, you became the person you are today.
One of my favorite examples of where I had a sudden shift in perspective that changed a whole experience, was when I watched The Sixth Sense. If you haven't seen that movie, this is your spoiler alert. In the movie, Bruce Willis plays a psychiatrist who is trying to help a young boy who is struggling with the fact that he sees dead people. When Bruce Willis' character finally makes the realization that he is actually one of those dead people, it completely changes the meaning behind almost every moment in the movie. When you watch the movie a second time through with this knowledge, it's like watching a completely different movie. Just that slight change in perspective changes the whole meaning of the movie.
Life is challenging. None of us are going to have a perfectly carefree life without pain or struggle. If we let every less than perfect moment in our life sour our memories, then we can lock ourselves in a prison of perpetual unhappiness. You are the one that holds the key to that prison. That key is all in your perspective and the stories you tell yourself.
—
Hello friends! Thank you for listening. If you like what you hear, head on over to patreon.com/stoicoffee and help support this podcast by becoming a patron. Also stop by the website at www.stoic.coffee where you can sign up for our newsletter, and buy some great looking shirts and hoodies at the Stoic Coffee Shop. Also, if you know of someone that would benefit from or appreciate this podcast, please share it. Word of mouth is the best way to help this podcast grow. Thanks again for listening.