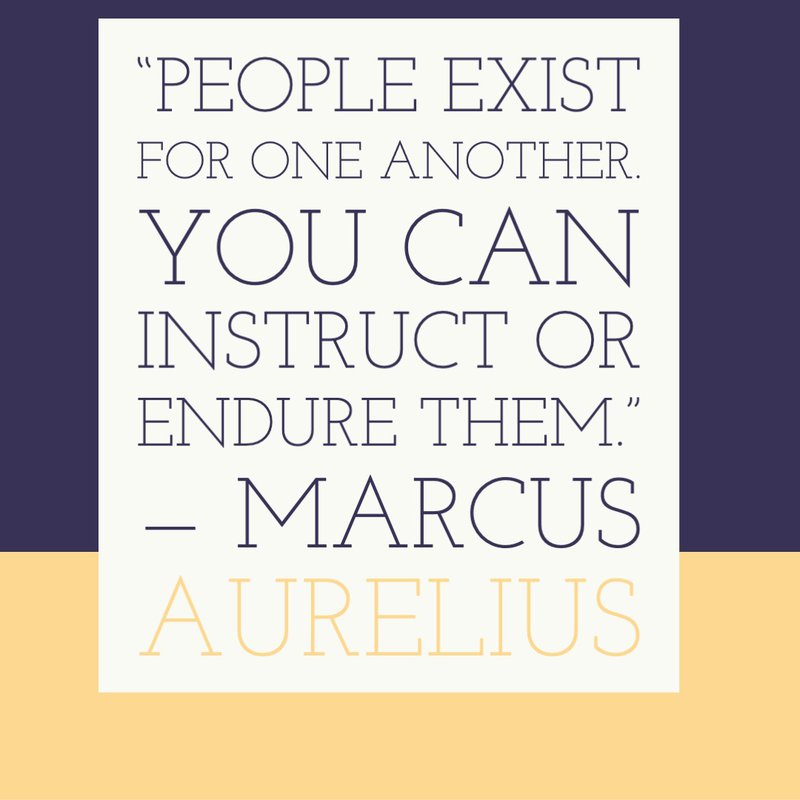 Be awesome and become a patron!

Transcript:
Hello Friends. My name is Erick Cloward and welcome to the Stoic Coffee Break. The Stoic Coffee Break is a weekly podcast where I take an aspect of stoicism and do my best to break it down into its smaller parts and see how we can apply it in our daily lives. I try to share my experiences, both my successes and my mistakes that hopefully you can learn from them and all within the time of a Coffee break. Today's episode is called: Neediness.
Marcus Aurelius said:
"People exist for one another, you can instruct or endure them".
Earlier this week I went to a movie theater. Now I know we're in the middle of a pandemic so that seems like something odd that I would do because I follow science. I wear my mask and I've already got my second dose of the vaccine. But in this case it was a socially distance night at the movie theater. Friend of ours had rented out the theater so we could watch an old seventies kung fu movie and it was really a great time. It was a very small group of us in this whole giant theater, but it was really great to be able to spend time talking to some friends and having that kind of social interaction. And one of the things that I recognized, because I woke up the next morning feeling really happy and rejuvenated, was that one of the things that I need in my life is connecting with other people and being social. I'm an extrovert. So it's not a big surprise, but I didn't realize how much I missed it until the pandemic came along and made it so much more difficult to do those kind of things and to spend time with my friends.
So today I want to take a look at needs that we have and look at neediness through the lens of stoicism and how we can keep to our ideals, and understand how neediness is something that shouldn't be looked down upon, frowned upon, but something needs to be understood. So I know that neediness in our society is something that's always looked down upon and something to be avoided. And I think this is for a couple of reasons. I think one of them is because if you need something that makes you feel vulnerable, and if you tell somebody about some kind of need that you have, then that puts them in a position to have power over you.
I also think that a lot of this idea comes from the rugged individual society ideas that permeate our society, that we have to somehow make it on our own, that we have to be independent, that we have to forge our own path. And that said, and I think this has done a lot of disservice to us because in doing so, it also has helped reinforce a lot of these gender stereotypes that men have to be strong and unemotional and that if we're emotional then we're weak. So men are not able to ask for the things that they need because asking for anything that has to do with emotions is considered weak and that's very, very frowned upon.
But on the flip side, women are supposed to be emotionally supportive for everyone else around them and to put their own needs on the back burner. And in this case we all get the short shrift, and I think this is something that's been very damaging to our society. I think what we need to do is kind of re evaluate when we're feeling needy about something not as a weakness, but as a signal that something is not being fulfilled in our lives.
Epictetus said:
"First, say to yourself what you would be and then do what you have to do".
For me this is one of the simplest and clearest ways to define what self improvement is. It's saying: decide the kind of person that you want to be and then do the things to become that person. But I think before you can decide who you want to be, you also need to understand who you are, and understanding your needs is part of understanding who you are.
And the thing is is that we all have needs and we need to be okay with the fact that we have needs and to accept that we're all vulnerable in plenty of ways and that's okay. I mean we're born needy and when we have Children, we don't go, "oh my gosh, this kid needs food", you know, we don't tell them to buck up and to figure it out and go find their own food. No, we take care of them, we help them by satisfying those needs that they have.
I think that in stoicism we need to be careful because oftentimes we can fall into that trap of self denial. We think that because we can go without, then we should go without. And I don't think this is really a good way to look at things. Yes, in stoicism, part of it is understanding what we can and can't control, and in this case by identifying the things that we need, we can take actions and steps to take care of the things that we can control and then ask others to help us for the things that we can't.
Now, in saying all of this, understanding and accepting that you're needy, because we all are, does not make it so that your needs are somebody else's problems. It is not an excuse to be selfish. What this is is that clarifying the things that you need and asking for help to get the things that you need and doing your part in fulfilling those needs as well.
Now, what kind of needs am I talking about? Well, they could be almost anything. Me for example, needing other people. There are there are things that we do need from other people. For myself, I need friendship and acceptance. I need that affection that I get from being with my friends.
We may have physical needs that we need to take care of, such as where we decide to live. I live up here in the Pacific Northwest and I love it. This is a fantastic place. And this is some place where I decided that I didn't need the cold of Minnesota, didn't need the cold and the strangeness of Utah, but what I did need was to live in a place that was pretty open minded and where the weather was fairly comfortable.
We can also look at our career. What is it that you need in a job for happiness? For example, in any work that I do, I need to be creative, I need to be building or making something because that's how my brain works. If I have a task that is just strictly too repetitive, it gets really, really boring for me and I find that it's not a good space for me to be in. What I need is to do very creative work, but I also need to have a lot of structure as well. I need to know what it is that I'm trying to get done and have the support, be able to get done. The things that I need to. So, working in a chaotic environment sometimes can be exceptionally draining for me.
We can also decide what we need in relationships. What kind of things do we need emotionally? What kind of affection do we need from our partners? Are we begin to public displays of affection? Do we need lots of physical touch or do any lots of emotional reassurance?
Understanding these things and being able to not look at them as weaknesses, but as things that help us thrive, gives us the tools and gives us the insight to be able to see that, recognize what we need and then ask for help, getting those needs fulfilled. And the thing is is they're probably going to be plenty of people who won't be willing to help you fulfill some of those needs. And that's okay. That tells you that there's somebody who's not going to be able to help you get those needs met. And that's not a bad thing. In fact, if they can be very clear about that, that's actually a good thing, because you won't be wasting your time trying to get them to give you something they don't want to give you.
Learning how to communicate those needs and express them clearly is something that can be very helpful in almost any relationship, so when it comes to identifying your needs, there's a couple of things you want to keep in mind. Be easy on yourself. You shouldn't feel ashamed for the things that you need, and wanting the things that you want. You can define what you need by just being honest with yourself. And if you have someone that you can trust, you can also ask them and you can say, "Hey, what areas do I seem to be a little bit needy in?", and look at that as just a signal. It's a flag to let you know where something is kind of missing in your life.
I do think it's important that you take the time to examine your needs and decide if, if this is a need that is helpful for you. Is it something that helps you to grow into the person that you want to be? Or is this something that's detrimental to you? Just because you want it or feel like you need, doesn't necessarily mean it's good for you.
And then once you have those things sorted out, you can ask others around you to help you get those needs fulfilled. Now when we're doing all of this, be very careful that you don't take on other needs unless it's something that you truly want to. I know there's some people who get a lot of their needs fulfilled by serving other people and that's okay. If that's something that recharges your batteries, then do that thing!
Every single person on this planet has needs and the sooner that we can be honest about what we need, the sooner we can work on getting those needs met in healthy ways. And that's the end of the Stoic Coffee Break.
Be good to yourselves, be good to others, and thanks for listening.
—
Hello friends! Thank you for listening. If you like what you hear, head on over to patreon.com/stoicoffee and help support this podcast by becoming a patron. Also stop by the website at www.stoic.coffee where you can sign up for our newsletter, and buy some great looking shirts and hoodies at the Stoic Coffee Shop. Also, if you know of someone that would benefit from or appreciate this podcast, please share it. Word of mouth is the best way to help this podcast grow. Thanks again for listening.