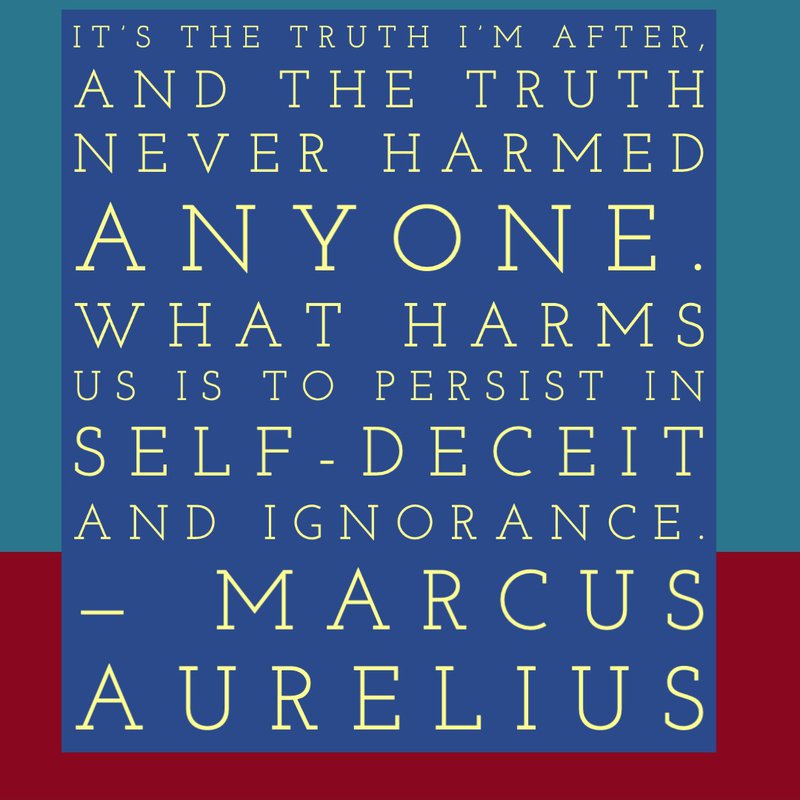 I want you to imagine something that you excel at. Something that you a pretty confident about. Maybe you can sing or dance or draw. Maybe you're great at basketball, or soccer, or poker. Whatever it is, I want you to think about how you feel when you are doing it.
Now, I want you to imagine that you've just being doing this thing that you're awesome at, and someone comes up and critiques you. How do you respond? Would you listen to this person? Would you get offended and annoyed? Would you think, "who does this person think they are to critique me?" Even if this person is one of the leading experts in this area, would that change how you feel?
Today I want to talk about one of the hardest things for us as human to receive – criticism.
"It's the truth I'm after, and the truth never harmed anyone. What harms us is to persist in self-deceit and ignorance."

– Marcus Aurelius
Why is Criticism so hard for us to hear?
I think it's because deep down, no matter how good we are at something, we all harbor insecurities. We feel that we just aren't as good as we pretend to be, or want to be. Because our ego, our identity, is wrapped up in who we think we are. When something threatens that identity, we can easily get defensive. Our egos try to maintain these boundaries of who we think we are.
Many of us, myself included, grew up in situations where we were frequently criticized by our caretakers, siblings, or even the community we grew up in. We might be constantly told through subtle and direct ways how often we fall short or are a disappointment. In these situations it's hard to learn how to handle criticism effectively because those that are supposed to teach us, are the ones inflicting the wounds. The old adage of just "toughing it out" sometimes just creates more open wounds that never really heal. We can become hyper-sensitive to criticism because those wounds just get reopened, often feeling just as raw as they did when we were young.
Why should we get better at handling criticism?
The fastest way to improve at anything is to be honest about our skill with it. If we are unable to look at things as they are, we're going to continue making the same mistakes. This true in so many areas of our lives. If we're unable to handle criticism in our jobs, we're never going to improve and gain the skills that we need to advance in our careers. If we can't handle feedback in our relationships, we'll find it difficult to build healthy and supportive relationships because we won't be able to deal with challenges head on.
Not handling criticism can hold us back from taking a chance on the things that we really want to do. I know that this is one that is really a struggle for me. Looking back, I can see that some of my choices in life such as not pursuing music or acting was because I was afraid of the criticism and the accompanying feelings of insecurity. And those are both careers where there is no way to escape criticism.
When you get better at handling feedback, people trust you more, and feel like they can be honest with you. This can help relationships at work and in your personal life.
How do we get better at handling criticism?
So how do we get better at handling feedback? How do we transform ourselves from avoiding and resenting criticism, to not just handling it well, but embracing it?
The most important, and probably the hardest, step is to make it safe for others to give you feedback. Many people won't give feedback because they're afraid of upsetting the other person. Even when they a prompted, people will still not be completely honest because they don't trust that there won't be repercussions for their candor.
How do you make it safe? By listening, taking in the information, and thanking the other person for their candor. You don't debate. You don't get argue. You say "thanks"… and mean it.  This is not easy, but it pays huge dividends in the long run.
When getting feedback, it's so easy for your ego to kick in and get defensive. Don't argue with the person giving feedback. Remember, this is their opinion, which they are entitled to. You can waste a lot of time and energy trying to prove them wrong, or you can take that time and energy and focus on keeping it safe for people to share their opinions with you. Again, the best thing you can do is say, "thank you".
When you get better at receiving feedback, it's always helpful to ask for more information. You can ask for clarifying examples. You can be curious. But only ask if you really want to know. If you're looking for fuel for an argument, say "thank you", and move on.
Action
Once you've received feedback from someone else, you need to decide what to do with it. It's always good to bounce this off someone that you trust. Sometimes, the advice isn't all that great. Sometimes your ego might get in the way. Having someone who has an unbiased opinion can be helpful to see if there is merit in the feedback. And if the person gave you something that was helpful, let them know and thank them. This helps close the loop and shows the other person you really are open to receiving feedback.
Pitfalls
When taking feedback, it's all too common to take it as a personal attack. And it is possible that it is. The other person might say these things because they have an ax to grind, and that's okay. You can't control how they give feedback, and they probably will not do it perfectly. What we're working on is what you can control, and in this case you can control how you receive it. But think about how much power that gives you when someone can try to personally attack you, and you can just take it and smile without getting ruffled.
It's also important that you don't hold a grudge. If you want to be someone who people trust with giving you their honest opinion, holding a grudge is one way to sabotage any efforts of creating a safe space for people to tell you the truth.
Conclusion
Receiving feedback is one of the fastest ways to help us grow, but also one of the hardest skills to master. Our insecurities and ego are always getting in the way. But when we develop the skills to be open to honest feedback, others are more open and honest,  we are better able to master our own emotions, and we spot our shortcomings make improvements faster.
—
Hello friends! Thank you for listening. If you like what you hear, head on over to patreon.com/stoicoffee and help support this podcast by becoming a patron. Also stop by the website at www.stoic.coffee where you can sign up for our newsletter, and buy some great looking shirts and hoodies at the Stoic Coffee Shop. Also, if you know of someone that would benefit from or appreciate this podcast, please share it. Word of mouth is the best way to help this podcast grow. Thanks again for listening.