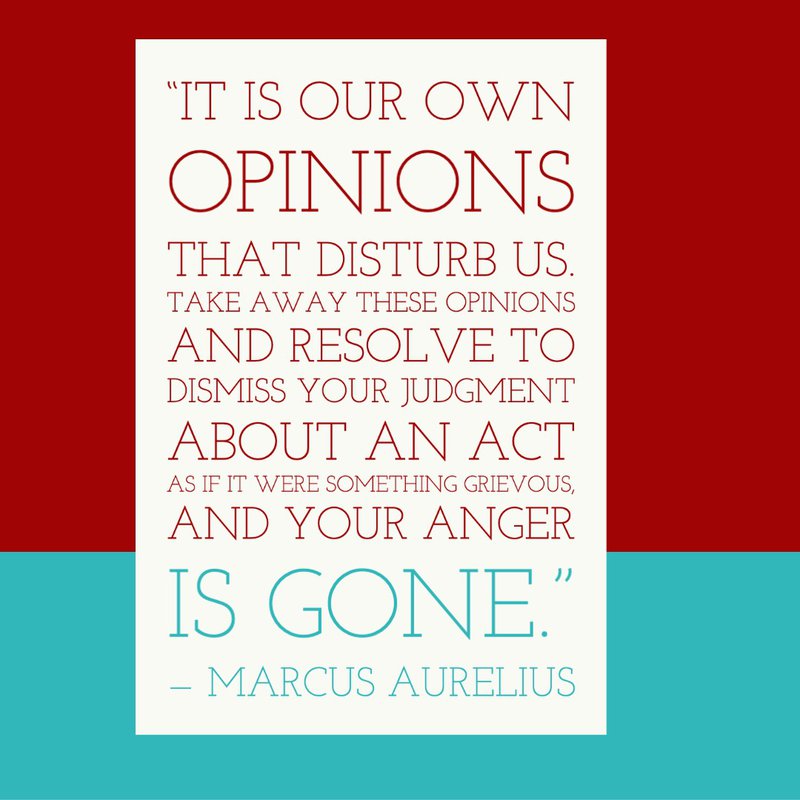 "It is our own opinions that disturb us. Take away these opinions and resolve to dismiss your judgment about an act as if it were something grievous, and your anger is gone."
— Marcus Aurelius
Over the centuries, the term "stoic" evolved from the original meaning of someone that follows the philosophy of Stoicism, to someone who does not show emotions.
When you look up the definition of stoic in the dictionary, it says:
"stoic: Not affected by or showing passion or feeling. Firmly restraining response to pain or distress."
Stoics are not emotionless automatons. All humans feel emotions. Reading Meditations, Marcus Aurelius seems far from being cold and emotionless.
"If you do everything as if it were the last thing you were doing in life, and stop being aimless, stop letting your emotions override what your mind tells you, stop being hypocritical, self-centered, irritable."
— Marcus Aurelius
Practicing stoicism is not about repressing emotions. It is not about pretending you feel nothing. It's about understanding how your mind works, so that you can use it to benefit you and those around you. It's about finding balance and equanimity. It's recognizing that you have control over what you think, feel, and do. If you are swayed by every little thing other people say, or frustrated by outside events, you will be at the whims of your emotions. Others will easily control and manipulate you.
So why do people equate being stoic with being emotionless? I think it's because anyone that follows the tenants of stoicism understands that emotions are like the weather. They come and go. They're in a constant state of flux. Because they understand this, Stoics know that if you sit with uncomfortable emotions for a while, they will eventually change. They will pass.
Whenever you have a thought, you create an emotional state. Some are subtle and others can be powerful, but every single emotion starts from a thought. It could be a very conscious thought you are actively choosing to think about. It could be a non-conscious background thought that you aren't particularly aware of.
When we're offended or upset by someone, it says more about us than about the other person. The thoughts that create the emotion are our own, not someone else's. If you are offended, it's because you chose to be offended. Your mind creates every emotion you have. If you are the one creating your emotions, you also have the power to change your emotional state. By processing those difficult emotions, you are also taking responsibility for your emotions. You recognize you cause those emotions and you do not blame them on other people or events.
As Brooke Castillo, one of my favorite life coaches, says, "No one can make you feel anything without your permission."
Other People
Another reason that people think of being stoic as being emotionless is that your reaction is being compared to how other people might react in the same situation. The person making the judgement has their own idea of how someone "should" respond. Because a Stoic does not react how they think someone should, it seems strange. It also means that it is someone else's opinion, and as we all know, that is something we don't have control over.
When we get comfortable with uncomfortable emotions we also do not take on other people's emotions. Now what do I mean by this? When someone is angry or frustrated with us, they may try to use those emotions to control or manipulate us. We may feel it's up to us to change in order to manage their emotions. It is not. Their emotions are theirs to deal with. It is not up to us to manage their emotional state. When we can learn to separate ourselves from someone else's frustration or anger, we can act in a way that is calm and wise. We don't let others control us.
Examples
Let's look at some examples.
If someone says something rude or offensive to you, is what they said intrinsically offensive? Like if someone said that you looked like a warthog, would that offend you? It is only offensive because of your judgment. It's only offensive because of the meaning that you give to it. Maybe you think warthogs are awesome and fierce, so you could take it as a compliment.
Another example. Say that you're feeling down and sad about something. You feel that emotional distress. You may feel depressed. Suddenly someone says something that makes you laugh and suddenly your mood has changed. The feeling may not completely go away, but the intensity lessens. All because what your mind focused on shifted. The power those thoughts had over your mind moments before has faded.
Bad Choices
Succumbing to your emotional reactions can be a detriment to the task you are trying to accomplish. I remember seeing a new report after a particularly devastating earthquake in Haiti. Some aid workers were so disturbed by the devastation, they felt overwhelmed with shock and sadness. And while this is a natural feeling, getting stuck in that sadness made them far less effective than if they recognize they were making the tragedy all about them rather than the people they were there to serve. If they had taken the time to recognize which things are not in their control and focused instead on what they can control, they would have been much more effective.
Now I'm not saying that you shouldn't shouldn't feel what you feel. Having empathy and compassion for others is part of what makes us better humans. But learning to sit with those uncomfortable emotions and finding better ways to process them helps you and those around you in the long run.
Know Thyself
I think the most important tool in learning to sit with uncomfortable emotions, is that we need to identify what we're feeling, and ask why we're feeling the way we do. Are you angry? Fearful? Ashamed? Why? Often the reason that we feel uncomfortable is that there is truth in what someone said.
Maybe we're insecure about something. Maybe we acted in a way we're not proud of and we don't want to own up to. Maybe there is some true injustice happening, and that's feeling is a signal for us to step up and take some action.
To be a Stoic is to be striving to be a better you and being willing to stretch yourself when things are hard. It is being willing to develop strength in areas that others won't. It means developing the mental fortitude to recognize how your emotions are impacting your thinking. It is finding healthier ways to process emotions. Maybe that means you go for a run or a walk when you're angry. Maybe it means that you give yourself some time to just vent to a friend or even just out loud.
Just remember that an emotion is sensation in your body, and barring certain medical conditions, an emotion can't physically harm you. It won't kill you. Emotions are the drivers of our actions, which is why it's so important to sit with them, especially when they are uncomfortable. Because emotions change and fluctuate so easily, we know that the emotion will subside just by thinking different thoughts. If we can't sit with uncomfortable emotions, we're prone to acting out in ways are harmful to ourselves and others.
Any time you have an uncomfortable feeling, don't run from it. Embrace it and ask what it is trying to tell you. If you don't understand what you're feeling, how are you going to know how to respond properly? If you fly off the handle at every minor challenge or lose your cool when things don't go your way, you'll be easily derailed. The more you can sit with uncomfortable emotions, the better you will be at handling difficult situations.
---
Be awesome and support this podcast!