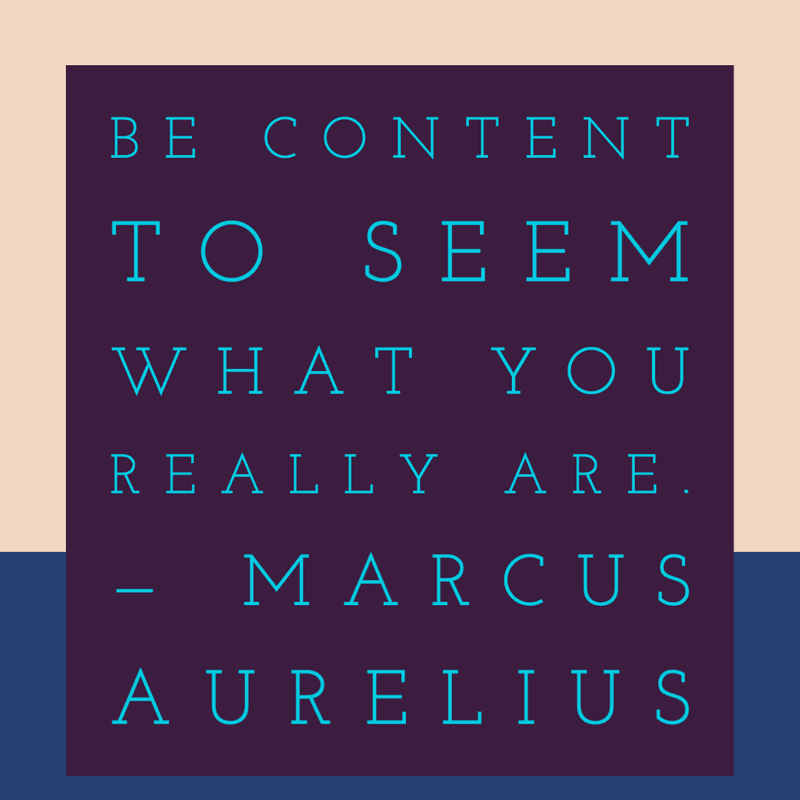 Like what you hear? Support this podcast!

"Be content to seem what you really are."
— Marcus Aurelius
One of the hardest things in our lives is to be completely honest with our selves and with those around us. Why is that? Why do we hide parts of ourselves or lie about how we feel, especially with those we love the most?
We are afraid of rejection. We are afraid of not belonging. We are afraid that if those closest to us really "knew" us, they would no longer love us. The need to fit in and belong is a powerful, almost primal one. Being rejected by your family or society can be one of the most devastating events of a persons life.
Belong
For those of us who grew up in a strong religious culture, there is an accepted way of behaving, and anything outside of those roles and rules is frowned upon, and sometimes you can be shunned or excommunicated. I have friends and acquaintances who haven't spoken to family members for years or decades because they didn't toe the church line.
For some, being open about their sexuality has gotten them ostracized from organizations that embraced them prior to their coming out. The person hadn't changed, just the perception of them in the eyes of that group changed.
There are also powerful forces in the media and marketing industry who spend tremendous amounts of time and money figuring out ways to make you feel you are not good enough. The messages are so well crafted and often subtle to where unless you are really paying attention you don't even notice the influence they have on you. All of this to get you to buy certain things, support certain politicians or causes, or to hold certain beliefs.
My Story
When I was seventeen, I had decided that I no longer wanted to be a part of the Mormon church. I was tired of feeling ashamed because I struggled so hard to behave like a good Mormon. I struggled with the inconstancies in church doctrine and how so many core beliefs conflicted with scientific discoveries, and my own common sense. I felt like there was something truly flawed in who I was as a person. I tried to leave, but because most of my social circles were church related, I got pulled back into it, and struggled for another decade or so to fit in.
It took a lot of a work and support from my ex wife, but I finally left the church in my early thirties. I had finally reached the point where I could no longer pretend to be someone I wasn't and believe in something that I felt to be patently untrue. When I finally made that decision, I felt like I had just shed 200 pounds. I felt lighter. I felt relief. I felt like I was finally free. It has taken a long time and a lot of work to shed the belief that I was less of a person because I didn't live up to someone else's expectations.
More recently I've been working on healing a lot of the trauma from the environment I grew up in. I've been lucky to find a good therapist who specializes in healing trauma. Re-training how my my brain interprets things has not been easy. It has meant being honest with myself about the things that scare me. It has meant facing up to my fear that maybe deep down I'm not a very good person or that I'm somehow broken. I'll give you a hint: it's not true. I've had to learn how to accept and love myself, even with all my flaws, or maybe because of them.
Along with that healing has come a better sense of well being. I feel like I am more honest with myself and others. I am the person that I want to be. I ask for what I need and want. I don't need the approval of others. There are times when I fall back into old habits and patterns. Sometimes the disapproval of others can still kick in that fear of not being good enough, but those episodes are fewer and far between.
Self-Sovereign
"The happiness of those who want to be popular depends on others; the happiness of those who seek pleasure fluctuates with moods outside their control; but the happiness of the wise grows out of their own free acts."
— Marcus Aurelius
One of the biggest truths that I've learned through all of this is that when you finally stop apologizing for not living up to the expectation of others, and truly accept yourself for who you are and live your life how feel is best for you, then you are truly free.
This is the truth that is often hidden from us. It scares people who have power over us. When they can no longer control or manipulate you, you may be judged harshly. They may speak ill of you. You may be ostracized or shunned. But when you hold to what you know is true, hold to your core values, and love and accept yourself, then nothing that anyone else has to say matters. You are free. You are what I call "self-sovereign".
Being a self-sovereign person is challenging. This kind of freedom is scary. You no longer blame anyone else for your feelings and actions. You don't apologize for not living up to others' expectations. And you might think that I'm saying you can do whatever you want, and well, I am. Being self-sovereign also means that you own your choices and are honest about your motivations. You are 100% responsible for yourself, and that you accept the consequences for your actions.
Actions
So what are some steps you can take to become more self-sovereign in your own life?
I think the first step is to work on self acceptance. To accept that you are worthy of love, just like everyone else. To accept that you are not broken. You are not a mistake. You are just another flawed human, doing the best you can. Accept that it's okay to make mistakes, and you don't have to be perfect to be loved.
Second, is to understand that doing this kind of work is challenging and uncomfortable, so having a good support system in place will make a big difference. Whether that's a therapist, a good friend, or some kind of support group, surround yourself with those that encourage you to be your authentic self. They will challenge you to take responsibility for your own actions.
Lastly, to do this kind of work, you'll need to step out of your comfort zone. I found a tweet the other day from a Dr. Vassilia Binensztok, with the twitter handle of @JunoCounseling that I think is very appropriate and pretty much nails it:
"When you're not used to being confident, confidence feels like arrogance.
When you're used to being passive, assertiveness feels like aggression.
When you're not used to getting your needs met, prioritizing yourself feels selfish.
Your comfort zone is not a good benchmark."
— Dr. Vassilia Binensztok
Being self-sovereign, learning how to be your authentic self and let go other expectations of others is a challenge that we all face. The most courageous thing you can do in your life is to ignore who the world thinks you should be, and to truly, unconditionally be yourself. It is then that you are free.
—
Hello friends! Thank you for listening. If you like what you hear, head on over to patreon.com/stoicoffee and help support this podcast by becoming a patron. Also stop by the website at www.stoic.coffee where you can sign up for our newsletter, and buy some great looking shirts and hoodies at the Stoic Coffee Shop. Also, if you know of someone that would benefit from or appreciate this podcast, please share it. Word of mouth is the best way to help this podcast grow. Thanks again for listening.