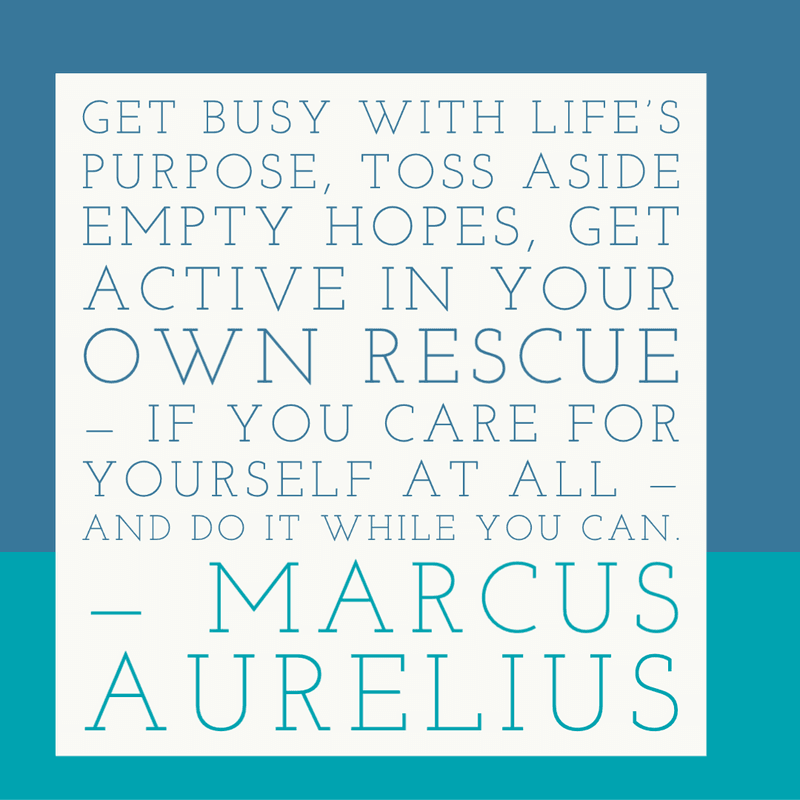 Be awesome and support this podcast!

Does being a Stoic mean you can be apathetic? Does not reacting mean that you just give up? Because Stoicism is about controlling your response, it can easily seem that you just let things just happen and don't take action. But to be a true Stoic, you are the opposite of apathetic. You are effective. By taking the time to choose your shot, you don't waste time or energy on the things you can't control.
Often, we confuse action with actually doing something useful. Because Stoicism is about taking responsibility for ourselves, we need to be smart about the actions we choose. When we take the time to make a deliberate and well thought out choice. We want to be effective, not busy.
"Get busy with life's purpose, toss aside empty hopes, get active in your own rescue — if you care for yourself at all — and do it while you can."

— Marcus Aurelius
Apatheia
When we look at the definition of stoic term apatheia, it means "without suffering", which is like equanimity, or "to be emotionally balanced" and unaffected by negative emotions. It is not the same thing as the modern day English term apathetic, which means void of feeling.
It's easy to understand why people might use Stoicism as an excuse for apathy. On its surface, it can seem like not being reactive to every little thing in your life is just being out of touch with the world. When you don't respond in a way that most of the world thinks you should, it can seem like you are disconnected and emotionally unavailable. But a Stoic is not someone that doesn't feel, rather someone that chooses the act in a way that upholds their principles and chooses their response, even when they have powerful emotions around something.
For example, if someone is struggling, it's easy enough to say that you aren't stepping in to help because it's not something that you can control. This is true because you can't control other people and their situations. But, given that there is almost always something in every situation that you can control, taking the times to be sure that you are doing what you can to be helpful is something that a Stoic would do.
This can be challenging though, because sometimes not acting is the best course of action. Often the situation is best served by not getting involved. Sometimes the other person does not want you involved in their business. Sometimes it's simply none of your business.
I think that it's also easy to become apathetic because you understand how little you control in what happens in your life. You also recognize that the small part you control may not seem like it has a big impact. And if you have so little control, and the things you do make little or no difference, why even try?
Because how you live your life is important. How you carry yourself in the world matters. Because the mannerin which you do your work matters. If you approach the world with the attitude that nothing you do makes any difference in the long run, it's too easy to fall into nihilism and just give up completely on living. This is a far cry of what Stoicism is about. Remember, life isn't just about the accomplishments in our lives, it's about the process. Cliché as it may sound, but it's the journey that counts.
And honestly, if the world so depended on the things that you did, that could be a bit overwhelming to hold that kind of responsibility. I'm sure that Marcus Aurelius felt this way all the time.
What Can You Do?
So how can you be sure that you are not just using Stoicism as an excuse to be apathetic?
I think we need to look at why we might not take action in a situation. Sometimes, things are just hard and we may not want to do them. We may not have the mental or physical capacity to take on the things that we want. Sometimes we just may not have the skills needed to help. Taking the time to be honest about these aspects can help us take most effect action, or understand that the situation is best served by staying out of it. I think it comes down to knowing yourself, knowing your core values, and being willing to do the hard things when things are difficult.
Another important aspect to be aware of is burnout. I think that it's easy as Stoics to take on more than we can handle. We want to see the world be a better place, and we want to do good in the world, but we also need to be honest about what we can handle. We also need to be honest about what we want. We only have one life, so we need to be clear about what it is we want to accomplish in our time on this planet. We also need to be clear about what our core values are. We shouldn't do things because we feel guilty for not doing it. We should do the things that we want to, and do them to our best of our ability. That alone will certainly help make the world a better place.
This does not mean that you need to be a saint and give up all your worldly possessions and go serve the poor, unless that is what you want to do. If that's what you decide would lead to the more fulfilling life, then you should do that. But don't do something just because it's what the world expects from you. Do it because it's what you expect from you.
Actions
What are some steps you can take to avoid apathy? We can take the time to ask ourselves questions following questions and suss out if we're just being lazy, or if we being effective.
Do you feel good about the actions that you took?
Are you upholding your core values?
Are you doing the things that you have the ability, capacity, and the willingness to do?
Are you not trying to control the things you can't?
Are you being effective or are you just being busy?
Living like a Stoic is not about following a rigid dogma. It is about using your rational mind to be the most effective in your life, and the lives of those around you. By taking the time to know yourself, your values, your skills, and being respectful of others agency, you can apply yourself where and how you'll be most effective, and sometimes that means doing nothing.
"Concentrate on what you have to do. Fix your eyes on it. Remind yourself that your task is to be a good human being; remind yourself what nature demands of people. Then do it, without hesitation, and speak the truth as you see it. But with kindness. With humility. Without hypocrisy." 

— Marcus Aurelius
—
Hello friends! Thank you for listening. If you like what you hear, head on over to patreon.com/stoicoffee and help support this podcast by becoming a patron. Also stop by the website at www.stoic.coffee where you can sign up for our newsletter, and buy some great looking shirts and hoodies at the Stoic Coffee Shop. Also, if you know of someone that would benefit from or appreciate this podcast, please share it. Word of mouth is the best way to help this podcast grow. Thanks again for listening.