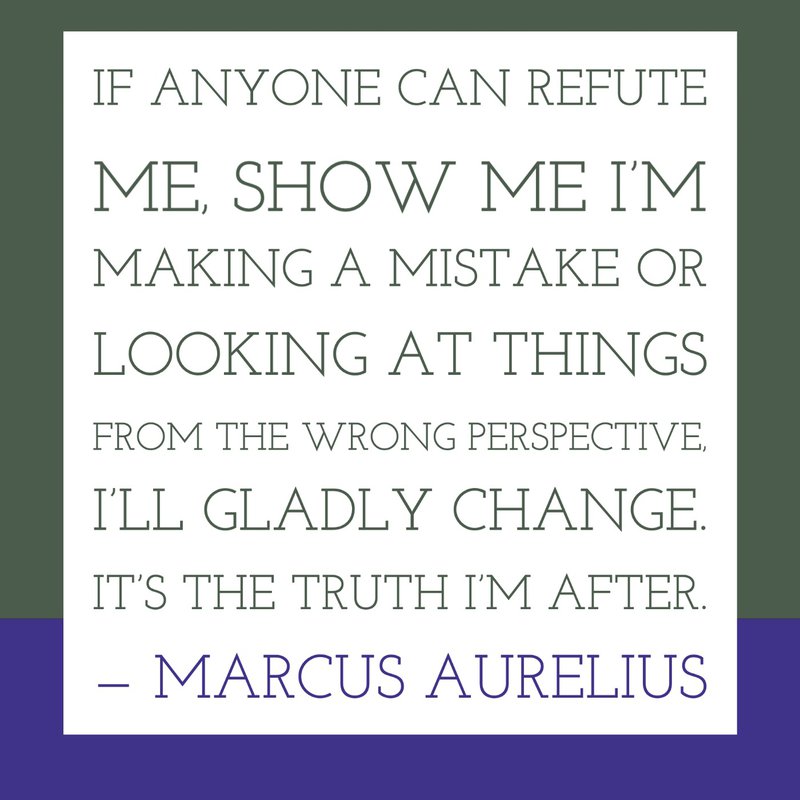 Everything we hear is an opinion, not a fact. Everything we see is a perspective, not the truth.
— Marcus Aurelius
Today I want to talk about one of the most interesting things about humans, the fact that we cling so dearly to our belief systems in face of contradiction evidence, often to our own detriment.
Why do humans resist changing their minds, even in the face of overwhelming evidence? How often have you changed your opinions when presented with new facts? How often have you actually changed your behavior when you learned new information? How often to you rationalize your opinion or simply deny facts because they don't fit your belief system?
The human mind is a very malleable and flexible thing. It is because of this flexibility that we are able to survive in all kinds of environments and circumstances. Over time and through experience, we develop a belief system of how the world works. Much of this comes from the circumstances we grow up in. The culture around us, the family we are born into, even the physical surroundings can inform and influence our belief system.
A big reason why we have this ability is that the brain is a pretty good prediction machine, but it needs to have principles and ideas to work from. It's job is taking past experiences and merging it with current information to try and predict what will happen next. It is precisely this ability that helps us to survive.
As a child, it is easy to be more flexible with our thinking, simply because we are inexperienced and don't have a lot of knowledge. Everything is new to us at some point, so we're naturally curious because just don't know. Our brains are looking for more information and experiences in order to make better predictions. We try things and see how they work or don't work, and adjust our expectations accordingly. With each new bit of information we're able to make better predictions to help us survive, and ultimately thrive.
But while the human mind is flexible and adaptable, as we age, it takes effort to keep this flexibility of thinking. As we gain more and more knowledge and experience we are usually able to make better predictions of how we think things work. These in turn inform our opinions and judgments and hopefully help us navigate the world in a safe way so that we might live long and prosper. Where we run into trouble is when we decide that we have enough knowledge and information and turn those opinions and judgements into beliefs.
Often though, we are simply given beliefs by those we trust. This includes family, friends, teachers, leaders – anyone that we consider an authority. Many beliefs we pick up are not well tested or thought out. They are just ideas that have been around for a while. Many ideas are tenacious not because they are right, but because they reach a critical mass within a culture or community. Superstitions, religious beliefs, conspiracy theories are prime examples. Pretty much anything that is taken as truth without little to no evidence, site dubious sources, or are not open to exploration with new information can be categorized as beliefs.
A mark of an open mind is being more committed to your curiosity that to your convictions. The goal of learning is not to shield old views against new facts. It's to revise old views to incorporate new facts. Ideas are possibilities to explore, not certainties to defend.
— Adam Grant
When something becomes a belief, whether from external influences or ones that we have created ourselves from our own experience, it turns into something that we no longer question, but defend from anything that might threaten that belief.
So why do we find it so hard to change our beliefs? What's in us that we will deny and fight for our belief, even in the face of overwhelming evidence that we are wrong? What is the benefit of acting this way?
When we have a deeply engrained belief, and we come upon new information that shows that we could be wrong, we start to feel cognitive dissonance. Basically, when the mind has two or more contradictory beliefs, we start to feel tension as we grapple with the fact that something we thought was true, might not be true.
When we feel this disharmony, we have a number of options that we can take. We can take in the new information, adjust this belief that we have which will in turn change our behavior. We can can rationalize and make excuses for why it doesn't really apply in this case so that we can hold onto our belief. Or, as what happens in many cases, we ignore or deny the information and go on holding the same belief.
Since our minds want to resolve this tension, it often takes the last option of just ignoring or denying the evidence in front of us is the easiest option. It's the one that takes the least amount of work, and allows us to simply go on living like we had before. Change takes work and our minds are lazy and want to hold onto the status quo.
Most of us like to think that we're good about receiving new information and adjusting our opinions and behaviors accordingly. But this is something that we all do, often without even really thinking about it. To illustrate this, I'd like to take an example from daily life. How often have you rationalized eating something that you know is bad for you, but you don't want to give up? Maybe it's your favorite ice cream or cookies whatever it is, you can find all kinds of ways to rationalize why you don't have to give it up. You'll point out that it has some healthy ingredients or that it's convince yourself that it's not that bad. Whereas if you were honest with yourself and truly wanted to eat healthier, you would simply remove it from your diet.
In my own life, it took me decades to let go of my religious beliefs, even though they never felt right to me. I had been told for so long from so many people I loved and trusted, that anytime something would come up that contradicted what I had been taught, I would find some way to rationalize it, or ignore it because I was scared to give up this belief. But once I finally had enough evidence that the church was a fabrication from it's founder, I could no longer in good conscience stay in the church and so I left.
If anyone can refute me' show me I'm making a mistake or looking at things from the wrong perspective' I'll gladly change. It's the truth I'm after.
— Marcus Aurelius
So how can be better about integrating new information into our way of viewing the world so that we have more informed opinions?
I think the Buddha was on to something when he said that the cause of suffering is attachment, and in this case we get attached to our ideas and beliefs to the point where we feel threatened when something comes along that might disprove them. Our ego identifies with these beliefs, and if we're wrong we often feel like that means there is something wrong with us. When we can learn to be less attached to these beliefs and develop a mindset of curiosity, then we can take in information without feeling threatened. We can actually seek out information to see if we can prove that our idea is wrong so that we can get closer to the truth much quicker.
This kind of approach is not easy though. It means that we have to become more mindful of our thinking. We need to pay attention to when we're feeling defensive about something because that is often a signal that we are feeling threatened by something. We also need to notice when we feel fear in our bodies. If we're not in physical danger but we're afraid because of what someone is saying, we should probably look closer at why we're afraid.
While I like to think that I'm good a this, it has taken a lot of effort to not be as reactive and not feel like I have to defend my ideas. I still fail from time to time, and end up feeling defensive and end up in arguments, but I've certainly made progress on that front. I'm better about recognizing when I start to feel defensive about things. I pay attention to my body and any physical sensations. I try to ask questions, to help move me into a space of curiosity and learning, and out of that space of having to prove that I'm right.
Developing a mindset of curiosity takes mindfulness, patience, and a willingness to learn over wanting to be right, and is something that can greatly enhance our lives and relationships.
---
Hello friends! Thank you for listening. Stop by the website at stoic.coffee where you can sign up for our newsletter, and buy some great looking shirts and hoodies at the Stoic Coffee Shop.
Want to help support this podcast? Become a patron on patreon!
Like the theme song? You can find it here from my alter ego. 🙂
Find me on instagram or twitter.
Lastly if you know of someone that would benefit from or appreciate this podcast, please share it. Word of mouth is the best way to help this podcast grow. Thanks again for listening.