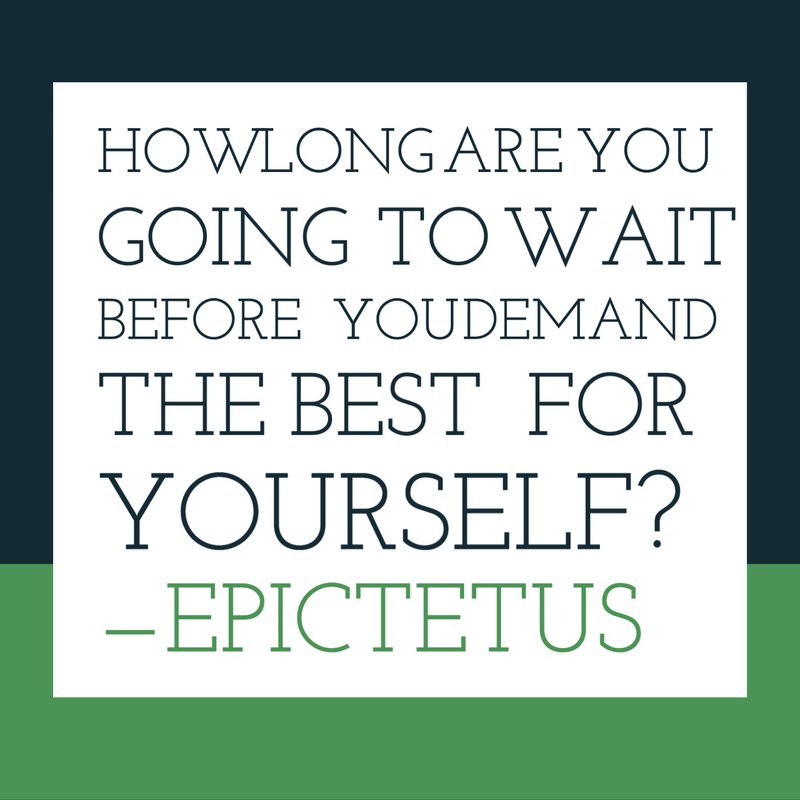 Not to assume it's impossible because you find it hard. But to recognize that if it's humanly possible, you can do it too.
— Marcus Aurelius
How often do you find yourself starting something only to notice a few weeks or months later that you let it fall by the wayside? Today I want to talk about why we have trouble keeping commitments to ourselves, and some ideas about how we can get better about keeping those commitments.
If you're like me, you are always interested in improving yourself. Maybe that's cutting down on your drinking or losing weight. Maybe it learning a new skill or starting a new business. There are all kinds of goals and things you want to do to enrich your life. We approach these things with gusto and excitement as we look forward to how much better our lives will be as we implement these changes in our lives.
Fast forward a few weeks or months later and many if not all of those resolutions are just a distant memory. Our good intentions have given way to our default way of life, and we return to the way things were. We may not have even really noticed when it happened. We may have been on track for weeks, only to find a short time later we have dropped our plans as if our resolutions never even existed.
Part of the reason why I wanted to make this episode is because this happened to me recently, and I'm trying to get back on track. I was doing great with meditating every day for at least 30 minutes, but about a month ago I severely sprained my ankle and was in a lot of pain for a while. I was also having trouble sleeping, and found my motivation to keep up with things beyond the basics was pretty low. I subtly used my injury as an excuse to quit my daily practice.
So why does this happen? Why is does it seem so hard to follow through on these commitments we make to ourselves? What is it in our makeup as humans that we get pulled back to the status quo even though we really do want to make lasting changes in our lives?
For much of evolution, humans struggled to have enough to eat. Because food was often hard to come by, survival depended on smart management of energy. Expending energy when you didn't have to could mean the difference between life and death. Luckily, for must of us, food insecurity is no longer an issue. While we may not be able to afford prime rib every night for dinner, most of us are able to buy healthy food to feed ourselves. But these habits that served humanity over thousands of years are still engrained into us. This is why for most of us our bodies are more interested in sitting down for a show on Netflix than going for a run.
When we try to change something about ourselves, our minds often struggle to adapt to the new changes that we are trying to make in our lives. Our brains work really hard to keep us safe. We're still alive in our current situation, so our brain will naturally gravitate to what it knows. Losing weight, taking up a new workout, learning a new skill all require effort and work. We may also fail when we try to do these things, so we'll stick with what we know because it's safe.
Another challenging aspect in our quest for self improvement is our desire for instant gratification. We get a dopamine hit when we do something that is pleasurable now, and have a harder time imagining the payoff we'll get in the future. Some examples of short term pleasures that hit that dopamine switch include alcohol, entertainment, drugs, social media, and plenty of foods that are tasty but are not good for us.
There is nothing wrong with some of these short term pleasures in moderation, though one problem with chasing these short term pleasures is that that the effect is also short term. If we constantly chase after these short term pleasures, we also find that each subsequent time usually is less pleasurable than the one preceding. I learned this as a young child when I had my very first piece of cheesecake. I loved it so much that I happily took a second one, only to find that rather than enjoying as much as the first, it had the opposite effect and I started to feel sick to my stomach.
These short term pleasures often have long term consequences. For example, if we eat too much unhealthy food, we put on extra weight. If we spend too much time playing video games we don't spend time on relationships or hobbies or other things that enrich our lives.
When we don't keep these commitments to ourselves, there are a few things that happen. We develop a habit of breaking our word to ourselves. Often we're much better about keep our commitments to others than we are to ourselves. If we were to behave this way towards our friends, we would erode their trust in us. The more we do this to ourselves, the more we erode our trust in ourselves.
We also create inertia that moves us in the wrong direction. We might think to ourselves, "I can't keep my commitment to eating healthy, so why bother cutting down on alcohol?" This kind of self-sabotage is often the main reason we don't accomplish the things we really want to. We will often use this setbacks as proof that we just can't do it.
Doctors won't make you healthy. Nutritionists won't make you slim. Teachers won't make you smart. Gurus won't make you calm. Mentors won't make you rich. Trainers won't make you fit. Ultimately, you have to take responsibility. Save yourself.
—Naval Ravikant
How long are you going to wait before you demand the best for yourself?
—Epictetus
So what can we do to help us get better about making the changes we want in our lives and avoid self-sabotage?
It comes down to self discipline. It's about being able to get yourself to do the things you want to do for you.
Self discipline is the ability to make and keep commitments to yourself.
Self discipline is taking responsibility for your actions and choices, and not blaming them on things outside of yourself.
Now I know that self-discipline kind of gets a bad wrap because we think it's too hard. And yeah, if we're not in the habit of keeping commitments to ourselves, it is hard. Often though, it comes down to changing our perspective on things and what we make it mean.
For example, committing to eating healthy food is much easier to do if we look at it with the perspective that we are nourishing our bodies so we feel and think better. It's much more challenging if we look at it as if we're being deprived of all this other food that we can't eat. Having a clear idea of why you're working on changing something will go a long way towards helping you stay on track.
One of the stoic tools that we have is negative visualization, or premeditato malorum. We make a list of all the things that can go wrong, and how we'll solve each of them. For example, if your are trying to lose weight and you are following a specific diet, you list all the things that could derail you from eating healthy. Maybe going out to dinner with friends is challenging because you always get dessert, so you decide to find a few restaurants that have healthier options that fit with your diet. Maybe you hate shopping for food, so you have your partner do the shopping or you pay a delivery service to do it for you. Anything that might be an issue, you find a solution to work around it.
Since many of our goals are things that just fall by the wayside, another way that we can help ourselves it by giving ourselves a way out. Yes, that's right, you decide under what conditions you'll allow yourself to quit, and commit to yourself that you can only quit if you make a conscious decision to do so. You are not allowed to just let it fall by the wayside. For example if you are trying to lose weight you decide that you will quit the diet you're on if you follow it successfully for 6 months and you don't lose any weight. And if you reach that point where you make that conscious choice to quit, you also commit to finding another way to lose the weight you want.
Learning to keep commitments to ourselves is for me, the ultimate expression of self care. It's about you deciding that you are important enough to keep those commitments to over all else. And the better you are about keeping your word to yourself, the better you are about actually reaching the goals that you set out, and ultimately have the life you want.
---
Hello friends! Thank you for listening. Stop by the website at stoic.coffee where you can sign up for our newsletter, and buy some great looking shirts and hoodies at the Stoic Coffee Shop.
Want to help support this podcast? Become a patron on patreon!
Like the theme song? You can find it here from my alter ego. 🙂
Find me on instagram or twitter.
Lastly if you know of someone that would benefit from or appreciate this podcast, please share it. Word of mouth is the best way to help this podcast grow. Thanks again for listening.