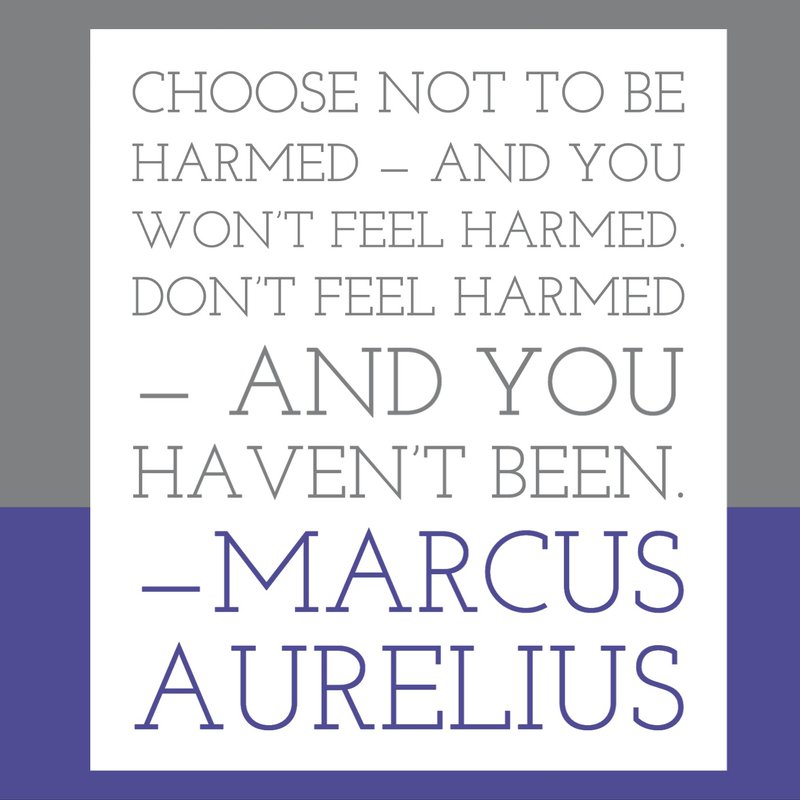 Choose not to be harmed — and you won't feel harmed. Don't feel harmed — and you haven't been.
—Marcus Aurelius
How often have you been offended by someone? Maybe it was something someone said to you? Maybe they made a comment about your clothes or mocked something that you really liked such as your favorite football team or musician. Maybe it's one of your siblings who always tries to put you down or get under your skin. Maybe someone on the internet posted a mean comment to a picture you put on social media.
As much as the internet has been one of the greatest tools for learning, commerce, connection, and so many innovations, it still amazes me how awful people can be to each other just because someone holds a different opinion. I have seen people treat others in some pretty horrendous ways just because they had a sign or a t-shirt that was from an opposing political party. It's as if they forget that there is another human being on the other side of that comment.
What really frightens and dismays us is not external events themselves, but the way in which we think about them. It is not things that disturb us, but our interpretation of their significance.
― Epictetus
In all cases, when we are offended by something, it's because of the thoughts we have about it and what we make it mean. When we really think about it, when someone says something, it is just them making sounds or writing down symbols on a page. If we didn't speak the same language and had no idea what they said or wrote, would we still be offended? No, because it is not the words that are offensive, but our thoughts about what was said.
When we take offense at what someone else says, we are blaming them for how we feel, rather than owning the fact that it's our own thoughts that are creating our emotions. We are letting them control us. The words that others say or write are not things that can physically harm you, but often we see people get so upset by what others say that they will resort to violence. The story that they have told themselves is such that they believe it is worth trying to harm someone else because of those words.
Sometimes people are rude because they are unhappy. They will try to put others down as a way to try and bring themselves up. Others might try to offend us because they are deliberately trying to upset us. It's a way of trying to controlling other people. When we're upset, we're easier to manipulate. We make rash decisions, and become more reactive and less rational in our responses. The more we allow others to provoke us, the more they have control over us. If we can keep this in mind it makes is much easier for us to be less reactive. We know what others are trying to do and in a way can beat them at their own game.
If evil be spoken of you and it be true, correct yourself, if it's a lie, laugh at it.
—Epictetus
Another thing that can help is to actually listen to what the other person said, and ask yourself, "Is it true?" If it is, why be offended by it if it's true? It simply shows you where you might need some work. If it is not true, then why be offended by it? It is simply someone else's opinion.
Often we get upset about what someone has said because they may hit on some insecurity. We think, "If they see this flaw in us, then maybe there is something to it." We may not want to face up to this part of us. Maybe we're ashamed about that part of us. Whether deliberately or not, when we feel hurt by things that others say about us is usually because deep down we're afraid they might be right.
Another way to think of it is from one of my favorite scenes in Game of Thrones where Tyrion Lannister is talking to Jon Snow:
Let me give you some advice bastard. Never forget what you are. The rest of the world will not. Wear it like armor, and it can never be used to hurt you.
— Tyrion Lannister
Never be upset at the truth about yourself. You don't have to like it, but you can accept it. Once you have accepted it, then you have the opportunity to change it.
If we are comfortable in our own skin it is really hard for others to offend us. If someone tells George Clooney that they think he's ugly or stupid or that he can't act, do you think that changes what he thinks of himself? I can't say for certain, but I would say with a high degree of accuracy that it probably doesn't. He seems secure in his opinion of himself, so anything someone else has to say has no impact. Even if criticism of his acting comes from someone who is an expert acting coach pointing out where he could improve, it doesn't impact what he thinks of himself.
Not reacting to deliberate provocation is a superpower. If you have the awareness and self-control to not react predictably, there is nothing that can put you off your path. Remember: the only enemy you need to fear is your own self – your lack of awareness and loss of control.
—The Ancient Sage
What, for instance, does it mean to be insulted? Stand by a rock and insult it, and what have you accomplished? If someone responds to insult like a rock, what has the abuser gained with his invective?
—Epictetus
So how can we handle feeling insulted by other people? I think the most important thing to remember is that you offended because of what you make something mean. It's the thoughts in your head that cause you to feel offended and not what the other person said. Someone can only offend you if you let them. When we take responsibility for our emotions, then we remain on control of ourselves.
Another way is to learn how to be dispassionate about someone else's opinion about something. And what I mean by that is just simply recognizing that it is just their opinion. It doesn't mean that you have to do anything about it. You don't have to change their mind, nor do you have to change yours. It is simply that they have a different thought about something than you do. That is all. Not everyone in the world needs to think the same way as you. It's also been shown that you're more likely to change someones opinion if you treat them with kindness rather than trying to convince them the error of their ways.
Being offended and getting upset at others seems to be a part of daily life, especially if you spend much time online, which if you're listening to this podcast, there's a good chance that you do. If you find yourself getting angry or upset with others that have a differing opinion that you, just remember, it's your thoughts that are causing these emotions. By simply choosing not to be offended you have robbed the other person of their victory, and brought a little more equanimity back into your life.
---
Hello friends! Thank you for listening. Stop by the website at stoic.coffee where you can sign up for our newsletter, and buy some great looking shirts and hoodies at the Stoic Coffee Shop.
Want to help support this podcast? Become a patron on patreon!
Like the theme song? You can find it here from my alter ego. 🙂
Find me on instagram or twitter.
Lastly if you know of someone that would benefit from or appreciate this podcast, please share it. Word of mouth is the best way to help this podcast grow. Thanks again for listening.