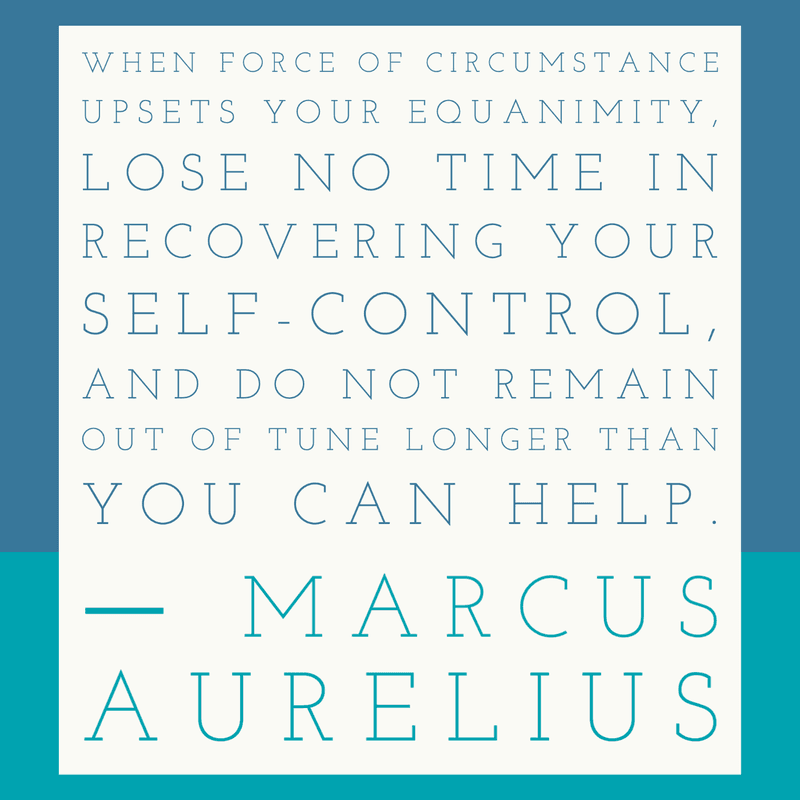 "When force of circumstance upsets your equanimity, lose no time in recovering your self-control, and do not remain out of tune longer than you can help. Habitual recurrence to the harmony will increase your mastery of it."
― Marcus Aurelius
Over the past few weeks, I've been thinking a lot about equanimity and how it may be the most important idea that the stoics came up with. And the more I look into it, the more I see that this is the one of the most important principles, and a foundation for being able to apply the other principles more effectively. We can also see how important this is in other traditions such as Buddhism, especially Zen Buddhism, also promotes the idea of calming the mind as one of the highest virtues.
So why would this be the case?
I used to think that equanimity was a byproduct of following stoic principles. That if you learned to control what you can, and let go of the rest, then you could find more peace of mind. But the more I dig into it, the more I find it is almost the opposite. The calmer your mind, the easier it is to see what is under your control and what is not. The more you can keep an even keel, the more you can make better decisions under pressure.
Now don't get me wrong, practicing stoic principles can certainly help you have a calmer mind. When you learn to identify what you can't control and let go of those things, it certainly can reduce stress in your life. But if you are constantly feeling stressed, this process is much harder because you're starting out at a disadvantage.
Taking the time to practice mindfulness puts you at an advantage because you're already in a state of mind that is helpful. It's like the difference between preparing for a fight versus just being tossed into the ring at a moment's notice. Equanimity, mindfulness, meditation… all of these should not just be an afterthought, or "nice to have", but should be considered essential tools to your stoic practice.
Stimulus and Response
Between stimulus and response, there is a space. In that space is our power to choose our response. 
—Viktor Frankl
When you are upset, you are likely to sacrifice the wellbeing of tomorrow to appease the hurt feelings of today. Not a good trade. Subject your emotions to a cooling-off period before you allow them to guide major decisions.
—@TheStoicEmperor
One of the most important things that being mindful helps us do is think long term. If we are able to take that space between stimulus and response, and choose our response rather than just react, we are able to choose things that will benefit us better in the long run. If we are constantly in a space of reactivity, we let our emotions override our rationality and often do things that might feed whatever we need in the short term, but can have long term negative consequences. We are also less in command of ourselves and are much more easily controlled by others.
When can learn to take that moment to make a choice rather than react is one of the most powerful things that we can learn to do in our lives. Giving ourselves the power to choose how we respond in any situation is the ultimate expression of self control and power. The fact that we are always looking to make a choice, means that it's more likely we'll respond in a way we are proud of, and that ultimately leads to better outcomes for ourselves and those around us.
Monkey Mind
Peace. It does not mean to be in a place where there is no noise, trouble or hard work. It means to be in the midst of those things and still be calm in your heart. 
— Anonymous
Meditation and mindfulness are not the easiest things to do. Our minds are always on the run. The Buddhist have a great term for this called the "monkey mind". For many of us, when things get quiet, we get anxious and it feels like our minds are spinning even faster. What's really going on is that when you are not focusing on something, you see how busy your mind actually is. There is nothing wrong with this, it just is.
The most important thing that you can do with meditating is not to try and not think about anything, but to become more aware of what you're thinking. Meditation and mindfulness are just practices in awareness with each breath being like an anchor to maintain your state of observation. You take a breath, you notice a thought, you breathe out and just watch where the thought goes. Repeat.
Meditation and Mindfulness
Meditation is intermittent fasting for the mind. Too much sugar leads to a heavy body, and too many distractions lead to a heavy mind. Time spent undistracted and alone, in self-examination, journaling, meditation, resolves the unresolved and takes us from mentally fat to fit.
— Naval Ravikant
A skilled warrior controls and tames their anger and uses it as fuel when necessary, but never lets it drive their choices and actions. They know that letting anger or fear drive their actions is more dangerous than any enemy they may face. Doing our best to cultivate a mind that is thoughtful, calm, and patient prepares us to be more resilient when we feel anger or fear and want to lash out and say or do impulsive things.
Like most things, it's always challenging to take what we know and turn it into what we do. Turning our daily practice of mindfulness into something that we do as a habit is something we need to practice as often as possible. And the thing is that we will fail, because if we never failed, we would never need to be mindful because we would just be mindful all the time. We will fail in our practice, and then we'll remember to be mindful, which we will do for a while, until we forget, and then remember to be mindful…and repeat.
This never ending cycle becomes part of our practice to be a little better each day. To be a little more present each day. To live up to our ideals a little more closely each day. This is one of those ideas that is obvious, but still not easy to always follow. A good way to help set the stage is making a practice of meditation each morning to or journalling start the day off are always good ways to set the stage for the day. Then it's just about refocusing your awareness throughout the day with being mindful.
So what's a simple way to practice mindfulness? Think of it like this: Just as a normal meditation practice is all about awareness of your thinking and bringing focus back to your breathing when your mind wanders off, mindfulness is a reoccurring meditation that you do throughout your day, to bring your awareness to your thinking. When you do this, you remind yourself to be as present as possible, to not worry about things from the past, because they cannot be changed, and to not stress about future events because they are unknown and have not yet arrived.
Conclusion
When you can be better about living in the present, which is what mindfulness is all about, you will be more attentive and deliberate about what you are working on. When you are more deliberate, you bring more of your faculties to bear, you do better work, and you make better decisions. When you practice meditation, you deliberately choosing to develop equanimity rather than just hoping that it just happens.
—
Hello friends! Thank you for listening. If this podcast speaks to you, join us over in the Stoic Coffee House. The Stoic Coffee House is a community built around the ideas of stoicism and the Stoic Coffee Break  podcast.
Also stop by the website at stoic.coffee where you can sign up for our newsletter, and buy some great looking shirts and hoodies at the Stoic Coffee Shop.
Lastly if you know of someone that would benefit from or appreciate this podcast, please share it. Word of mouth is the best way to help this podcast grow. Thanks again for listening.