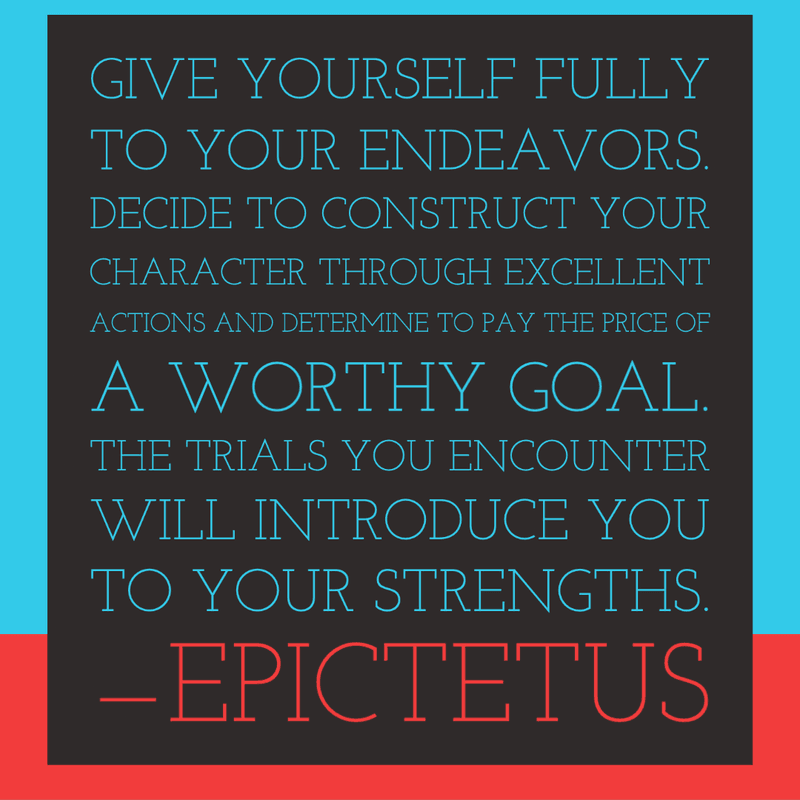 Forget everything else. Keep hold of this alone and remember it: Each of us lives only now, this brief instant.  
—Marcus Aurelius
Don't let fear, low self-esteem and the negative voices hold you back from your true destiny. 
—David Goggins
One of the hardest things for me, and I'm sure that many of you fall into the same category, is to know what you want and have the courage to go after it. There are plenty of reason why this happens, and for the most part it comes down to fear, and the two biggest are fear of failure, and fear of disapproval of others. Today I want to talk about some changes I'm making in my life, and how I'm facing these fears.
First, I want to let you know that I'm putting the podcast on indefinite hiatus. While the podcast has been one of the greatest things I've created, it's also helped me realize that I need to stop procrastinating on pursuing the things I really want to do. I need to face those fears, take those risks, and use my time in a way that will make me the happiest.
Sometimes the worst thing is to have something that is moderately successful, but ultimately doesn't take you where you want to go. It becomes an excuse to hide behind. While the podcast has been successful with over 4 million downloads and 3 million of those downloads in just this year, it is also something that takes up a lot of time and focuses my energy away from the things that I really want to do. It has become an excuse to avoid going for what I really want and avoiding the possibility of failing.
How I Got Here
The meaning of life is just to be alive. It is so plain and so obvious and so simple. And yet, everybody rushes around in a great panic as if it were necessary to achieve something beyond themselves. 
—Alan Watts
The careers I wanted to go into when I was younger were theater, film, TV, video games, and music. I loved acting and singing and thought that if I could make a living doing any of those, I would have my dream job.
So how did I end up as a software developer? Because I was afraid that wouldn't be able to make it in the arts. I started out with good intentions and at one point did have what I see now was my favorite job. I had a part-time job at a financial firm making videos and graphics, recording audio, and even making music videos for a rap artist that the owner was supporting. I loved that job, but it was only part time and rather than figure out how to make it in that arena, I got a job in tech and learned how to program. I was afraid so I took the easier path.
Now don't get me wrong, I've had a pretty good career as a software developer. It pays well and I've been able to support myself and my family. I'm not complaining by any means. But often when we are successful in something, we're afraid to step onto a different path because we're afraid of failure. We get so used to being successful, that failing at something, even though we expect it because we're just starting out, is often too much to bear. This is what has kept me from stepping up and pursuing the things I want. bcause I won't be nearly as good in other areas as I am in programming, at least not for quite some time.
This happened to me a few years ago when I decided to learn to play cello. I'm a pretty decent pianist and singer, and in my mind, I thought that I should be able to pick up cello pretty easily. When I found that it was far more challenging that I had thought and I was not making the progress I thought I should, I gave it up. That failing at the time was just too much for me. I had become so used to being good in other areas of music that when I failed to live up to my expectations, I couldn't handle it, and because our minds don't like failure, rather than changing my expectations and putting in the work to become good, I just decided it wasn't for me.
Lessons Learned
With all of that said, I've learned a lot of lessons from working on this podcast. I've learned a lot about myself, and how to apply stoicism in my life. I've learned that consistency is the key to any success. That putting out work, even if it's not great is how to learn and get better, and then your work will be great. And even then, you'll still put stuff out that's not as good as you want, but you put it out anyway. I've said before:
Consistency is the killer of fear.
I've learned how to put together a good show with good content. I've become a better writer, and learned how to communicate difficult ideas and express them in a way that others can understand. I've learned how to dig a little deeper into things and have found that often times the better and more useful answer is counterintuitive and non-obvious.
I've learned how to speak better and use my voice to effectively convey my message. I feel more comfortable with being in front of the mic than I ever thought I would. I've learned how to record and master and put our episodes that wound up being close to professional level.
Creating this podcast has certainly been a good thing in my life, and I'm grateful for all the lessons I've learned and all the support of received from you along the way. But even with all those good things that have come from this journey, we always need to be re-evaluating what we are doing with our lives and make sure that we are on a path that we want to be on. We need to have the courage to step up and take risks for the things that will bring us closer to our true goals. We also need to have the courage to let go of the things that no longer serve us.
What's Next?
You can accomplish anything if you can: 1) prioritize ruthlessly 2) control your attention. Both of these have become particularly hard in the present age. As such those who can control these two critical factors will rule the world. 
—@TheAncientSage
For the past few years I've been dabbling in VR/AR/3D design. I find it exciting and a little scary because it's not my area of expertise in the world of programming. But the more I dig into it, the more I see the possibilities for using this medium to create films, games, and musical experiences. I'm an artist at heart, and I love creating and exploring and finding ways to bring the things I dream up into existence. I know there's a lot to learn, and I've been working up the courage and resolve to pursue this dream.
But to pursue this dream, I need to focus my time and energy on learning the tools of the trade and adding skills to my toolkit. In order to do this, I need to bring my focus, discipline, and dedication to this new venture, and let go of other distractions or I'll burn myself out trying to do too much. If I don't walk this path I'll feel the same frustration that I've felt for much of my life, of knowing what I want, but not having the courage to step up and do what needs to be done.
Give yourself fully to your endeavors. Decide to construct your character through excellent actions and determine to pay the price of a worthy goal. The trials you encounter will introduce you to your strengths. 
—Epictetus
So where does this leave the podcast? I plan on leaving the podcast up with my podcast host. I put a lot of time and energy into it, and I want to leave this out there as others may find them useful and helpful in understanding and applying stoicism in their lives. It's possible that I may relate a book or an audio course at some point in the future, but for now, I need to focus my energy, time, and talents on becoming on what I've titled an "Immersive Experience Creator".
If you enjoy this podcast and find value in it, I would really appreciate it if you would make a donation on Patreon. I have put thousands of hours of work into this podcast, so just as you would pay for an audio book, donating on Patreon would be helpful in offsetting hosting fees, and help fund my new ventures. You can find the page at https://patreon.com/stoiccoffee
Conclusion
Learning to let go of things that distract us from our path, especially things that are good, is really challenging. This is not a decision that I've come to lightly. It's been filled with all kinds of second-guessing and trying to find ways to keep it going while I work on my other pursuits. But in the end, I realized that if I want to be successful in pursuing my dreams, I have give them my full attention. It has been a wonderful trip to share my thoughts and experiences with you, and I'm so grateful for all your support and wonderful emails. I hope that you have learned something from my experiences and insights, and I hope that when the time comes for you to have to make a hard choice of letting go of something good to go for something better, that you will have the courage to do so.
—
Hello friends! Thank you for listening. If this podcast speaks to you, please consider give a donation on Patreon at  https://patreon.com/stoiccoffee
You can also swing by the and pick up some great looking shirts and hoodies at the Stoic Coffee Shop.
Lastly if you know of someone that would benefit from or appreciate this podcast, please share it.
Thanks again for listening.
—
Hello friends! Thank you for listening. If this podcast speaks to you, please consider give a donation on Patreon at  https://patreon.com/stoiccoffee
You can also swing by the and pick up some great looking shirts and hoodies at the Stoic Coffee Shop.
Lastly if you know of someone that would benefit from or appreciate this podcast, please share it.
Thanks again for listening.