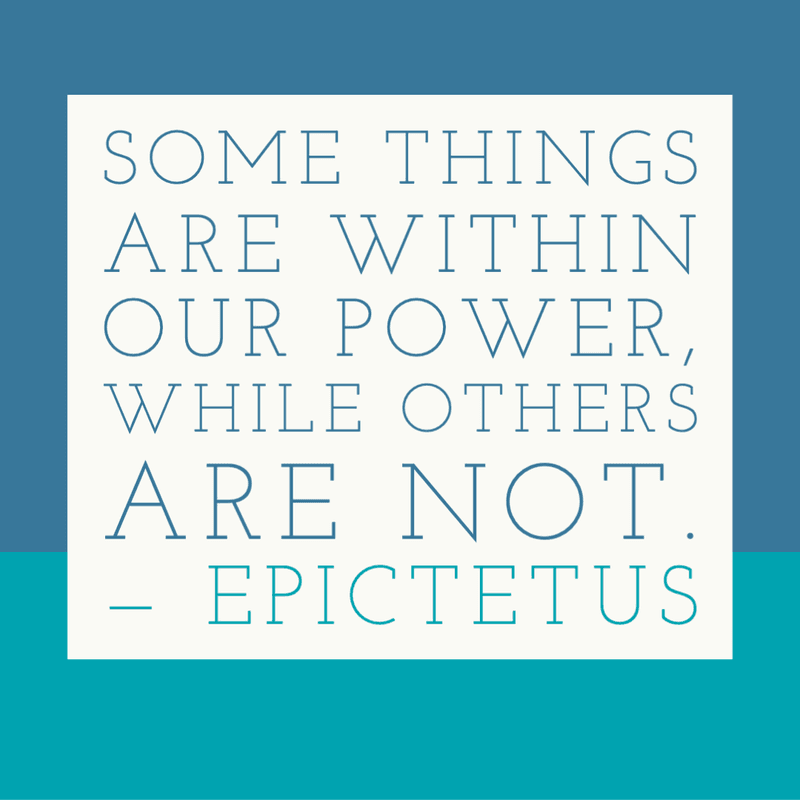 Some things are within our power, while others are not. Within our power are opinion, motivation, desire, aversion, and, in a word, whatever is of our own doing; not within our power are our body, our property, reputation, office, and, in a word, whatever is not of our own doing.

— Epictetus
One topic that I revisit on the podcast repeatedly is how important it is to control the things that we can' and let go of the things that we can't. For me, this is one of the most important lessons we can learn in our lives. In this episode, I want to talk about how we be more mindful of what we can, and what we cannot control.
What Do You Control?
According to the stoics, we control very little. Mostly, we can control our thoughts and perspective, our choices, and our actions. Everything else is outside of our control. For many people, the idea that we are so small, powerless, and insignificant is an unsettling thought.
Two Sides
I like to think of control as two sides of the same coin. If you are controlling the things that you can, and letting go of the things that you can't, you are being effective and respecting yourself. You are the master of yourself. If you are trying to control the things that you can't, like other people, or the circumstances that you are facing, then you are not controlling what you can, and you are wasting time and energy. You can't control yourself and external things at the same time. You can do one or the other.
Blame
Many people are very unsettled because they have so little power in their lives and it makes them very anxious and angry. They want to feel like they have more control. They don't like the fact that they have so little power in the world to influence things. They feel like their lives are not under their control. The most interesting thing is that most people I've met who feel this way ironically choose to blame other people for all the things they are unhappy about. They may blame their partner, their parents, immigrants, the government, the weather, bad luck, the devil,… and the list goes on. Rather than do the hard work of being responsible for themselves, their emotions, their choices, they blame other people.
Victim
When we choose not to control the things that we can, we are allowing ourselves to become a victim. When we have options in front of us we could take, but we don't make a choice or take an action, then we are at least partially responsible for our situation. And I say partially, because we may be in a situation that we don't like, but may have done nothing to get ourselves there. If we are in a car accident because of someone else's recklessness, we may have an injury that we are not responsible for, but how we approach our recovery is up to us. We may not recover back to full health because there are things outside of our control, but how we see and act in our lives despite these challenges is always our choice.
Fate
So what about things that we don't have control over? This is where the idea of control dovetails with Amor Fati, that we love our fate, meaning that fate, circumstance, life happens to all of us, whether we like it or not. We don't have control over what life sends our way. We have control over how we respond. It may be true that you a victim of circumstance, and that you are suffering from something out of your control. Natural disasters, political upheavals, and wars, for example, are all things that have profound impacts on us we have no control over. These things also limit the choices and opportunities that someone may have. I consider myself lucky that I have never had to live through any of these kind of events, which makes me even more empathetic to those that have had to suffer through them. I hope that if I were ever tested with any of these, that I could put stoic teachings into practice.
Other People
One of the most frustrating things we struggle with in life is other people. If other people just acted in the way that we wanted, life would be so much easier! But that's the thing, it never does, and people don't always act the way want them to. When we learn to let go of trying to control other people and their thoughts and actions, and focus on showing up in the world how we want to, then we can let go of what other people do or think. We can focus on what we do and think. We can make our choices, and take actions that are inline with our values, regardless of what other people are doing, and we can be the person who we want to be no matter what is happening around us.
The chief task in life is simply this: to identify and separate matters so that I can say clearly to myself which are externals not under my control, and which have to do with the choices I actually control. Where then do I look for good and evil? Not to uncontrollable externals, but within myself to the choices that are my own.

—Epictetus
Mindfulness
Since we have so little that we control, what can we do to maximize our influence? What can we do to be more effective with the things we have control over? I think that much of it comes from mindfulness – that we are in control of, and aware of, our own minds. If we are not paying attention to the thoughts in our minds, it makes it very challenging to understand why we make the choices and take the actions that we do. Meditation and journaling are still two of the best methods for understanding the workings of our own minds.
Practice
When we're in a challenging situation, we need to understand how our mind works, and that we have practiced how we want to respond in any situation. When I was first starting out college, I was enrolled in the musical theater program. I wanted to be an actor and a singer, and a big part of being good at that was rehearsal. When cast in a play, there were weeks of rehearsals in order to perform our best. Sometimes it was very challenging. Long days of school followed by running lines and practicing dance numbers or staging was exhausting. And the thing was, that we certainly did not get it right the first few times. Often, we would have practiced a dance number dozens of times, night after night, to the point where I would almost be annoyed by the music and the dance moves. But as soon as we hit opening night and show started, there was an excitement night after night as the hard work that we put in showed up on stage. And even then, each performance got a little better.
When we take the time to think through and imagine how we want to behave in certain scenarios, it can go a long way towards helping us develop better responses in difficult situations. You can do this in journaling by writing out how we want to act in a given situation that comes up in your life.
Boundaries
One of the best ways for us to exert control over what we have control over is to set boundaries. Setting boundaries is a way for us to clearly explain to others, and ourselves, what we will and will not accept. It teaches others how we want to be treated, and it helps us maintain our own inner equanimity. Boundaries are not ultimatums, but are ways to clarify how we wish to be treated, and when others are not willing to respect those boundaries, we have set clear responses of what actions we will take. We may excuse ourselves and leave the situation. We may limit the time that we spend them. We may cut off contact altogether. These are all about communicating what we need and will accept, and following through with those commitments to respect ourselves.
Values
When we are clear about our values, and the kind of person who we want to be, it makes it easier to show up in the world the way we want. When we have decided who we are and are very clear in our mind about who we are, then what other people do and what circumstances we find yourself in matter very little. We are who we want to be; we uphold those values, and stand by our principles, regardless of what others do. If our values and actions change base upon others, then we are not in control of ourself. We are allowing them to control us.
Conclusion
When you are facing a challenging situation, recognizing what you have control over and acting upon those things is not a simple task. It is something that you will probably fail at. I know I do often. But when I take the time to think through the kind of person who I want to be, and imagine and rehearse how I want to handle myself, I usually do a much better job. It really comes down to knowing yourself, recognizing what you can control, and taking actions that align with who you want to be.
—
Hello friends! Thank you for listening. If this podcast speaks to you, join us over in the Stoic Coffee House. The Stoic Coffee House is a community built around the ideas of stoicism and the Stoic Coffee Break  podcast. You'll meet your fellow Stoics, and have a place where you can share your life experiences and what you've learned along the way. Also stop by the website at stoic.coffee where you can sign up for our newsletter, and buy some great looking shirts and hoodies at the Stoic Coffee Shop. Also, if you know of someone that would benefit from or appreciate this podcast, please share it. Word of mouth is the best way to help this podcast grow. Thanks again for listening.