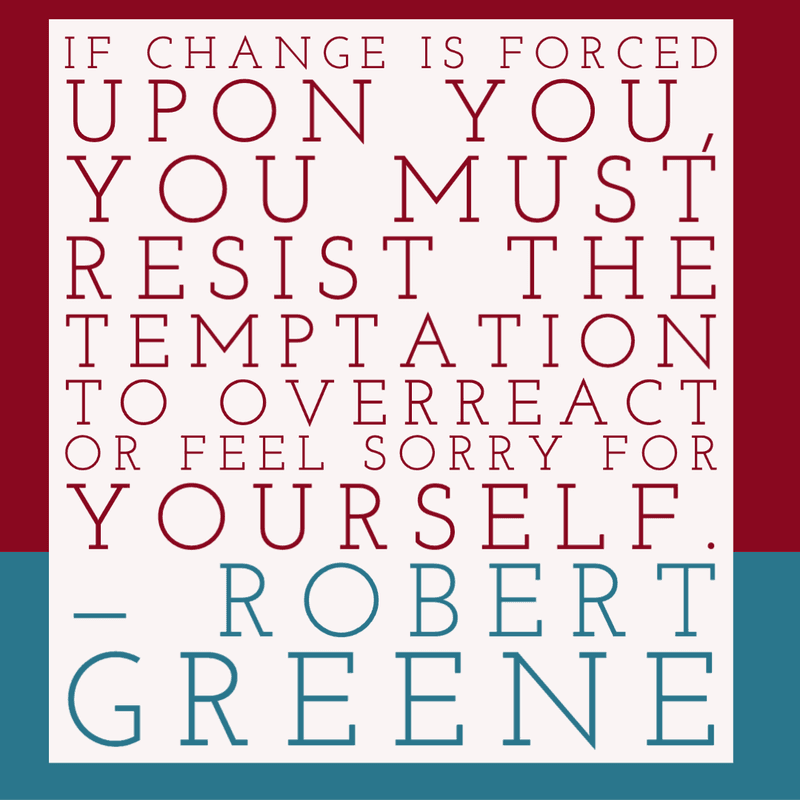 If change is forced upon you, you must resist the temptation to overreact or feel sorry for yourself. 

— Robert Greene
How often do you feel that life is unfair? That something happened that you think should not have happened to you? Maybe someone hurt you and you want them to fix it? Today I want to talk about blame and responsibility.
One thing we learn in stoicism is that there are a lot of things outside of our control. In fact, most things are outside of our control, and we have a tough time with this idea. We want life to make sense, to be predictable, and usually, to work out in our favor.
A Just World
One problem this brings up is that we assume that the world is fair. There is actually a bias called the Just World Hypothesis. Basically, because we think the world should be just and fair, we act like it is. This causes issues because then we feel like the world should automatically fix things when they aren't fair, that there is some magical universal power that will right all the wrongs. But the things is, the universe is not just or fair, at least what we might consider fair, and to pretend otherwise is to ignore reality.
The idea of a just world pops up in a lot of areas of our life. Some are pretty clear, where as others are more subtle. For example, when someone dies, we'll often hear it said that they died too young, or that it wasn't fair how they were taken. Why was it too young? Why wasn't it fair? Is there some prescribed age or way that we are supposed to die? When we think something is unfair, we are really saying that we had some expectations and what actually happened was different that what was expected or wanted.
Revenge
I think our desire for a just world is part of why we enjoy revenge stories so much. So many of the stories and plays from as early as the Greeks and Romans are all about the villain getting their just desserts. How many Shakespearian tragedies revolve around the desire for revenge? I admit I love a good revenge fantasy movie like John Wick because it feels good to see the hero take out the bad guys who "deserve" it. These all satiate our desire to see those punished who we think deserve it.
You can change it, you can accept it, or you can leave it. What is not a good option is to sit around wishing you would change it but not changing it, wishing you would leave it but not leaving it, and not accepting it. 

— Naval Ravikant
Not Our Fault
In our personal lives, there will be a lot of things that will happen to us that are not our fault. We may get sick. We may lose our job. Someone can break our heart when they end a relationship. Maybe we end up in an accident that leaves us crippled for the rest of our lives. These are all things that are not our fault. The blame for them may well lie outside of ourselves, because we did not have control of all the factors that led to any of these outcomes. We are not at fault or to blame, but it is our responsibility to do something about it.  When we don't step up take responsibility for the things that we control, then we are victims.
Accountability
Now when I talk about taking responsibility for things that happen to you, I don't mean that others should not be held accountable for the things that they do. If someone is to blame, to your best to hold them accountable. We all need to do our best to hold each other accountable for our actions. If someone was driving while intoxicated and they crash into your car and injure you, we should hold them accountable for their actions. If your business partner embezzles funds from your company, we should prosecute them. If there are systemic issues such as racism or misogyny that keep you from advancing in your career, those issues need to be addressed. Taking responsibility for fixing what is wrong does not mean that those who are to blame should not be held accountable.
But with that said, you should not sit around wallowing in your misery, being angry or depressed and waiting for someone else to come and fix things. Don't expect other people to make your life whole again. Don't leave it on them to fix what is broken. When you do that, you are giving away your power and allowing yourself to become a victim. Do your best to hold them accountable while doing your best to improve your life and make the best of what you have.
Community
Another example of how we may not be to blame, but need to take responsibility for something, is in areas of our society. This last week, I was chatting with a friend of mine about his efforts to bring awareness of the racist past of his city to help bring diversity and equity so that the minority population would feel more welcome. In doing so, he has stirred up resistance from people who rather that these issues just remain in the past. They don't want to talk about the explicit racism that was part of his communities' past. Many feel it is not something that needs to be discussed because they personally are not racist, so bringing up the past is about things that they didn't do, so they are not at fault.
And yes, it is true it is not their fault. They personally did not do these things that happened in the past. But I believe that being part of a community is to be responsible for doing my best to help right the wrongs of the past of the community that I belong to. Because if I am not responsible, then who will be? Someone else? There are so many things in this world that are not our fault, but if things are going to change, they are our responsibility. Just as when we talked about personal responsibility, we need to understand that there is also communal responsibility. If we are not willing to step up and hold our community responsible for bad actions, then it allows bad things to happen and to be excused simply because there wasn't a person that could be held individually responsible.
Here is a rule to remember in future, when anything tempts you to feel bitter: not 'This is misfortune', but 'To bear this worthily is good fortune.' 

— Marcus Aurelius
Bear This Worthily
So what can we do to be sure that we don't fall into this trap? I think foremost is to separate blame from responsibility. I think the hardest part is that we can get stuck on the idea that because someone is to blame for what happened, we also think that they should fix it. And maybe they should fix it. But if we don't step up and do what we can do, then we can stay stuck where we are waiting for someone else to solve our problems. We become a victim.
The second part is doing our best to be honest about our situation, and the choices we have. We may not have a lot of choices, but we always have some choices. We can always take some action to move ourselves forward. Our heart may be broken but it's up to us to grieve and to work on healing. Our lives may be radically altered from a car accident, but we have the choice of how we're going to face our future. We're going to have to face it anyway, so why not take ownership of our attitude and our mindset so that we can make the most of what choices we have.
Conclusion
Things are going to happen to us in our lives that are unpleasant, uncomfortable, and often just down right awful. That's just part of living. Sometimes, it's just going to suck through no fault of our own. But we always have a choice and take responsibility for our own lives, even when someone else is to blame.
—
Hello friends! Thank you for listening. If you like what you hear, head on over to patreon.com/stoicoffee and help support this podcast by becoming a patron. Also stop by the website at www.stoic.coffee where you can sign up for our newsletter, and buy some great looking shirts and hoodies at the Stoic Coffee Shop. Also, if you know of someone that would benefit from or appreciate this podcast, please share it. Word of mouth is the best way to help this podcast grow. Thanks again for listening.