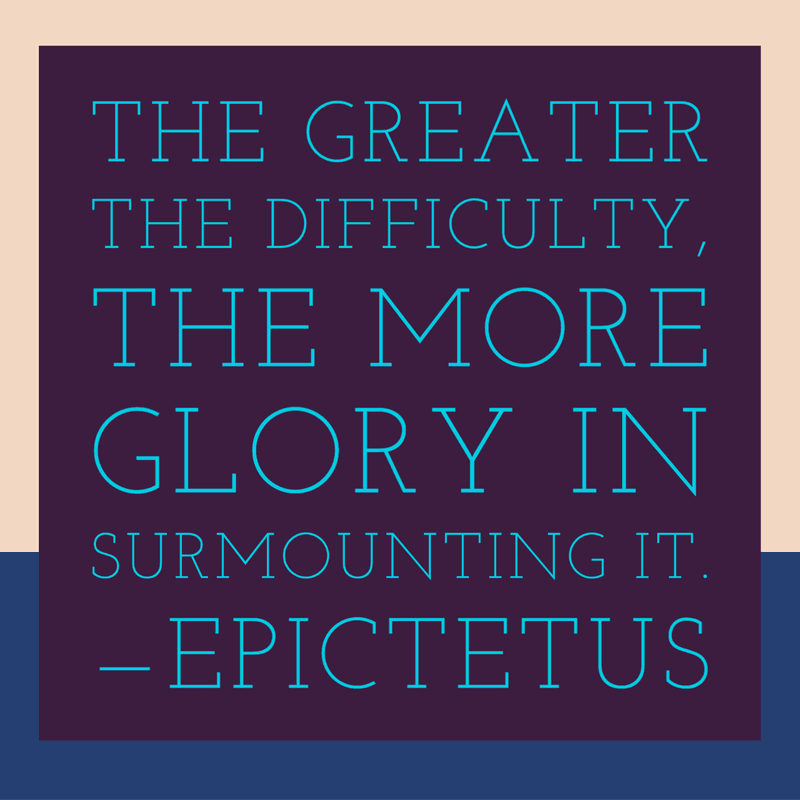 Join us at the Stoic Coffee House!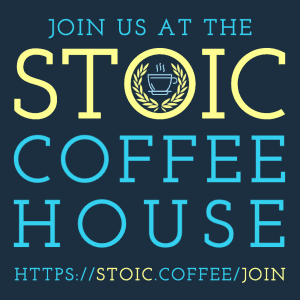 The greater the difficulty, the more glory in surmounting it. Skillful pilots gain their reputation from storms and tempests. 

— Epictetus
Do you think that life is meant to be comfortable? Do you make choices in your life to take the easy path and avoid discomfort? If so, then you may not be living a life as full as you could.
So much of our lives are built around convenience. This extends to so many areas of our lives – the way we eat and shop, the way we find entertainment, even how we date. We want things to be easy. We complain when things are hard. We whine when things don't go how we want. So much of the technology that is created and sold in our lives is all about convenience. But are were short changing ourselves by taking the easy path?
Too many people believe that everything must be pleasurable in life. 

— Robert Greene
The Long Ride
When I was really into cycling, I would take off work every other Friday morning and head out on a solo 72 mile ride. I simply called it "The Long Ride". I would ride out to one of my favorite coffee shops, have a ham, cheese, and egg bagel sandwich for lunch, then head out to finish the long loop all the way home. It would usually take me about 4 to 5 hours, and when I got home, I'd crash for a few hours, then go pick up my kids from school. Some people thought I was crazy, but I loved it. It was right after my divorce and I had little money to take a vacation anywhere, so it was what I used my vacation time for.
Riding like that did several things for me. It was a way for me to push myself to my edge. When you ride a distance like that, you have to know how to pace yourself so that you have enough energy reserved to make it home without calling a friend to come pick you up. You push yourself to your edge to see if you can climb those hills a little faster, or increase your pace across a flat stretch of road by 1 or 2 miles faster than last time. Testing yourself, increasing your strength, or on tough days, just making it back home always created such a feeling of accomplishment.
It was also my Zen time. It was my time for thinking and working through the challenges I was facing in my life. It was also a time when I could just focus on being in the moment. When you're flying along a country road on a warm summer day with legs pumping, lungs breathing in the air scented with raspberries and clover, you hit this flow state where everything feels perfect. It's one of the most energizing and amazing feelings in the world.
Start living in discomfort. Gradually increase it little by little, and you will steadily grow. If you want sudden growth, deluge yourself in great discomfort and do not retreat from it. The more discomfort you are willing to bear, the more you can grow. 

— The Ancient Sage (@TheAncientSage)
Discomfort
To get to where you can do a long ride and just take off and ride 72 miles in a few hours, you have to put in the work. You have to build the muscle. You have to put in miles on your bike. You have to be able to climb, and you have to learn to pace yourself so that you can make it out AND back home. It's not something that you can just pick up and do in a few days or weeks. It's something that you have put in the miles week after week for a few years. Every time you go out, you have to push yourself a little more. You take those hills that you know will hurt. You drop into the lowest gear, and start pedaling, and when you can, you bump it up a gear. You gradually increase that discomfort by taking the hill a little faster than you did last time. You cut a few minutes off your overall time.
Discomfort is the currency of success. 

— Brooke Castillo
I think everyone needs something like a long ride that they're working towards in their lives. Why? Because when you practice learning how to face uncomfortable situations in one part of your life, it makes it easier to face uncomfortable things in another area. You learn how to find your edge, and how to push past it. If you have been practicing taking on that hill, one pedal push at a time, you will probably be more willing to sit through a tough conversation that makes you feel vulnerable and uncomfortable.
Now it isn't guaranteed by any means. Just because you're great in one area of your life doesn't mean you'll be great at another area. I think you need to be mindful about applying skills across disciplines. But if you've never really had to work for anything, never pushed yourself out of your comfort zone, then you're probably lacking the tenacity you need to see things through.
In fact, since I've slacked off from riding over the last few years, I've noticed that my tolerance for dealing with challenging situations is not where it used to be. I've started training to get back in shape to where I can take my long rides. It's not easy. I'm nowhere near the shape that I was in, and I've picked up some bad habits, especially in my diet, that I need to change in order to reach that level of performance again. I'm also older and have to make allowances for how my body has aged. But I know that the benefits both in physical and mental health that come with  training for my long rides will be worth it. It will take mindfulness to plan workouts and diet, as well as managing my time in order to fit in the training and rides needed. It will take discipline to make sure that I don't skip training because "I don't feel like it".
Comfort makes you weaker. We need some variability, some stressors. Not too much, but just enough. 

— Nassim Nicholas Taleb
What is Your Long Ride?
So what is your long ride? What is the thing that you want to get better at that you know the only way to do it is to put in the work? Maybe you want to bench press your body weight or break your personal record in running a 10k. Maybe it's coding your own application or starting a business. Maybe it's learning how to speak another language or sing in front of other people. Whatever it is, are you putting in the hard work? Are pushing yourself to your edge, strengthening those muscles, whether physical or mental, and building the skills? Or are you just putting the bare minimum, trying to fool yourself that somehow your minimal effort will be enough? Or maybe not even pursuing it at all and leaving it for "someday"?
If there is something that you've been wanting to do, but keep putting it off, take a look at why. What is it that keeps from doing it? What are you afraid of? What excuses do you tell yourself so you keep pushing off working on your long ride? Maybe you're scared because you might fail. Maybe you're scared that you'll succeed. And I'm sure, like all of us, you can come up with all kinds of excuses. There is never enough time. There is never a perfect time to get started.
Start with something small, such as setting aside a little time each day to come up with a plan. Once you have a plan, start doing the plan. Make the steps just a little more challenging than you think you can accomplish. Make sure that with each step, you're just a little outside your comfort zone. Every now and then, really step out of your comfort zone and stretch yourself. Maybe that's an extra 10 miles on your ride or an extra 5k on your run. Maybe it's picking out a song that you're scared to sing because it's a little out of your comfortable range.
Conclusion
A life in search of comfort is life spent taking the easy path. It is also a life where you never know what your full potential is, nor do you push yourself towards reaching that potential. Find your long ride and working towards pushing to your edges. It's only when you step out of your comfort zone that you find that growth, and it's in the unfamiliar that you find new possibilities.
—
Hello friends! Thank you for listening. If this podcast speaks to you, join us over in the Stoic Coffee House. The Stoic Coffee House is a community built around the ideas of stoicism and the Stoic Coffee Break  podcast. You'll meet your fellow Stoics, and have a place where you can share your life experiences and what you've learned along the way. Also stop by the website at stoic.coffee where you can sign up for our newsletter, and buy some great looking shirts and hoodies at the Stoic Coffee Shop. Also, if you know of someone that would benefit from or appreciate this podcast, please share it. Word of mouth is the best way to help this podcast grow. Thanks again for listening.