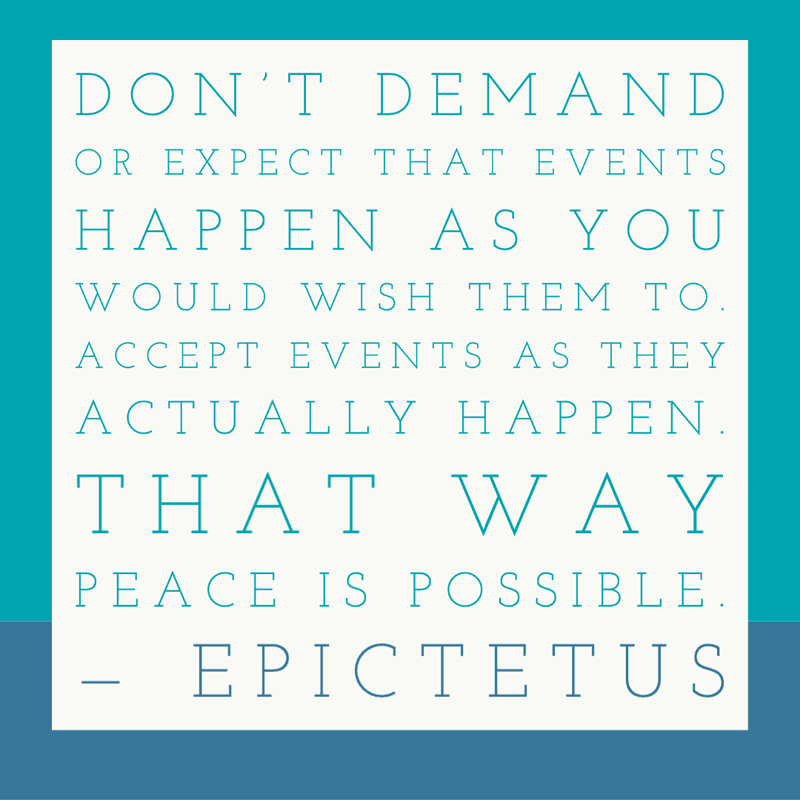 Like what you hear? Come join us in the Stoic Coffee House and discuss this episode with your fellow stoics!
Don't demand or expect that events happen as you would wish them to. Accept events as they actually happen. That way peace is possible. 

— Epictetus
What if you stopped resisting what life brought your way? What if you could cheerfully accept everything that came your way? How would that change the way you showed up in the world? This week I want to talk about the importance of dealing with what is, and not what we think it should be.
The stoic idea of Amor Fati, to "love your fate", is often a confusing topic. Did the stoics mean we are victims of fate, and that we do not have freewill and we should just accept what happens to us? I mean doesn't that just make us victims?
I don't think so. I think what they meant was that life, fate, is going to happen to us no matter what. Unless you're dead, there are things that are going to happen in your life, and you have no control over them. And because they are going to happen to us, whether we like it or not, we can either resist and complain, or we can accept that this is how life is happening to us, and flow with what happens.
Wisdom lies in cheerful acceptance of whatever life throws at you. 

—The Ancient Sage
Should Be vs. Could Be
When you focus on what you think "should be", you are wishing for the world to be something different than it is. You are projecting your expectations on the world. You are chronically unhappy because the world will never change to meet your expectations. You judge everything by what you think it should be, not what it is. People are not doing the things you think they should. Events aren't happening like you think they should. When you think about how things should be, you are wishing.
When you focus on what "could be", then you are recognizing the way things actually are, and seeing the potential. You mind can be creative because it sees the possibilities, based on what is there, and what things could become. It gives you a real chance to actually accomplish something because it starts from a basis in reality, rather than trying to bend things to fit our expectations.
Once you can accept everything for exactly as it really is, especially the things we don't like, you can be okay with whatever life throws are you. It doesn't mean that you have to like it. It just means that you acknowledge and accept it. You can see opportunities and potential. You are curious and accepting, and less judgmental.
This is not an easy mindset to adopt. We're told that we should visualize how we want things to be, and just think positively and everything will work out. While I think imagining the future we want is important, we should be cautious of wishful thinking.
I think a good metaphor would be if you went river rafting and complained about the flow of the river, the curve in the shore, and the challenge of the rapids. If you constantly wanted the river to change so it was more to your liking, then you're never going to enjoy the river for what it is. You're going to be upset that it didn't meet your expectations.
On the other hand, if you simply accept the river for what it is, and appreciate and explore the challenges of the river, you're going to focus your energies on the best way to ride the rapids, enjoy the lulls of the more placid areas, and appreciate the scenery. You accept what is, and focus on making the best of the situation, rather than wishing for the river change for you.
To complain is always nonacceptance of what is. 

— Eckhart Tolle
Resistance
I think that a lot of our stress comes from resistance. We don't want to deal with what is, so we find ways to avoid dealing with what is. We may avoid having tough conversations. We avoid doing the hard things, hoping that if we just ignore it, it will resolve itself on its own. But this never works, and it usually makes things much worse. Even just half-assing it doesn't work. Whatever the excuse is, it's usually because we feel uncomfortable, and I'm speaking from my experience here.
For example, if you need to have a hard conversation with your partner, and you avoid and don't commit to it fully and honestly, things rarely go well. You come up with all kinds of excuses and rationalizations as to why you should avoid having that hard talk, but for any of us that have been in long-term relationships we know that avoiding the problem never makes it go away, and generally makes it worse. If you embrace the hard stuff from the beginning, then it is much easier to deal with. When you let things fester, then it's not just about the issue, it's also about avoiding the issue.
It's kind of like having an open wound – the more you ignore it, the greater the chance you have of it getting infected. If you take care of it right off the bat, it's much easier to clean it out and keep it from getting infected. Once it's infected, then it takes more drastic action to repair the damage, and the greater your potential for causing long-term harm to the situation.
How ridiculous and how strange to be surprised at anything which happens in life. 

— Marcus Aurelius
Accept
So what can we do to be more accepting of what life throws our way? I think one of the best ways is to let go of our expectations, and do our best to face our challenges head on. When we look at anything that pops up in our lives as just another day in our life and get on with dealing with it, we are better able to deal with it. When we complain, avoid, or ignore, we are not only wasting time, we are also putting ourselves into a mindset where we are even less able to deal with it effectively. If we look at each challenge as something we can learn from and build our skills, then we are using our time more effectively, as well as priming our minds to approach it with a more effective mindset.
Self-Acceptance
I think another key area of accepting life as it is, is to accept ourselves as we are. For those of us that work hard to improve ourselves, we also need to remember that we have all kinds of expectations about ourselves that are often detrimental. There is a lot that we want to accomplish, and we can see the person who we want to be, but I think that we often make plans and set goals with this perfect ideal of ourselves in mind. If our plans expect us to be operating at our best, or some ridiculously idealized version of yourself all the time, without room for being at our worst, then we're going to suffer a lot of failures in our lives. I think we need to recognize not just our strengths, but also our weaknesses, and work within what we can really accomplish, not just what our ideal selves can accomplish.
Remember, self acceptance it not about letting yourself off the hook. It's about being realistic about what you can do, and who you really are. It also removes a lot of shame for not being something other than what you are. It's a recognition that a lot of the ideas of what you should be are not yours, but are those given to us by family, religion, society, and other external influences.
Conclusion
Learning to accept life and ourselves and stop resisting what life hands us is not a simple task. But learning to be realistic about how things are and how we really are, can help give us a perspective about the potential of how things could be. When we work from a base of "what is" it's more likely that we are able to realize our potential, and not get stuck in wishful thinking.
—
Hello friends! Thank you for listening. If this podcast speaks to you, join us over in the Stoic Coffee House. The Stoic Coffee House is a community built around the ideas of stoicism and the Stoic Coffee Break  podcast.
Also stop by the website at stoic.coffee where you can sign up for our newsletter, and buy some great looking shirts and hoodies at the Stoic Coffee Shop.
Lastly if you know of someone that would benefit from or appreciate this podcast, please share it. Word of mouth is the best way to help this podcast grow. Thanks again for listening.