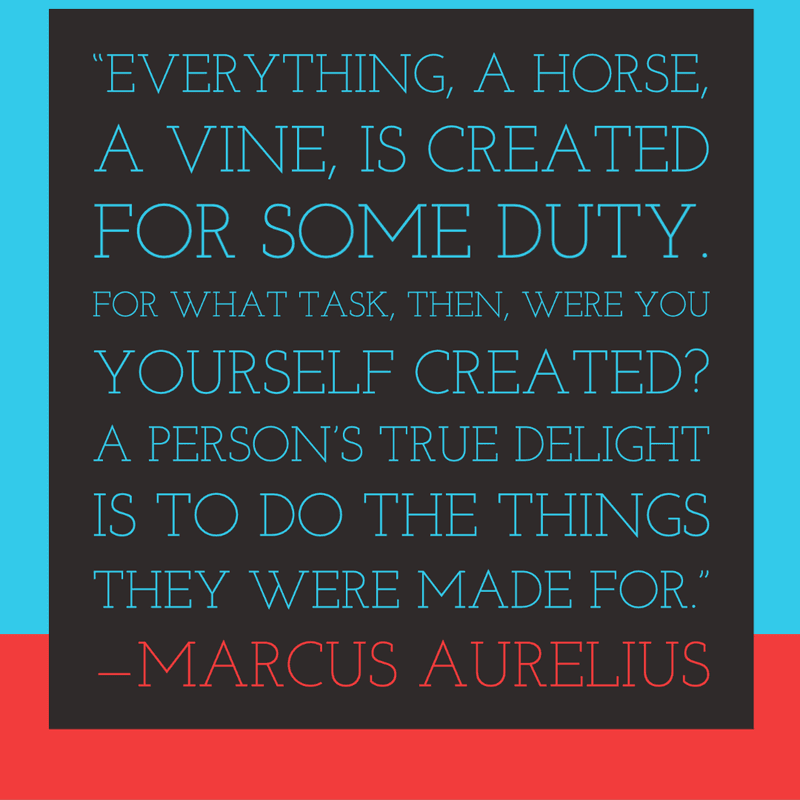 Be awesome and become a patron!

Do you really know what you want? When you think about what you want, does it excite you? Does it scare you? Are you pursuing what you want? In today's episode, we're going to talk about why it's scary to know what you want, and why that's a good thing.
"Everything, a horse, a vine, is created for some duty. For what task, then, were you yourself created? A person's true delight is to do the things they were made for."
—Marcus Aurelius
This week, I got an email from a listener who said she was struggling with being in a career that she felt no passion for but felt like she couldn't leave for practical reasons, and asked if I could devote some time to this idea. I felt strongly about this because, as I've been working on putting things together for the Stoic Coffee community, I'm facing my own fears and doubts. I know it will take a lot of work. It will challenge me in ways that I can't even imagine. It also creates excitement because of the opportunities that it can open up for me to connect with you, my listeners, and the ideas and things that we can work on together.
The Challenge
We all face the challenge of knowing what we want. There are so many reasons we struggle to know what we want. Why is this so challenging? Because we have been told our whole lives by our parents, siblings, friends, teachers, churches, and society what we're supposed to want. Taking the time and the effort to know what we want is not something they teach us to do. We just assume that we'll know what we want.
There are all kinds of forces that influence what we believe and what we feel is acceptable to want. Every culture has lots of biases about what is acceptable. Some cultures hold doctors in high esteem and look down on artists. Others may consider being a farmer is more important than being a banker. There are all kinds of explicit and implicit messages about what we should want and what is unacceptable. But these are things that should not matter. These are things outside of your control. If you are choosing what you want based upon what society or religion or family tell you, then you are choosing based upon the opinions of others.
Religious influences can also have a big impact on what is acceptable. In my case, there was such a big push to get married and have kids, that the thought of becoming a musician or actor was downright scary because I was afraid that I could not provide for a family while working in such unpredictable industries.
With those closest to us, there is a lot of pressure to conform to what they want for us. To go against what they expect is scary, and downright terrifying. Families have an outsized influence on the careers we choose, the people we marry, and the values we hold, which can make it challenging when we know they might disapprove of the things we want.
These are all powerful forces, and to seize the rudder of our ship and chart our own course can feel overwhelming. There are strong currents pulling us all different ways and if we don't have a clear destination in mind, then we just go where these currents take us. But there is a way that we can figure out where we want to go amidst all the noise and chaos.
We slow down, tune out the noise, and listen.
Listen to what?
Listen to the sound of your breath and the rhythm of your heartbeat. You pay attention to the thoughts in your mind. When you do this, you hear what your mind and heart truly want. You become aware of your actions in everyday life. You notice the things that get you excited and the things that sap your energy.
The truth is most of us know what we want, but to say it out loud is scary… and exciting. Do you know why it is scary AND exciting? Because fear and excitement feel the same. If what you want scares you, that's great because it means that it's exciting! It's thrilling! It means it's something that you can't imagine yourself doing, because to imagine yourself doing it feels like betraying everything you were told or believe about yourself.
Will you succeed?
Will you be great?
Who knows?
Does it matter?
No!
What matters is that it's your dream, and every day you work towards your dream is a day that you feel more alive. Every day you spend working on someone else's dream is a day that you are not living. Therefore, the stoics implore us with Memento Mori, to consider our mortality so that we can distill what really matters. We can look at each day and the actions we take and ask, "If today were my last day, would I still do this?"
To take that rudder, and steer your course towards your destination, your dream, is to take responsibility for your life. There are all kinds of external forces that don't want you to follow your dream. You can't control those, and that's okay. It means that those are things you can let go of. Just think of how much energy you save because you can let go of trying to control those things! For example, you can let go of worrying about what others think because you have no control over that. What you can control is your mind, your choices, and your actions.
Resistance
When you try to know what you want, your brain will put up all kinds of resistance. You'll find yourself second guessing yourself. You'll try to talk yourself out of it because it seems like it's impossible. This is normal. Your brain is trying to protect you. The fear of pursing your dream and failing is very powerful, and it has stopped plenty of us from stepping up and owning our dream.
The way you work through this resistance is to imagine what it would feel like if you lived in a perfect world where nothing could stand in your way, and that you could easily move past every challenge that presented itself. What would that feel like? What would that look like? Can you see yourself doing it? Imagine it in a as clear a way as possible. I mean like 4k video clear so that every time you think about about it, there is no doubt what your dream looks like. If you leave it vague, it makes it very challenging to get what you want. Things like, "I want to work for myself", or "I want to work in medicine", leave things too up in the air. The more clear and detailed you can be, the more likely you are to make plans to go after what you want.
Changes
Knowing what you want is scary because it can lead to big changes in your life. When we truly know what we want, we often bury these desires because if we went after them, it could mean a lot of change in our lives. We will do other things to distract us because we may not be ready to make those changes. For example, if we decide that the career we have doesn't suit us anymore and we want to go after something else, that can mean a complete change of lifestyle. It may mean that we make a lot less money, and have to downsize the house we live in. It can change our whole circle of friends.
Maybe you want to get married or maybe you want to get divorced. Maybe you want to cut ties with friends or family that are damaging to you. These are all things that you may want, but are afraid to do because it can mean tremendous changes in your life and living situation. But remember, life is always in constant flux and that as much as we might want it, things will never stay exactly as they are. We should be will to not only accept change, but embrace it and guide it in ways that benefit us. Think about it this way. If you want to be a veterinarian, it's going to take years of schooling and a lot of hard work. But the thing is, that time is going to pass you anyway, and at the end of that time spent in school, you'll come out doing what you love.
Another reason we may be afraid to go after what we want is because we feel like we are too old to change. I disagree. We can choose to make changes at any age. Albert Schweitzer was an accomplished musician and clergyman in the early 1900s and could have easily spent the rest of his life in comfortable positions in the Lutheran church. At the age of 30 he decided he wanted to be a medical missionary. He went to medical school with little knowledge or aptitude for medicine, and after 7 years of school, he finished with a medical degree and went to serve the people of Gabon, Africa, at his own expense. He would spend the rest of his days working to build a hospital in Gabon, and speaking out against colonialism.
It's Okay to Know
If you're struggling with this, the first step of knowing what we want to just to accept that it's okay to know what we want. We don't have to do anything about it right now. Just acknowledge it's what you want. If you are young, it is very possible that you might not know what you want, at least in the long run. That's okay. Because life is constantly changing, you may want something at one phase in your life and want something completely different later on. Just because you make a choice and go after what you want, does not mean that you can't change your mind. You can always change your mind. What served you in one part of your life may no longer work for you. Just because you pursue one path in your life does not mean that you have to continue down that for the rest of your life.
Conclusion
"What we fear doing most is usually what we most need to do."
— Tim Ferriss
Making the choice to pursue what you want is scary, and challenging, and it should be. It means you have to grow and step out of your comfort zone. It also means it's worth it. Any dream or desire that is worth it will challenge you. You will doubt yourself along the way. You will fail. You will have down days, and days where you want to give up and ask yourself why you ever wanted it in the first place. You will find strength that you never knew you had. You will find allies and helpers and people that show up at just the right time to lend a hand. You may never actually achieve your goal, but living each day pursuing your dream, to go after the things you want, is a day that you have truly lived.
Hello friends! Thank you for listening. If you like what you hear, head on over to patreon.com/stoicoffee and help support this podcast by becoming a patron. Also stop by the website at www.stoic.coffee where you can sign up for our newsletter, and buy some great looking shirts and hoodies at the Stoic Coffee Shop. Also, if you know of someone that would benefit from or appreciate this podcast, please share it. Word of mouth is the best way to help this podcast grow. Thanks again for listening.