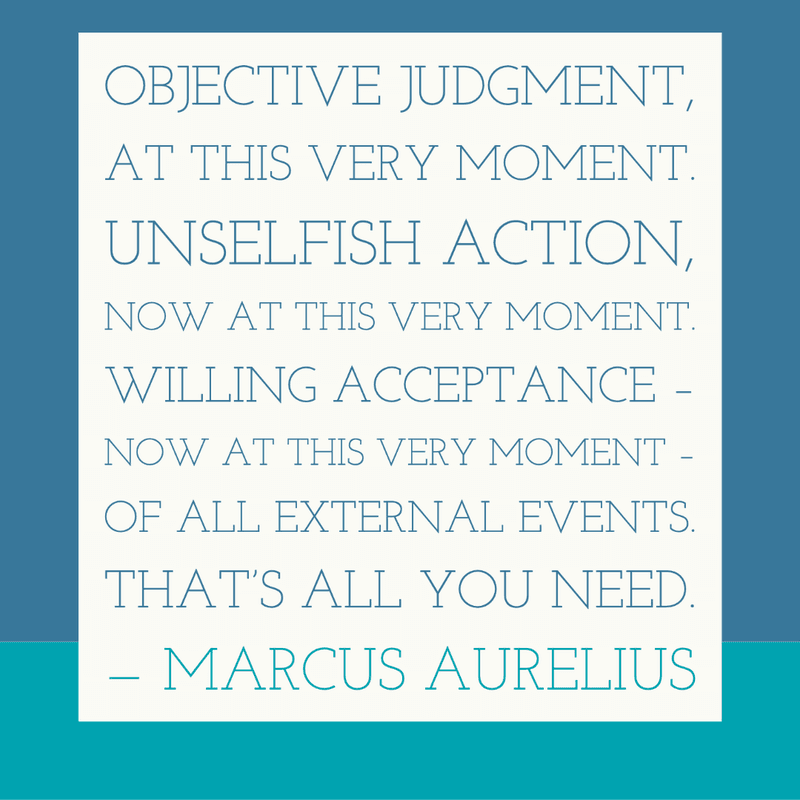 Like what you hear? Become a patron!

How aware are you of what you are thinking? What you are feeling? Most of us like to think that we are pretty aware of what's going on in our minds or what emotion is currently driving us. I mean, we're the one inside of our mind, so we should know what we're thinking or feeling, right? Well, not always. Often, the thoughts and emotions inside my head are busy, confusing, conflicting, and overwhelming. So today we're going to talk about the most important mental skill you can develop, awareness.
"Objective judgment, at this very moment. Unselfish action, now at this very moment. Willing acceptance – now at this very moment – of all external events. That's all you need."
— Marcus Aurelius
One of the most important principles of Stoicism is that we are in control of our thoughts, choices, and actions. But if we're not even aware of the thoughts that are going on in our head, how are we in control of what we are thinking? I mean, how many times have you had a song stuck in your head that you tried to get rid of, only to find yourself absentmindedly humming it a few hours later?
Thinking, and Thinking, and Thinking…
It is estimated that we have around 65,000 thoughts a day. That's a lot of noise going on in our minds, and most of those thought go barely or even completely unnoticed. It's no wonder by the end of the day we're tired and weary and ready to give our brains a rest, even if we have done nothing particularly physically or mentally demanding. Just the ongoing chatter in our minds can be exhausting.
Why is it so important to know what we are thinking? Because what we think creates the emotions that we have, and those emotions influence the choices we make and the actions that we take. If we are not focusing our awareness on the current moment, then our mind is somewhere or maybe some when else. We may be thinking about the past or anticipating what might happen in the future.
When we choose to be mindful and to be aware, we are also much more present in our lives. We are "here, now", and not with our minds wandering through other times and spaces, unless we choose to let that happen. There is nothing wrong with letting your mind wander, to allow yourself to be bored, to use your imagination. But often, when the work in front of us is challenging, we allow ourselves to get distracted by other things because we don't want to focus on the hard work. Our brains are lazy. And we can allow our brains to be lazy, but it should be a choice, and not a default way of acting because we are avoiding something.
"Self-control is all about moment to moment self awareness. You catch yourself doing – or about to do – something undesirable, see that it isn't good for you in the long term, and as a result of this awareness abstain from doing it."
— The Ancient Sage
Why Would We Want to be Unaware?
There are a lot of reasons that we may not want to be aware. For example, I like to think I'm a pretty good person, but there are parts of me I don't like. Sometimes I behave in ways that I'm not proud of. I say things that are mean and hurtful. I don't like these shadow parts all that much because they aren't the person who I imagine myself to be, so being aware of and owning these shadow parts of me can be very uncomfortable.
Sometimes being aware of the world around us can be painful. I think a lot of people genuinely don't like the lives they are living, but they feel like it's just their lot in life. I know I felt that way growing up and that I had little choice but to follow what the church had laid out for me as the way to live my life. I think many people, they became more aware in their lives, and they knew that they can choose to do something about it, many people would shrink back in fear because change is hard. Change is scary. It is safer to remain in ignorance than to accept the challenge of improving their lives.
People will ignore what is going around them because the truth, because reality can be too painful. To be truly mindful and aware is to accept reality for what it is. Amore Fati is ultimately about awareness. It is about doing your best to be aware of what is really happening, to acknowledge it, and to accept it and not wish it to be otherwise.
"I think, therefore I am, what I think I am."
— 2Nu
Mindfulness is a Choice
The hardest part about mindfulness is to remember to be mindful. Because mindfulness is a choice, is it something that we have to actively work on. We don't just wake up one day being mindful. It's something that we have to constantly practice each minute of each day. We have to develop strategies. To be aware of our current experience is to be more fully alive, rather than sleep walking with our heads stuck in the past or the future. It is to choose to be here in this very moment. When we can be present in this moment, then we are truly alive. We are experiencing everything around us more intensely.
Having a higher level of awareness does not mean that life become magically easier, but the more mindful we are, the more effective we are. We are more aware of the choices that we make. We can even reduce the number of choices that we need to make in a day. This saves a lot of energy and time, and we are more effective with the choices we make.
Task Switching
Many of us try to do too many things at once. We like to think that we can multi-task and have it all. But there have been plenty of studies that have shown that multitasking is not really something that we can do as humans. This constant task switching extracts a cost every time we move from one task to the next. It takes our brains some time to get back into the groove of the previous task that we were working on. When you cultivate mindfulness, you can be more aware of when you are task switching, so you can be more deliberate when you choose to switch task. Reducing your task switching reduces the amount of ramp up time time.
When you are more mindful of what you are doing, you are better able to accomplish your task because you are not mentally somewhere else. When you are more present, you are more engaged with what you are doing. Because you are focused on what you are doing, the quality of your work is better because all your resources are focused on the task at hand.
Flow State
In sports and other performance based activities, there is the concept of being a flow state. Where the process of what you are working on feels smooth and you are "in the zone". I think that most of us have experienced this state when we have become engrossed in whatever we were doing. We felt energized, had a clear focus, and proficiency at whatever task we were doing. But what if we took this idea and worked on applying it in our daily lives? What if we tried to apply this kind of mindfulness as a way of being?
Why would we want to be more in a flow state throughout our days? I mean, wouldn't you want to feel energized, focused, and proficient in your daily life? There are a lot of benefits from working in a flow state. We can be more aware of ourselves and our thinking. We are able to make decisions faster, and with more clarity. We're more relaxed, focused, and can tap into the better parts of our thinking.
Practice
The moment to moment awareness I'm talking about is difficult to achieve. It takes a lot of energy, effort, and practice. But if we want to become truly in control of our thoughts, choices, and actions, then we need to practice this kind of awareness. And that's just what it is, a practice. You will never be 100% aware all the time. We just not wired for that way. Some days you'll be better and some days you'll struggle. But everyday you practice on being more mindful, the more you'll feel in touch with the world, and with yourself.
This kind of practice also helps you to be more intentional about your life. Because you are paying more attention to what you are thinking, you can be more deliberate about the choices you make, not just being reactive to everything that comes your way.
There are lots of different ways to practice mindfulness, but really it's just about choosing to focus your attention on something, and this is something that you can do with almost everything. It can be just taking a moment to really focus on the sounds around you and the different textures and timbres you can hear. You can look closely at a painting or a picture and try to notice as many details about it as you can. When you are eating your lunch, what are the different textures and tastes and scents that you can detect?
One practice that I have been using over the past few weeks is what I call AAA:
Awareness
Acknowledgement
Acceptance
I try throughout the day, whenever I remember, or whenever I check the time on a clock, to ask myself, what I'm feeling. Then I acknowledge it by simply saying, "I am feeling " whatever it is I'm feeling: anxious, bored, sad, whatever. Then I accept it. I don't try to change it, I just accept it by saying, "and that's okay".
When you are more aware of your feelings, your more aware of the impact they have on your choices and the actions that you take. I know for me that a lot of times after I've gotten into an argument, when I reflect on what happened, I recognize I was unaware of how I was feeling beforehand. I may have been irritable, but since I wasn't being mindful, I let how I was feeling color my perspective, which changed the meaning that I gave something. My judgement impacted the choices I made of how to handle that situation.
Conclusion
If we want to take control of the things that we can control, namely our thoughts, emotions, choices, and actions, we need to increase our self-awareness. And as we become more mindful, we become more present in our lives. You could say that life just seems more real. Colors seem more vivid. You notice more of your surroundings. You're more present for the people around you. Being more aware means being more alive.
---
Hello friends! Thank you for listening. If you like what you hear, head on over to patreon.com/stoicoffee and help support this podcast by becoming a patron. Also stop by the website at www.stoic.coffee where you can sign up for our newsletter, and buy some great looking shirts and hoodies at the Stoic Coffee Shop. Also, if you know of someone that would benefit from or appreciate this podcast, please share it. Word of mouth is the best way to help this podcast grow. Thanks again for listening.