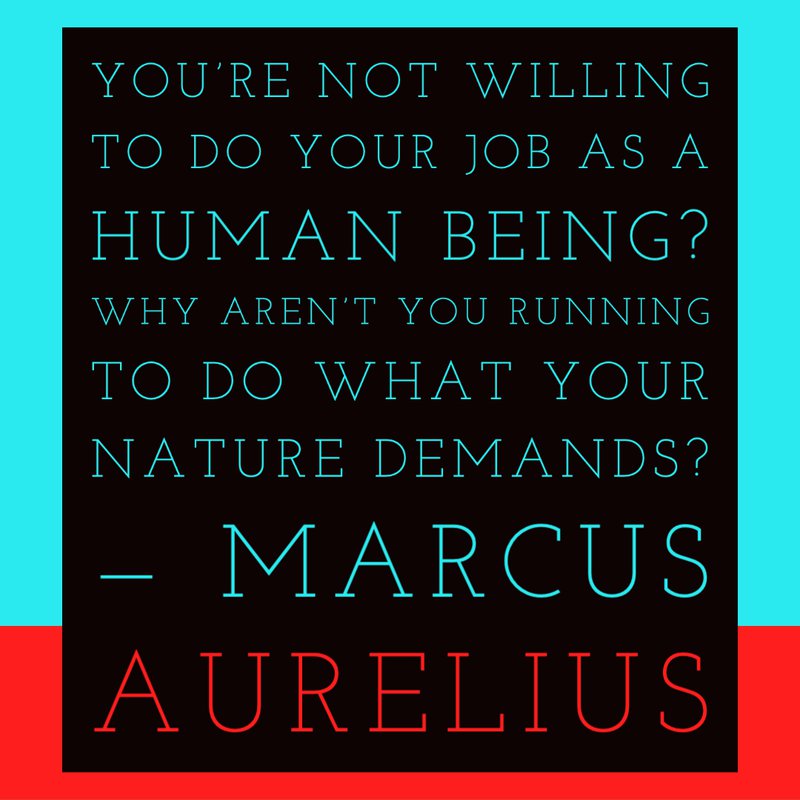 Like what you hear? Become a patron!

Want to be a part of the Stoic Coffee Community? Click here for more info!
"So you were born to feel 'nice'? Instead of doing things and experiencing them? Don't you see the plants, the birds, the ants and spiders and bees going about their individual tasks, putting the world in order, as best they can? And you're not willing to do your job as a human being? Why aren't you running to do what your nature demands?"
— Marcus Aurelius
Does your work suck? Is your boss a micromanager worthy of the office? Maybe your co-workers are shallow and spend their time working on the perfect selfie for Instagram? Maybe it's boring or too challenging? Today we're going to talk about something that takes up the bulk of our lives, and how we can make it better.
One of the toughest things in life is to work at a job we don't like. There are plenty of factors that can lead to job satisfaction. Many of them are outside of our control, but there are some that aren't, and those are the most important ones because they can lead to true job satisfaction, and maybe to finding your purpose in life.
The other day I was listening to an audiobook called Own Your Day by Aubrey Marcus. It's all about getting yourself into shape both physically and mentally so that you can "own your day". There was a chapter that was all about how to love the work that you do. He used a term which really resonated with me:
Love the grind.
When you love the grind, you find pleasure in every aspect of what you're doing, even if it's tedious, uncomfortable, or even painful. You understand that this is what you signed up for. You understand that it's the process, it's the doing that is the thing.
Learning to love the grind is all about appreciating every aspect of your job, even the parts that are not fun. This means that you can even figure out a way to enjoy the boring parts of your job. And I mean it just like that. Take it on as a challenge to make the boring parts not so boring.
Learning to love the grind is also about facing the challenging parts head on. It's about not fearing the challenge, but thriving on it. People often complain about the hard parts of a job, but the challenging parts are the most interesting parts. That's where you hone your skills, and where you learn learn to master your body and mind. Any job that does not challenge you is not worth doing. If you are not growing, you are wasting time. Now, that doesn't mean that you have to be running at peak every second of the day. There are aspects to every job that are boring, and that's expected. Nothing is going to be a thrill-a-minute, and if it were, you'd burn out way too fast.
It's about learning to love the process, the doing of the work, and not being too focused on the outcome. Sure, you need to keep an eye on your goals and what your working towards so that you can make sure that you are taking the right steps to achieve your outcome. But don't get too fixed on it, because life throws you curveballs and no outcome is ever guaranteed. You can control your part in the process, but you can't control that it will end up the way you want. It will be what it will be.
Find Your Why
"Those who have a 'why' to live, can bear with almost any 'how'."
― Viktor E. Frankl
"Everything, a horse, a vine, is created for some duty. For what task, then, were you yourself created? A man's true delight is to do the things he was made for."
— Marcus Aurelius
When it comes to jobs, I think there are really two kinds. There are the ones that do because we believe in the mission, and it aligns with our purpose, and those that are a means to an end so that we can pursue our purpose outside of work.
Either way, to be successful and to enjoy your work, you must figure out your why.
When people say that you should follow your bliss and do what you love, they are not wrong. But like always, it's never that simple. What they are really saying is that you need to find that inner loadstar, that fire that gets you up and moving, not look to things outside yourself. Figure out the why not the what. People get stuck on trying to figure out the perfect job and once they know that, they'll be blissfully happy. Every job, no matter how awesome or glamorous it looks, has its shitty aspects. Want to be a rockstar? There's a lot of work involved. Lots of practices, lots of touring, lots of rejection and disappointment. You can't have the glory without the slog.
Now, there are times in our lives when we may work at a job that is not something we love or even like, but it can still feed our why. Sometimes we just have to pay our dues. For example, my oldest kid just got a job at a bakery, and as we were talking about it today, they said they had made up their mind that even if the job sucked, they were excited anyway because they really wanted to learn how to bake and to decorate cakes. They were willing to put up with the crappy parts because they want to gain the skills that could lead to something better. They were willing to pay their dues.
Another example of doing something that may not be our passion, but feeds our why was in an interview with the director Kevin Smith. He was talking about how his dad worked at the post office for his whole career. He didn't much care for his career, but he did it because his why was that he wanted to have a family and hang out with this wife and kids. He didn't care what anyone thought about his job. He had his dream of being a father and husband, and the post office was just a means to an end. It was a price he was willing to pay for his dream.
Internal vs External
No matter what, your "why" should be internally motivated. If your motivation is to receive praise or to have the prestige of having a certain position, or do a job you hate just for the money, then your why is going to be really hard to support because it's outside of your control. Praise, rewards, recognition, bonuses – these are all externals. If you are externally motivated, you don't have control. You are at the mercy of others.
The reason we get stuck on external motivators is that we are brought up that way. We get praise when we behave or when we get good grades or score a goal or do well at whatever task we do. But when we're only willing to do something for praise, we are only doing what others want us to do. If we only do things as long as there is some recognition or or reward, then we don't push through the hard or the boring things that might lead us to improve and master our skills. It also means that we tolerate the shitty parts rather than enjoying the slog.
When we are internally motivated, when we have our why, then we will do whatever it takes to reach our goals, to master our skills. Anything that gets thrown at us just another challenge for us to test our mettle and get stronger. We will put up with the shitty parts of a job because they serve our greater goal. We want it because it's important to us, not someone else. Don't give your life and time living for someone else's dream. Find your "why" and own it.
Owning Your Why Gets You Through the Slog
When I first started this podcast, I really didn't know what my "why" was. I wanted to learn about stoicism, and I wanted to figure out how to make a podcast. I hoped that learning about stoicism would help me to grow into the person that I want to be, and that making the podcast would teach me the skills to create something interesting. As I've worked on this, I figured out that my "why" for creating this podcast, and for creating a community around it is this:
My "why" is to reduce suffering in the world and help people live their best life through learning and applying Stoic principles.
Owning this "why" helps me through the slog.
When I sit down to work on an episode for this podcast, it's almost always challenging. I'll have an idea in my head of what I want to express, and sometimes it feels like I have to push hard to get things going. Sometimes I hit that flow where my mind is clear and my fingers fly across the keyboard. Sometimes, I can tell I'm on the edge of something good and finding the right words and phrases to bring the idea from my head to the page so that I can share it you is like is like slogging through a Spartan race course, but I can feel that the gold is at the end of that slog. So I push through. I push through the slog because I know if I push through that resistance, put word next to word, in the end I'll have created something of value. Some episodes come out great, others are just so-so. But no matter what, it's always worth it.
Setbacks
Sometimes we get frustrated or struggle with our work. We complain about our the things we don't like, which can make it easy to focus on the less desirable parts of our work. This can color our entire view of the situation, and rarely leads to a solution, but just making us feel even worse. We can offset this with constructive complaining or venting and getting out the things that you are struggling with. If you're complaining but have no desire to do anything about it, be honest about it. But recognize that when you complain and take no action, you are not controlling the things that you can, and are allowing yourself to become a victim. If you are letting off steam, and are paying attention to what bothers you, you can take those issues and figure how to fix them. Look at the challenging parts of your jobs not as impediments to your work, but as obstacles to learn from, to grow your skills, and master the challenging parts.
Whatever it is you do for work, find your "why". Maybe it's providing for your family or to learn a skill. Maybe it's because you believe in the mission of what you're doing. Whatever it is, figure out what that is so that when you hit the slog, when a new challenge comes along, or you're stuck in the boring part of your work, you won't slack or complain, but you'll be the master of yourself, and your work.
---
Hello friends! Thank you for listening. If you like what you hear, head on over to patreon.com/stoicoffee and help support this podcast by becoming a patron. Want to be a part of the Stoic Coffee Community? Click here for more info! Also stop by the website at www.stoic.coffee where you can sign up for our newsletter, and buy some great looking shirts and hoodies at the Stoic Coffee Shop. Also, if you know of someone that would benefit from or appreciate this podcast, please share it. Word of mouth is the best way to help this podcast grow. Thanks again for listening.