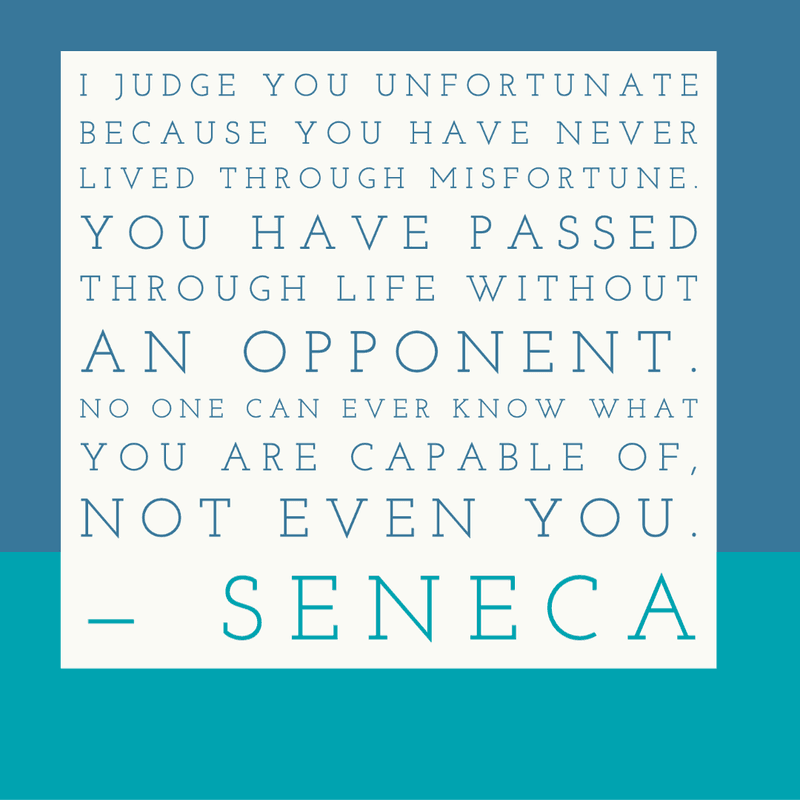 Help support this podcast by becoming a patron!

"I judge you unfortunate because you have never lived through misfortune. You have passed through life without an opponent — no one can ever know what you are capable of, not even you." 

– Seneca
Have you ever thought about how much energy and effort we as humans put into seeking comfort and avoiding challenging things? So many things that we spend money on in our lives revolve around making things easier or more comfortable. Part of human evolution has been to seek comfort. We try to make things easier for ourselves. But in doing so, are we robbing ourselves of a chance to grow? In our search for convenience, do we end up weakening ourselves?
Pleasure and Discomfort
If you have ever seen the movie Wall-E, you may remember what one of the main things of the story lines is how, in our search for comfort, humanity has become lazy and unable to care for themselves without technology. They are extremely obese, and are unable to walk, or really do anything for themselves. They lay on powered lounge chairs, eat junk food all day, and do nothing but amuse and entertain themselves. Every physical need is taken care of by robots. In their ultimate search for comfort, they have allowed themselves to atrophy and become basically grown up children.
On the flip side of this, if you have ever been to a Spartan Race, you would have seen people purposefully put themselves in hard situations. They seek out challenges. They push themselves to see how much they can take. Trudging through mud pits, scaling rock walls, crawling under barbed wire fences, all in an effort to test themselves to see what they are capable of. It's pretty intense and inspiring.
So why do we struggle so much with choosing what we know will be good for us? I think we need to understand that most things we do in life are done to avoid discomfort and seek pleasure. If you examine almost anything you do it life, you'll find that most, if not all, of the things you do fall into these two categories. We stay stuck in  habits because we are unwilling to let go of pleasure or deal with discomfort.
So how do we change this? How do we get to a place where we are willing to forgo pleasure and bear some discomfort?
We change our perspective on what we consider to be pain or pleasure, and a key to this is changing our timeframe.
When we think short term vs. long term, it becomes more clear about what is pleasure and what is discomfort. The thing is, what is considered uncomfortable and pleasurable is often very subjective. We are the ones that judge whether something is a pleasure or a discomfort. What may be very uncomfortable for others, some may look forward to. What some might think is very pleasurable may be annoying for someone else.
For example, some people consider lifting weights to be painful and uncomfortable and avoid going to the gym. Others consider it to be very pleasurable, and invest significant amounts of money and time at the gym. In my opinion lifting weights is uncomfortable, and at times can be painful, and at the same time it also feels really good to work your muscles and to build your strength. The research shows that lifting weights is good for us because of the long term health benefits such as stronger muscles which help the body withstand injury, increased bone density, plus having the strength to do other activities in your life. When we think about this in short vs long term, then we see that short term discomfort leads to long term pleasure.
So what it comes down to, is which perspective do you choose and act upon?
Choices
Years ago, I found out that a close friend of mine was celebrating being sober for 12 years. He said he had been an alcoholic and it had caused a lot of issues in his marriage. At one point his wife him that he had to get his drinking under control or she was leaving. He didn't really think it was a problem, but started attending AA meetings to appease her. Over the next few months as he heard more and more stories, from other members, he noticed how many of their stories were very close to his own experiences. He started to see how his actions had been causing pain to himself, and to those that loved him. It took a lot of effort, but he was able to stop drinking. He did this because he changed his perspective. He decided that he was willing to give up the temporary pleasure that drinking gave him. He decided the pain he was covering up with alcohol was something that he needed to face head on. Undoing so he gave up short term pleasure and avoidance of discomfort for long term pleasures of more control in his life and improving his marriage.
What Is Your Pleasure?
So when we're facing challenges what steps can we take in order to be more effective at making better choices? I think first off, have a clear definition of what your pleasure is. Is having a strong body or a particular physical skill your definition of pleasure? Is having a good relationship with your partner or children your pleasure? Whatever it is, then approach each challenge that you have as a way to flex your muscles and improve your skill. Look at the challenge as the pleasure. Imagine what it would feel like if you were a master of it? How much pleasure would that give you?
Learning to flip your idea of what pleasure and pain is very important skill and is very much about perspective. If you can decide that the uncomfortable thing and overcoming challenges and something that gives you pleasure, then when those things come your way, you won't run away from them, you'll turn and face them head on, and you'll know what you're capable of.
—
Hello friends! Thank you for listening. If you like what you hear, head on over to patreon.com/stoicoffee and help support this podcast by becoming a patron. Also stop by the website at www.stoic.coffee where you can sign up for our newsletter, and buy some great looking shirts and hoodies at the Stoic Coffee Shop. Also, if you know of someone that would benefit from or appreciate this podcast, please share it. Word of mouth is the best way to help this podcast grow. Thanks again for listening.