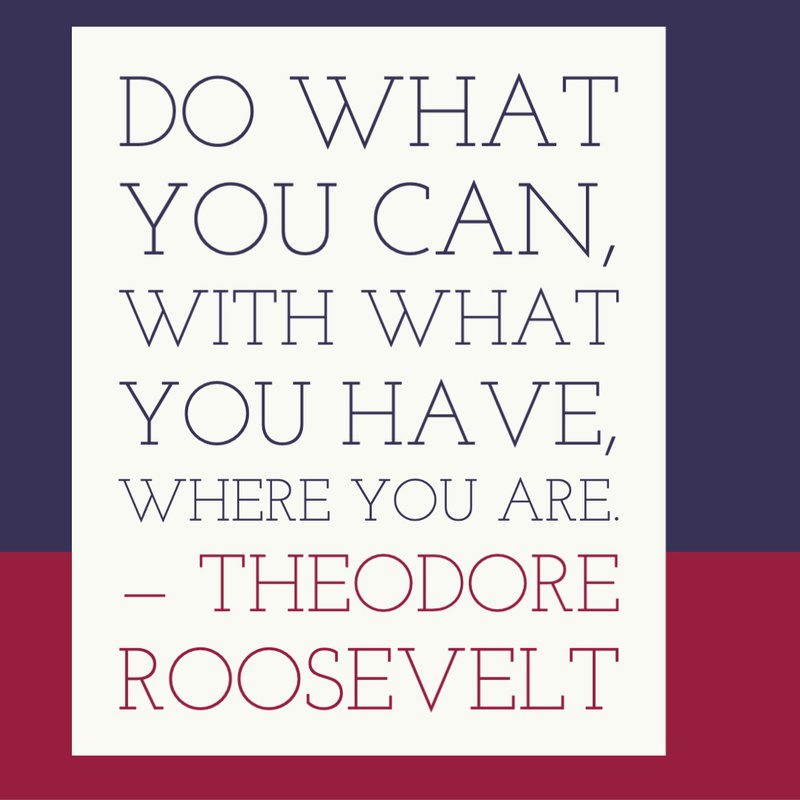 Like what you hear? Support this cast by becoming a patron!

When you find yourself in a challenging situation, how much time do you spend wishing things were different than they are? Do you get stuck in thinking how it's not fair? What if instead of wanting to things to be other than what they are, we worked with what we have? What kind of change could you have in your life and in the lives of others if you instead focused on what you could do? How much time and frustration would you save yourself?
Today I want to talk about how taking action, even if it's just a small one, can help get you on the path of moving through challenges.
"Do what you can, with what you have, where you are."
— Theodore Roosevelt
One of my favorite movies and sequels of all times is The Bourne Identity with Matt Damon. One thing I love so much about it is how Jason Bourne is always looking for what he can do. While his character has training that most of us never will go through, what makes Bourne so good at surviving is his ability to improvise. He has trained his mind to approach any situation with an eye for figuring out what he can do with what he has. Whether that's using something nearby to cause a distraction so he can achieve his objective, or simple stopping to blend in with a crowd, it's his ability to see and accept things for what they are and not wish they were otherwise, and act on those things that keeps him alive.
Just like professional poker players understand that because you will never get a great hand every time, you do your best to play the hand you've been dealt. If you only wait until you have the best hand, you'd probably run out of chips before you got to play that hand anyway. But to be an excellent player, you use your skills of probabilities, reading other players, and misdirection. You don't just play your cards – you play the situation, the place you're playing, and the other players.
"Accept whatever comes to you woven in the pattern of your destiny, for what could more aptly fit your needs?"
— Marcus Aurelius
I've been shaving my head for years, and while I miss my hair mostly for the warmth, I have found that instead of feeling bad about not having the thick blond hair I had growing up, I've assembled a nice collection of hats that can be worn in every situation. When I go to a black light party, I have my partner or one of my artist friends draw with black light reactive ink on my head. The reactions I get from the brilliant glowing designs is one of the best parts of my night. I decided long ago that I would simply embrace what nature gave, a nice shiny head, and appreciate all the perks that come with not having to buy myself shampoo for the last 20 years.
I have a friend who lost a leg in a car accident years ago, but she hasn't let that slow her down. She always out camping and hiking. When she shows up to a fund party or a festival she'll often have her prosthetic leg that is decked out in LEDs. She could complain about it, but she recognized long ago that it was simply a waste of time.
When it comes to working with less physical things, it can be a bit murkier. Maybe you have a temper, or struggle with depression, or you have a hard time keeping organized. Rather than trying to get rid of these aspects of yourself, or beating yourself up over them, why not learn to just accept it and figure out how to work with it, or around it? If we can look at these and accept these things more like how we view physical challenges, as accepting them as things that just are, and not judge them as good or bad, I think we could make a lot more progress in a shorter amount of time.
I think one of the biggest areas that this shows up is in perfectionism. Because we feel like something has to be perfect, we can't see it for its beauty of being less than perfect. As a side note, perfection in most cases is not something that can be actually defined or achieved any way. We except far to much of ourselves and expect that we should be able to do it all. That we can have the perfect body, never lose our temper, never miss an appointment, or always say the right thing, but we can't. So rather than punish ourselves for not being able to do all the things that we think we should, what if we just figured out the best way to work around it?
It all comes down in figuring out the things you can do something about and working with those. If you spend your energy focused on all the things you can't control, you'll waste your time, and you won't make progress. For example, if you have a hard time keeping organized, are there strategies that you can use to help you stay focused and on track? Maybe it's setting a timer to go off every hour to remind you to check your todo list to be sure you're on track. Maybe it's bad enough that you need to hire someone else to help keep your time organized.
When you're stuck in a situation, stop and think about what you can do. If you hear the words, "I wish…" come out of your mouth, stop for a moment and think about why you wish something was different. Usually a wish is something that you want changed that you have little control over. Then start your next sentence with "I can…" and list off 3 things you can actually do in that situation, even if they are very small things. Jus putting down a few small things you can do in that situation gets the creative juices going about what things you have control over, and actions you can actually take.
This is something that I'm not very good at, but when I do it, it make a difference in helping me to focus on what I can do in a situation. Whether that's dealing with a difficult situation in a relationship, a problem at work, or really any challenge we have before us, if we ask ourselves 3 things we can do, we start taking control over the things that we actually can do something about.
As an example, I thought about what I can do when I'm frustrated with someone at work. What are three things I can do in that situation?
1. I can take 3 breaths before I say anything
2. I can type up a note and get all my frustrations out of my head
3. I can table the conversation to a later time, when I can approach it more clear headed
Now I know those are not Jason Bourne moves, but thankfully I'm not a former international agent running for my life.
Trying to think creatively when we're stressed or challenged is not easy, but it's fact of life. When we can stop wishing things were different, and look at a situation and ask, "What can I do?", the more likely we are make some headway, and to help get ourselves unstuck.
—
Hello friends! Thank you for listening. If you like what you hear, head on over to patreon.com/stoicoffee and help support this podcast by becoming a patron. Also stop by the website at www.stoic.coffee where you can sign up for our newsletter, and buy some great looking shirts and hoodies at the Stoic Coffee Shop. Also, if you know of someone that would benefit from or appreciate this podcast, please share it. Word of mouth is the best way to help this podcast grow. Thanks again for listening.