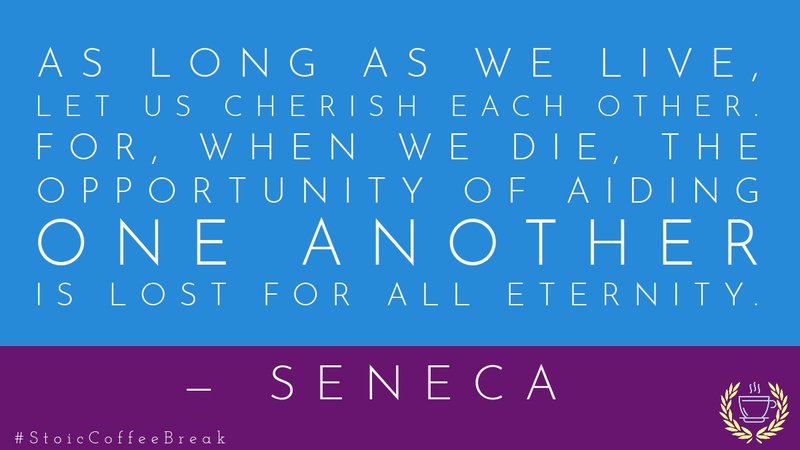 Do struggle with loneliness? Have the last few years of lockdowns and isolation been hard on you? Today I want to talk about loneliness, why it's something that shouldn't be ignored, and why it's important for us to reach out and connect to others.
"We are waves of the same sea, leaves of the same tree, flowers of the same garden."
—Seneca
Lonely
The last few years have been a struggle for many of us. With the pandemic having made it necessary to curtail so much of social life, many of us have struggled to get our footing back and reconnect with our friends and community. As someone who is naturally extroverted, the pandemic was really hard on me and I know that I slipped into a bit of a depression. It's taken effort over the past year to try and get myself out of the house and spend time with friends and family.
More recently though, I've ended up facing a more stark loneliness. About a month ago my ex partner moved out, and I'm living alone for the first time since 2011. And even back then, I had my kids with me part time, so I was only alone for part of each week.
Living alone in a house where I'm used to almost always having someone around has been far harder than I expected. Not having someone around to chat with and share both the mundane as well as the fun things of life feels very empty at times. Having no one else around for such long stretches makes it too easy to get lost in the darker parts of my mind. The house I live in is far too large for a single person, which makes it feel even more empty.
As I've been dealing with this loneliness, I've been doing my best to get comfortable with it. I know that this is not a forever situation. I know that once I sell my house and do some traveling, I'll face other kinds of loneliness as I find myself in new places and have to make new friends. I accept that it's a part of my life right now, and I'm taking steps be comfortable with it, as well as reaching out to friends and family to meet up and spend time together.
So it was interesting that last week I stumbled on an article in the Atlantic that talked about how last May, the Surgeon General Vivek Murthy published an advisory about a growing epidemic of loneliness and isolation. According to the report, even before COVID, around 50% of American adults reported substantial levels of loneliness. Over the past two decades Americans have spent far less time engaging with family, friends, and people outside of their homes, with just 16% of people saying they felt attached to their local community.
Then the pandemic hit and pushed the accelerator on our loneliness.
Among my friends it was really challenging for those of us who are extroverts. Since we feel regenerated by spending time with others, not being able spend time with others felt like being deprived of a central part of living. For me, weeks began to blur and feel like they were just repeats of the week before. Cabin fever set in, and even though I would go for walks through the woods near my home, what I missed was spending time and connecting with people.
As the lockdowns continued, and the rates of infections skyrocketed, feelings of isolation felt even more pronounced. Many of my friends who are introverts even talked about how at first they thought it such a relief because they prefer to be less social. But over time, they realized that even though they prefer their alone time, they missed social connections from work and other activities.
According to the surgeon general, when people are disconnected, they have a significantly higher risk of developing heart disease, dementia, depression, and stroke. Research has also shown that loneliness creates anger, resentment, and even paranoia. When you are disconnected from others, you also have less empathy and tolerance for others because you aren't exposed to other opinions and ideas. Friendships help us support each other even when we disagree on things.
Research over the last few decades have shown in multiple studies that one of the key predictors of living and longer and healthier life is how connected we are to our fellows humans. Having a strong friend group and support system is right up there with eating healthy and not smoking as far as predicting longevity. Community is one of the healthiest things you can have in your life.
We Need Connection to Survive
I remember when I watched Castaway with Tom Hanks, and thinking about how loneliness would be one of the hardest parts of being stranded out on deserted island. If you haven't seen the movie, I'm going to give you a few spoilers, but they help illustrate my point. Tom Hanks plays a FedEx employee who gets stranded on an island in the South Pacific for 4 years after his planes crashes in due to a violent storm. To deal with the loneliness, Hanks' character, Chuck Noland, creates a friend out of a volleyball, and names him Wilson, after the brand of volleyball.
When I first saw how they brought in the character of Wilson, I recognized that it was a way for us to have dialogue in the movie rather than just having Tom Hanks walk around in silence for most of the movie. But as the movie progressed, I also began to see how it was a way that a person in such a situation would be able to help keep themselves sane. Besides the procuring the important things like food, water, and shelter, the need for connection with others is one of the most important things that we need as humans.
Change
"Life's three best teachers: heartbreak, empty pocket, failures."
— Haemin Sunim
"You don't suffer because things are impermanent. You suffer because things are impermanent and you think they are permanent."
— Thich Nhat Hanh
Loneliness is something that we often experience when change is happening in our lives. There's often a transition that is going on. For me, it was that my kids grew up and moved out, my last relationship ended and my ex partner moved out, and I was laid off a few months ago.
Talk about massive change.
There are plenty of other scenarios where we may find ourselves lonely. We may graduate from school, losing or starting a new job, or moving to a new city or even a new country. Then there's getting divorced, losing a partner, or the death of a loved one. There are so many things that can disrupt our connections with others, which is why it's easy to fall into being alone and finding ourselves struggling with loneliness.
So what are the downsides of loneliness personally as well as in society? Why would the Surgeon General, the top doctor in the U.S., think this was so important as to marshal resources to study and to warn us as was done in the past with smoking and heart disease?
Addiction
One of the most important factors that contributes to addiction is loneliness. People will use alcohol or drugs to escape loneliness in their lives. Then, because of guilt and shame around their addiction, they isolate themselves even more. This becomes a vicious cycle which takes its toll on our society.
Last year around 106,000 people in the U.S. died from drug related overdoses. That's almost the size of Bend, which is the 5th largest city in Oregon. When you look at the research on addiction, it's been shown that the biggest contributor to people breaking the cycle of addiction is community. Being connected to a supportive group of friends and family helps people to feel less alone, and have other to lean on when life feels too much.
Suicide
"Everything comes and goes in life. Happiness and unhappiness are temporary experiences that rise from your perception. Heat and cold, pleasure and pain, will come and go. They never last forever. So, do not get attached to them. We have no control over them."
— Krishna
Loneliness is also a key factor for those who commit suicide. Around 800,000 people worldwide kill themselves every year, and the rate in the U.S. has been increasing for the last 15 years. To put that in perspective, the city I live in, Portland, Oregon has a population of 600,000.
What surprised me the most when I was doing some research on rates of suicide, is that in the U.S. the group with the highest rate of suicide are men in their 40s and 50s, which is my age group. This is the group who are in the prime of their careers, who have weathered a lot of life challenges, and yet find life too overwhelming to hang on. Men also commit suicide at 4 times the rate that women do, which often has to do with the cultural stigma that men need to be tough, and that asking for help is a sign of weakness.
So how do we deal with loneliness? How can we get better about managing loneliness, and what are some strategies for finding the connection that we need in our lives?
Get Comfortable With the Uncomfortable
"Today I escaped anxiety. Or no, I discarded it, because it was within me, in my own perceptions – not outside."
— Marcus Aurelius
One of the things that we need to learn in this world is how to be comfortable with uncomfortable things. This includes both physical discomfort as well as emotional and mental discomfort. The better we are at not running away from discomfort, the stronger we become. The more we are able to sit with our emotions, the less control they have over us.
If you feel lonely, listen to it. You feel lonely because you're missing connection with other people. That's not a bad thing. Emotions are flags, they are guides that help us see where we need to go, and what we need to do. It's when we try to avoid our emotions by suppressing or ignoring them that we get into trouble.
Often, when we are struggling with loneliness we are hard on ourselves and feel like we deserve to feel awful. We feel like maybe we're alone because of whatever awful reasons we create in our minds. Treat yourself like you would treat a friend. Be kind to yourself. Be supportive and make sure that your self talk is helpful and not denigrating or harsh.
Physical
One thing that I always recommend in any time of difficulty is that you take care of your physical health. If you aren't feeling well physically, then it's much harder to feel well mentally. Remember, we experience the world through our bodies and if we're out of shape, it's going to impact our mental well being.
Start by doing simple things like getting rid of junk food, making better meal choices, and reducing alcohol consumption. Find ways to improve your fitness by going on walks and doing some basic weight training. Is there a sport that you used to enjoy? See if you can pick it up again. Try to do something that works your body out every day. It amazing how just 20 minutes of physical effort can improve your mood and make the day feel just a little easier.
Create
"A gem cannot be polished without friction, nor a man perfected without trials."
— Seneca
Often times when we're feeling lonely, it's because we have extra time on our hands. Time spent with previous partners or at a job is now idle. Take this time to rediscover old hobbies and interests, or pursue some new ones. Did you play trumpet in middle school? Find a cheap one and start to practice again. Maybe pick up painting or woodworking. Doing something creative has been a practice for centuries of dealing with the vagaries of life.
For me, I enjoy making music so I try to play piano for at least 30 minutes a day. I also purchased some gear to make some electronic music because I find that music production engages my mind and my creativity in a way that helps uplift me. Even if I never finish a song, just the act of trying to create something is immensely satisfying.
Reach Out
"Pain is neither intolerable nor everlasting if you bear in mind that it has its limits, and if you add nothing to it in imagination."
— Marcus Aurelius
The best thing that we can do when we're feeling lonely is to reach out to other people. This is not always an easy thing, but it is vital if we want to alleviate the loneliness we might be struggling with. Some people struggle with depression or just find it hard to reach out to others when they feel like they are struggling. Even though I don't consider myself to suffer strongly from depression, there are times where I feel like because I'm not at my best, others might not want to hang out with me. I let insecurities get the best of me and rather than reaching out, I just stay at home and watch Netflix or play video games, which only exacerbates the feelings of loneliness.
Reaching out to friends and family is an important part of pulling ourselves out of loneliness. The problem is that it can be kind of a vicious cycle. We convince ourselves that they don't want us to bother them, so we don't reach out. Then we feel even more lonely. But the thing is, others also feel lonely at times so reaching out to them is something they probably need as well. There have been plenty of times where I've reached out to friends and they've been grateful because the've been struggling as well.
If you find that you're really struggling and it's interfering with your daily life, then I also recommend that you reach out for professional help. There are so many resources out there, and there is nothing wrong with asking for help. I've been going to therapy for a few years now I as have been working through a lot of the trauma I grew up with.
Get Involved
"As long as we live, let us cherish each other. For, when we die, the opportunity of aiding one another is lost for all eternity."
— Seneca
If we struggle to reach out to friends or family, there are plenty of groups and activities that we can get involved with where we can make new friends. There are organizations that need volunteers such as soup kitchens, youth sports, or visiting the elderly. If you're looking for something more fun, you can take dance classes, marshal arts, or join an adult sports league.
There are also plenty of groups online that you can join to connect with others. While it may not be as fulfilling as meeting in person, it can certainly offer a place where you can meet others with common interests that you may not have run into otherwise. I mean, during the pandemic, my oldest child was involved in an online Dungeons and Dragons group that met regularly on Discord. Part of the reason why I started the Stoic Coffee House community is to create a space for my listeners to meet and chat about stoicism and how to live the principles a little better. There are so many opportunities both in person and virtually that you can be a part of to connect with others.
For any group activity that you get involved in, I would recommend that it be something that is positive and uplifting. Often lonely people fall into groups where the thing in common is who they hate, and they usually blame others for what is wrong in their lives. Remember, stoicism is about taking responsibility for yourself, and in this case, it's about taking responsibility for your loneliness. Find a group that brings out the best of you.
Conclusion
Loneliness is something that many of us will face throughout our lives. Oftentimes it happens in the midst of already big changes, which makes it feel like it's compounding already difficult situations. Reaching out to others whether in our real or virtual lives can help us maintain healthy connections to our fellow humans. If you're struggling with loneliness, and even if you're not, reach out to those around you, because it's not just good for you, but it's also good for all of us to connect with each other.
---
Hello friends! Thank you for listening.
Want to make friends while working on practicing stoic principles in your life? The come join us in the Stoic Coffee House!
Stop by the website at stoic.coffee where you can sign up for our newsletter, and buy some great looking shirts and hoodies at the Stoic Coffee Shop.
Like the theme song? You can find it here from my alter ego. 🙂
Find me on instagram or twitter.
Lastly if you know of someone that would benefit from or appreciate this podcast, please share it. Word of mouth is the best way to help this podcast grow. Thanks again for listening.