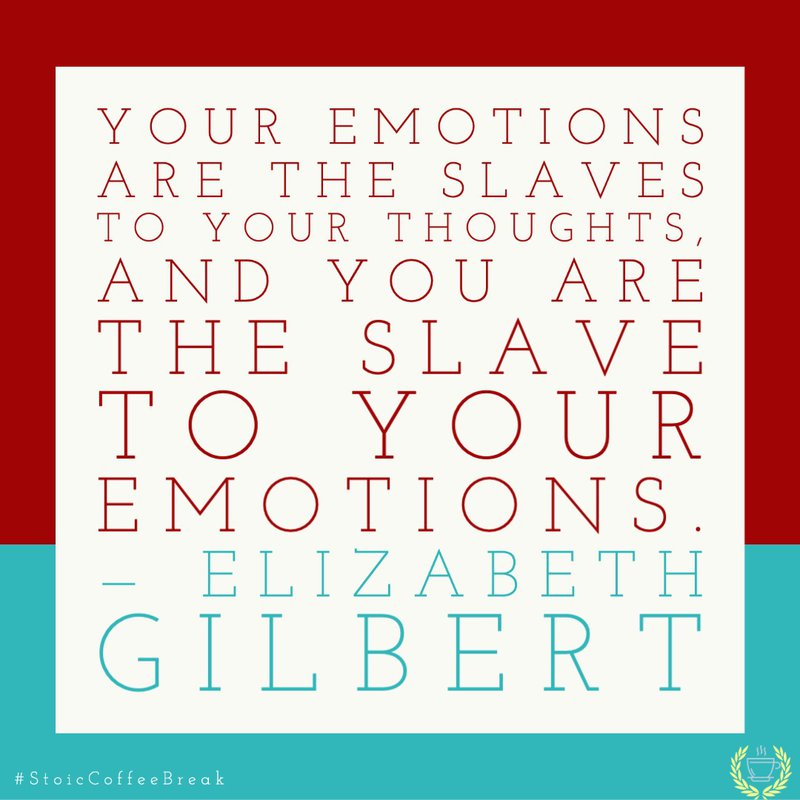 Are you afraid of your feelings? Do you avoid, numb, or shut down your emotions? How much stress and anxiety do you create trying to avoid uncomfortable emotions? Today I want to talk about the power of emotions, and how to reduce your suffering by feeling your emotions all the way through.
Too many people believe that everything must be pleasurable in life.
— Robert Greene
Emotions are powerful forces in our lives. They are the drivers of the actions we take. Those actions lead to the results get in our lives. The better we are at managing our emotions, the more control we have over our lives, and more likely we are to achieve the things that we want to in our lives.
What are Emotions?
Emotions are complex mental states that are often a result of the interaction between our physical responses to external stimuli and our own thoughts, beliefs, and memories. Physical stimuli such as a perceived threat, pleasant touch, or intense sound can trigger a physiological response in the body, such as an increased heart rate, sweating, or changes in hormone levels. These physiological changes can influence our emotions, as our brain perceives and interprets these physical sensations and maps them to an emotional state. At the same time, our own thoughts, beliefs, and past experiences can shape how we perceive and respond to these stimuli, creating a feedback loop between our thoughts, emotions, and physical sensations.
When we have a strong emotional response to something, it is not just a thought in our minds, but something we also feel in our body. It's this physical dimension which often makes emotions so scary. Our brains perceive a physical threat, and reacts as if there is the possibility of actual physical harm, even if we know rationally that we'll be just fine.
Vibrations
If you were to describe what an emotion felt like to an alien, you probably describe it as something like a vibration that you feel in your body. Some of those vibrations feel nice and pleasant, and others feel negative or distressing. But really, it is more or less a vibration that comes as the result of the thoughts in your mind, and the physical circumstances around you.
So why is it important to understand and manage your emotions? I want to propose the idea that most of the suffering in the world comes not from just physical pain and injury, but through emotional pain and anguish. And that suffering is made worse because we try so hard to avoid uncomfortable or painful emotions, and it is this avoidance which causes more suffering than the emotion we're trying to avoid in the first place.
Feeling our emotions is also just part of being human. When we learn how to actually feel our emotions when they come, and not avoid or suppress them, we get to experience the full range of being human. If we don't feel sadness or grief, then it also limits our ability to feel happiness and joy. For me, this is part of what the stoics mean when they talk about living according to nature. We all feel emotions, which means they are part of our nature, and repressing or ignoring them is not living in alignment with nature.
Avoidance
We are more often frightened than hurt; and we suffer more in imagination than in reality.
— Seneca
One of the interesting things about humans is that we will go out of our way to avoid painful or uncomfortable emotions. And it's this avoidance which causes us to suffer far longer and deeper than if we just felt the original emotions in the first place. We often cause more damage than the emotions themselves. When we try to avoid the emotions we're feeling, we will often distract ourselves with activities that either numb what we're feeling, or keep us focused on something else. Alcohol, drugs, food, sex, or porn, are just a few of the things we use for numbing ourselves. We may overindulge in other activities that keep our minds off of feeling the emotions we have. Working extended hours, binge watching Netflix, and even spending too much time in the gym can distract us from processing and feeling emotions we're uncomfortable with.
Addictions
An inability to regulate emotions can lead to substance abuse as a form of self-medication to manage difficult emotions. Addiction and emotional suppression are often interconnected, as individuals who struggle with emotional regulation and coping may turn to substance abuse or other compulsive behaviors as a means of numbing or avoiding their emotions.
On the other hand, chronic substance abuse can result in further suppression of emotions, as it alters brain chemistry and interferes with a person's ability to experience and regulate their emotions. This creates a vicious cycle, where substance abuse and emotional suppression reinforce each other, making it difficult for individuals to break the cycle of addiction and regain control over their emotions. Effective addiction treatment often involves addressing the underlying emotional and psychological issues, as well as addressing the addiction itself.
Psychosomatic Disorders
Your emotions are the slaves to your thoughts, and you are the slave to your emotions.
— Elizabeth Gilbert
Our emotions have such an impact on our bodies that we can suffer what are called psychosomatic disorders. Psychosomatic disorders are physical conditions which are caused or worsened by psychological and emotional factors. They occur when psychological stress or anxiety manifests in physical symptoms, such as headaches, digestive problems, and fatigue. These disorders are thought to result from the interaction between the mind and the body, where psychological stress can affect the functioning of the nervous and immune systems, leading to physical symptoms.
Examples of psychosomatic disorders include, but are not limited to, irritable bowel syndrome, chronic fatigue syndrome, and tension headaches. Treatment usually involves a combination of psychotherapy to address the underlying psychological factors, and medication to manage physical symptoms.
Toxic Masculinity
The unwillingness and inability to just feel the uncomfortable physical sensations in our bodies has caused more suffering in the world than all the wars humanity has ever fought.
One of the ideas I want to explore a little is toxic masculinity, which for me, is one of the most damaging things in our culture. Toxic masculinity is a cultural construct that refers to harmful and restrictive norms associated with masculinity, such as the suppression of emotions, aggression, dominance, and the expectation of being tough and unemotional.
The inability of men to manage or sometimes even to feel their emotions is one of the most damaging behaviors in society. These toxic norms can lead to negative behaviors such as violence, bullying, and the objectification of women, and can result in negative consequences for both men and women. When men are unable to deal with their emotions in healthy ways, those emotions don't just disappear. In my own experience, the more I try to suppress or ignore how I feel about something, it doesn't just go away. In fact, it usually feels like it gets worse. It's very much like a pressure cooker building up steam, until it finally finds a way to release all that energy.
Toxic masculinity contributes to poor mental health and a limited expression of individuality. When you are unable to manage your emotions, then your ability to feel the fullness of being human becomes highly limited. Toxic masculinity is not synonymous with masculinity itself, but rather represents a narrow and harmful definition of it.
I remember one time in college I was having a discussion with some friends about how men really have very few emotional states. At the time, I was of the opinion that men had about 5 emotions: Happy, okay (neutral), anger, fear, and sadness. The reason I thought this way was because my own emotional repertoire was very limited. Because of the emotional toxicity in my own home and the culture I grew up in, the range of emotions I knew how to safely handle was very limited.
When I was married, my ex wife often ask me how I felt about something. When I would respond with just one the 5 emotions I mentioned earlier, she would ask if I felt anything deeper, if I had a broader range of emotions. I would try to dig deeper, but often found that I really didn't know what I was feeling.
There were two aspects to this. First, I often just shut off emotions I didn't know how to deal with. This meant that the range of emotions I allowed myself to feel was pretty limited. Second, if there were other feelings outside of happiness, sadness, fear, or anger, I often couldn't recognize them, and didn't have the words to express how I felt. This often led to unresolved emotions which would come out in expressions of fear and anger.
Riding the Waves
The more you know about your feelings, the more power you have to direct them.
— John F. Demartini
So how do we get better about feeling our emotions? What can we do to improve our ability to regulate our emotions, rather than try to suppress or avoid them?
We need to become masters of feeling. We need to ride the waves our emotions.
Have you ever watched big wave surfers? They're pretty amazing to watch. When you see a master surfer out on the ocean and a big wave comes along, they get nervous and excited. Sure, that big wave is scary, but it's also thrilling, and the more time they put themselves in the path of these waves, the better they get at riding them. And it's the power and the energy in that wave that makes it exciting to ride.
I like to think of emotions like waves on the ocean and we're all surfers, and we are not allowed to get out of the ocean. These emotional waves are going to come at you whether you like them or not, which is pretty much how life is.
So you have choice.
When these waves come a long you can try to avoid them. But if you spend your whole life not learning how to deal with your feelings, those waves are still there and will still pull you under and knock you over, especially you've never really learned how to handle them.
Or, you can decide to try and get on that wave when it comes along. You'll get knocked over sometimes and it'll feel like you're drowning. Sometimes you'll get on the board and start riding the wave and make some progress only to fall off and biff it. As you get better at riding the waves of your emotions, you'll find you're able to handle even larger waves and come out the other side feeling the thrill of handling yourself in a way that is so much healthier. You'll even start to look forward to all emotions that come your way because you know you can handle them, and they make life feel so much richer and fuller.
Practical Steps
Your pain is the breaking of the shell that encloses your understanding.
— Kahlil Gibran
The first thing is to recognize that emotions are natural. Every single one of them, so rather than fear them, we should welcome them. We need to recognize that we're going to have positive and negative emotions, and that we should welcome both of them. We can't cancel out the dark or negative ones and only accept the positive ones. And the thing is, we want to feel all the emotions in our lives, and not just the positive ones. There are times we want those negative emotions, such as grief, for example, when someone close to you dies, or feeling the heartbreak at the end of a relationship.
Second, we need to recognize that emotions are just a feeling, a physical sensation, a vibration in our body. They can often feel overwhelming and terrible, but that vibration in your body is not going to kill you, even if your mind is trying to convince you otherwise.
Third, is that when we have an emotion, the best thing we can do is to step right up and do our best to embrace it. The more we try to avoid or suppress it, the longer it will hang around. The healthiest and honestly the fastest way to deal with emotions is to feel them. The harder we try to avoid emotions, the longer they stick around. Emotions don't go away, but will show up in other ways. When we stop resisting, we allow our mind and our body to process how we are feeling, and let it move through us like it's naturally supposed to.
The last thing to remember is that emotions show up in physical ways, and processing them is a physical act. We need to find physical ways to let them through. I know for me when I'm feeling an incredibly strong emotion, positive or negative, I will often cry when I just let it pass through. It's what I need to release all that energy, and afterwards I feel so much better. I may feel tired, but I usually feel calm. I feel clean like I've just purged a whole bunch of heavy energy which was weighing me down.
Learning how to manage and regulate our emotions is a skill we all have to learn if we want to live our best lives. Emotions are a fabric of our lives, and are not something you can avoid. Try as you might, those waves are going to keep on coming for as long as you're alive. So you have a choice. Are you going to try and avoid them only to get pulled under gasping for air, or are you going to turn into the wave, ride it like a pro, and feel the fullness of your life?
---
Hello friends! Thank you for listening. Stop by the website at stoic.coffee where you can sign up for our newsletter, and buy some great looking shirts and hoodies at the Stoic Coffee Shop.
Want to help support this podcast? Become a patron on patreon!
Like the theme song? You can find it here from my alter ego. 🙂
Find me on instagram or twitter.
Lastly if you know of someone that would benefit from or appreciate this podcast, please share it. Word of mouth is the best way to help this podcast grow. Thanks again for listening.