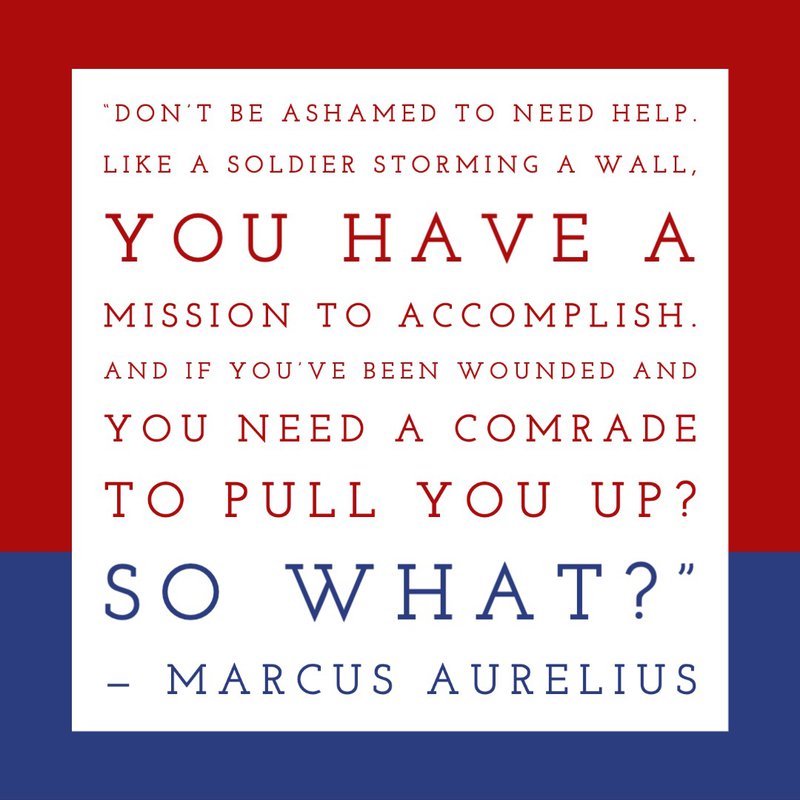 "Don't be ashamed to need help. Like a soldier storming a wall, you have a mission to accomplish. And if you've been wounded and you need a comrade to pull you up? So what?"
— Marcus Aurelius
The Stoics teach us that we are part of the human community, that we're here to help and support our fellow humans. We are social animals, and as much as we may think that we are independent, we've thrived as humans because of our cooperation. None of us can survive just on our own. We rely on each other in a very interconnected society.
Let's look at a practical example of how we're all physically reliant on each other. When you buy groceries from the store, you rely on all the people that built the store, run the store, and create food and other goods for that store. As much as you try, you can never be truly 100% self sufficient. Unless you walked naked out into the wilderness, used only what you could find, hunt, or harvest to create shelter and feed yourself, you are dependent on others.
Even understanding this basic principle, one of the hardest things for many of us in life is to ask for help.
Why? Why is this so hard for us?
There are a lot of reasons. Asking for help is being vulnerable. It is putting ourselves in a place where we might get rejected. We may feel like we are weak by asking for help. Societal ideas often reinforce this idea by promoting that we need to be strong and independent to be successful in life.
This is a lie.
Now some may think this a paradox of Stoicism. If we are to control what we can, doesn't that mean that we should be self sufficient? Yes, we are need to control what we can, and be self sufficient. But controlling what you can, does not mean that you write off the rest of the world. It means that you do your part by managing your emotions and being the person that you want to be regardless of who other people think you should be. Asking for help is do something that we can control. Asking is communicating our needs, wants, and desires, and allowing others to choose to help us, or not.
Trust
For many of us, being able to ask for help comes down to trust. For those of us that grew up in difficult circumstances, we can find it hard to trust that other people won't take advantage of us when we ask for help. We have a hard time trusting that someone else has our back. We may isolate ourselves physically, emotionally, or mentally so we don't have to rely on other people.
This lack of trust can also lead to a lot of stress and unhappiness. When we interact with others, we're often afraid that if we ask for something that we'll be denied, so we often just do whatever we want without checking in with others. We may exclude others from our decision-making process because we are used to deciding things on how they impact us. Because we feel like we're the only ones looking out for ourselves, we may not consider how our actions impact others.
Another impact this has on us is that we often try to take on too much and do whatever it is we're trying to accomplish by ourselves because we don't trust other people will help us. In a nutshell, we become control freaks because we don't think that other people will have our best interests at heart, even if they have been supportive in the past.
Who Not How
So why should we trust other people? Why is it important to learn how to ask for help? To answer that question, I want to talk a little about a book I've been reading.
In their book "Who not How", Dan Sullivan and Benjamin Hardy discuss how important it is to work with other people to accomplish the things we want to in our lives. They illustrate this point by discussing how Michael Jordan never would have had the success in his career on his own. In order to win as many games and championships as Jordan and the Chicago Bulls did, they needed to assemble the right team. This included Phil Jackson as coach and other stellar players like Scotty Pippen. Working together, they built one of the greatest basketball teams ever. Michael Jordan, for as truly talented as he was, never could have had such a winning career by himself.
"Do you have Whos in your life that give you the perspectives, resources, and ability to go beyond what you could do alone? Or are you keeping your goals so small to make them easier to accomplish them on your own? Do you really think you must be the one to put in the blood, sweat, and tears, bearing the whole load to prove your capability?"
— Dan Sullivan and Benjamin Hardy
When I read this, it really gave me pause. There are many things that I want to get accomplish in my life that I try to take on myself. And while I do have the skill to accomplish them from start to finish, I could get them done much quicker and have higher quality if I were willing to ask for help. I know that doing so also helps with organizing because I have to schedule something with other people in mind and not try to keep the schedule in my head. It also means that I could expand the size and scope of the project because I would have people onboard who would be stronger in areas where I'm weak.
Taking a little more from Who Not How:
"It can be easy to focus on How, especially for high achievers who want to control what they can control, which is themselves. It takes vulnerability and trust to expand your efforts and build a winning team. It takes wisdom to recognize that 1) other people are more than capable enough to handle much of the Hows, and 2) that your efforts and contribution (your "Hows") should be focused exclusively where your greatest passion and impact are. Your attention and energy should not be spread thin, but purposefully directed where you can experience extreme flow and creativity. Results, not effort, is the name of the game. You are rewarded in life by the results you produce, not the effort."
Personal Growth
Now much of what I've talked about focused a lot on career and work, but we can apply it to our personal lives. If we want to live healthy and happier lives, we all need people to help us where we lack in our lives. When we're sick, it's great to have someone willing to do those things that we're cannot do for ourselves. We need friends who help support us when we struggling. When we share our lives with others and share our struggles, we also find out that we're not the only ones that struggle. When we're vulnerable, it allows others to be vulnerable and share their struggles with us. We get the chance to support others and be supported.
People also love to be supportive and helpful. For example, I was afraid to ask for contributions to my podcast for a long time. I was afraid of what others would think. But people have been happy to step up and support me in this endeavor. They've also offered some ideas that I'm working on to expand the reach and impact of this podcast, and find more ways to share Stoic principles with more people. They've also been vulnerable and shared their struggles with me, and I appreciate it. It's helpful for me to know that I'm not alone in navigating the complexities of life.
Sharing our lives with others is also a source of a lot of joy. For example, camping with friends is something I really enjoy. Being able to connect with others out in nature certainly recharges my batteries. Sharing a sunset or sunrise with good friends is something that I look forward to.
We also need other people for us to see our flaws, because we all have blind spots in our own thinking and behavior. I know in my case having a partner who is stronger in areas that I'm weak has helped me become a better person. Her rationality, and she is a lot more rational than I am, her insights into people, and her ability to explain other points of view that I may not have considered have helped me grow in ways that I would not have been able to on my own. She's also helps me see where I am weak, which is not always comfortable, and difficult to own up to. She holds me accountable to act like the person I've said I want to be.
How To Ask
So how do ask for help? Well, this is something that we don't need to overcomplicate. We ask. We try to be as clear as we can in what we're asking for. Sometimes we need to feel validated. Sometimes we need to vent. Sometimes we need help. But we ask. We need to make sure that we aren't asking someone to do something that we should do for ourselves. Asking someone to change who they are because it doesn't suit us is not a very healthy ask for either person.
With that said, we also need to be okay with someone refusing our ask. Just because we got up the courage to ask does not mean that the other person has to comply. Remember, we are all free to choose what we are and are not willing to do. We also should not guilt other people into doing what we ask. Trying to control and manipulate others is never a healthy way to get something done. If they aren't willing to help, that's okay. We now know that they are not someone we can go to for help in that specific area. They may help in other areas, so we also need to be sure that we don't just write someone off because they aren't doing what we want.
Asking for help is something that we can all get better at. The next time you are striving for your dream, or struggling with a problem in life, remember, many hands make light work.
---
Be awesome and support this podcast by becoming a patron!