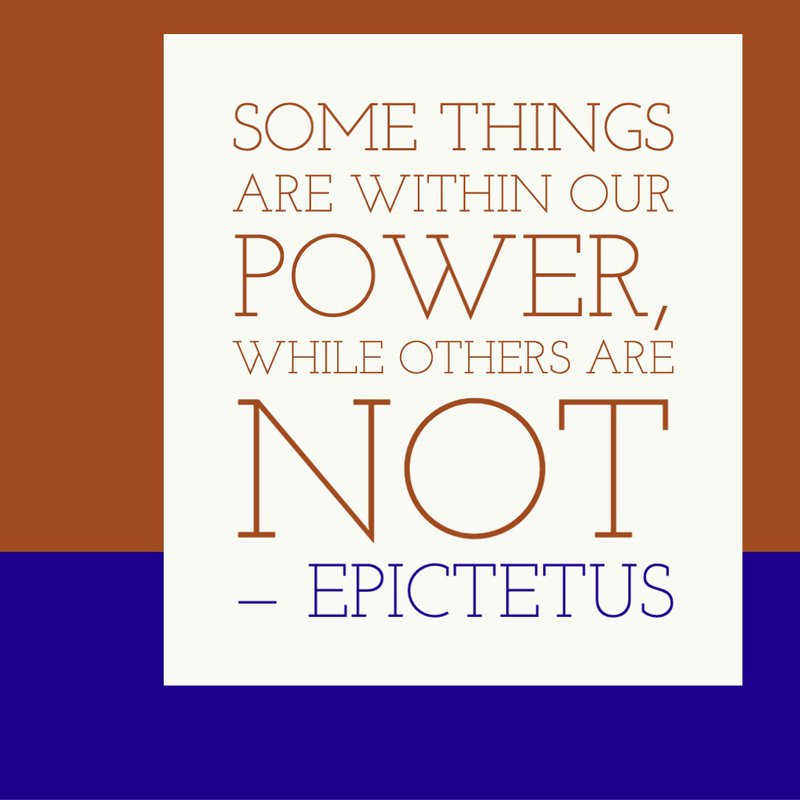 One of the core tenants of Stoicism is understanding the things we control and the things we cannot control. Today I want to discuss this a bit more in depth.
"Some things are within our power, while others are not. Within our power are opinion, motivation, desire, aversion, and, in a word, whatever is of our own doing; not within our power are our body, our property, reputation, office, and, in a word, whatever is not of our own doing."
— Epictetus
Circumstances and Externals
First, I want to focus on the things that we don't have control over.
Our property is anything that we own. We don't control what happens to our things. An earthquake, fire, or flood could ruin our home. Someone could crash into our car. Our computer or jewelry or money could be stolen.
Our reputation, or namely, what other people think of us. This is hard because we want to be liked by other people, and to some extent are driven by what others think of us. But simply put, we have absolutely no control over what other people think of us. As an aside to this, since we cannot control what other people think of us, this also means that we cannot control other people. Since other people's moods and actions are driven by how they think, and we cannot control what they think, we cannot control other people.
Our office, or the position in life. This includes things like the circumstances of out birth. For example, we don't control if we were born white or Black, Finnish or Filipino. We can't control the nation that we are born in. We can't control if we are born into a wealthy family. These are all things that are just pure luck.
This also includes aspects of our career or politic power. We can choose our career, but how successful we are is not up to us. We can work hard and make the best choices we can, but we often get promoted at work because of the choices of other people. We may choose to run for political office but we get elected to office because other people vote for us.
Probably the most surprising thing for many on the list of things that we don't control is our body. You might think, well, I do have control over my body. Can you stop your body from breaking down? Can you stop simply make an illness stop? No, you can't.
Thinking
Now that we clarified what things outside of our control, let's dive into what we do have control over. Epictetus tells us we control how and what we think. Let's take each of the things that he mentions and dissect it.
Opinions are our judgments about people and events. These are our beliefs about the world. These are formed by our experience, our knowledge, what other people have told us, and our own biases and superstitions. These are the things that we think of as "true", and in a sense, they are true for us.
Motivations are the reasons and meanings that we give to things, or why we think things happen the way they do. When we make assumptions about why people do things, we are ascribing motivations to them. This is of course just our opinion about why we think they do something.
Desires are things we want, such as material things, career, personal pursuits and growth. These our own motivations. This is the "why" behind the things that we do.
Aversions are things we avoid, dislike, and may even hate. This is the "why" or the motivation behind the things we avoid or will not do.
These things that Epictetus has laid out are the things that influence our thinking. They are integral to our complete thought process. Each of these aspects is so important to understand because how we think is the key to the choices that we make, and the actions we take.
Choices
So when it comes down to it, our thoughts and choices are the only things that we actually have control over. Everything else is outside of our control.
Everything.
When you look at everything as a circumstance or a choice, it becomes much easier to see what our options are in any situation. When we clearly understand what our options, it is easier to make a choice, and those choices lead to actions, which lead to the results we get. We many not have many options. We may not like our options. They may completely suck. But the better we get at clearly recognizing our options, the more willing we are to make choices. The more choices we make, the better we get at making better choices.
Shifting to this way of thinking is not easy. From my experience, most of us go through life thinking that we have a lot more control over what happens to us. When we recognize that we have very little control over what happens to us in life, it can be downright scary, or it can be downright liberating.
The less we have control over, the more we can focus on the things that we do have control over. We can focus on understanding how we think. We can examine our opinions. We can see if our beliefs about things are holding us back or influencing us in a way that is detrimental. We can stop wasting energy on things we don't control.
The most important thing that we can do each day is to practice seeing what our options are and making choices.
"If you choose not to decide, you still have made a choice."
— Neil Peart (Drummer and lyricists of Rush)
It's okay to decide not to make a choice. Sometimes we don't have enough information, or we feel overwhelmed by too much information. Sometimes is not a choice that is worth our time. Steve Jobs and Barack Obama both simplified their wardrobes so that they did not have to spend time make choices they felt were unimportant. You can do the same. Choosing to not make a choice, or to delay a choice, is still making a choice. But by making it intentional, you are exerting control over your life.
Influence
Many of the things we cannot control, we may think that we have influence over. But I want to caution about this way of thinking. I think we should view things as either circumstances OR as things we can control. Why is it important to get rid of this grey area? Because believing we have influence over something is a messy area that can lead to very poor choices.
"Influencing" is not an action, it is just a perception. You can't choose to influence someone or a situation. However, you can make a choice, take an action, and the result of that action may or may not influence someone or influence an outcome.
Influence is also something difficult, if not impossible, to measure. When you think that you have influence over something, you think that you have some semblance of control over it. By keeping things clearly in the categories of things you do have control over, and things you do not have control over, you are able to think more clearly, and you don't fall victim to hubris.
Practice
So how do we become better at seeing our options and making choices? I plan on making an episode about how to make better choices, so that I can give it the focus that needs. But in the meantime, taking some time each day to write down your options when it comes a decision is a good place to start. You can also examine the choices you make each day and eliminate the ones that are not important.
Clearly seeing things we do and don't have control over is a skill that can impact every aspect of our lives. It can help lower our stress and help us make better and faster decisions. It can save us energy by focusing on the important things in our lives and letting go of the rest.
Be awesome and support this podcast by becoming a patron!