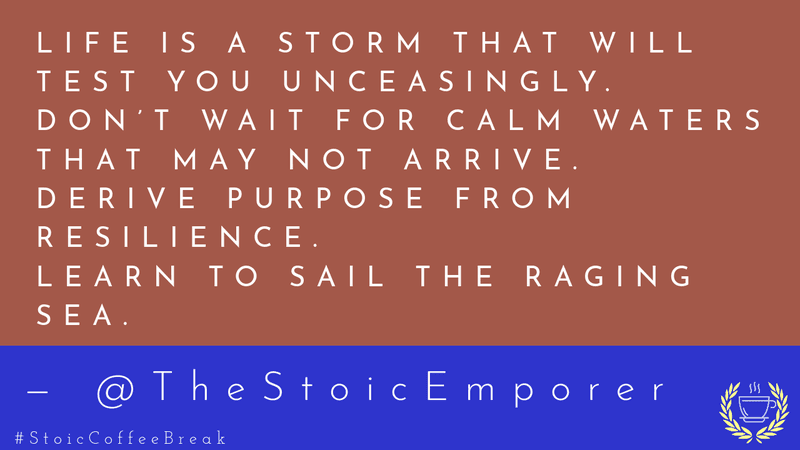 Do you fear the unexpected? Do you stress out when life throws you a curveball? Today I want to talk about how to handle, appreciate, and even look forward to the unexpected events that life brings your way.
"All greatness comes from suffering."

— Naval Ravikant
Unexpected
Life is full of surprises. When we think that we've got things figured out and that things are going our way, something or someone pops up and throws a monkey wrench into our day to day that disrupts our lives and sends us spinning. Things like getting laid off, getting in a car accident, or even a critical diagnosis are all parts of daily life that we think will never happen to us, until they do.
When these things happen to us we may get angry or stressed out, or feel like life is unfair. But the thing is, the unexpected challenges that happen often end up being the best things to happen to us. They might send our lives in a completely different direction. We might meet others who impact our life in a deep way. We could even discover our life's purpose. The challenge is that it's hard to see any of this when you're in the middle of it. It is only through hindsight that we can go back and see the connections of the events that lead us to where we end up.
Lessons
"Life is a storm that will test you unceasingly. Don't wait for calm waters that may not arrive. Derive purpose from resilience. Learn to sail the raging sea. 

— @TheStoicEmperor (twitter)
There are those that think that the universe or god is sending you what you need to learn. That the challenges that happen in your life are happening because you need it. I don't hold to this idea. Mainly, because it assumes some sort of intelligence that is making choices for what you need to learn in life.
If this were the case, if every struggle that came someone's way was a lesson for them, it would be given to them in a way that they would have taken the opportunity to learn and grow from it. I have seen time after time in the lives of people I know, and even in my own life, that when hard things come along, the lessons are more often than not just ignored.
For me, I see that the challenges that come up in our lives are opportunities for us to take or reject. It is always our choice how we want to deal with them. The universe is indifferent. We can love the things that come our way, or hate them, but it doesn't change that the fact that we have these challenges. The only thing that we can control about the unexpected things that happen to us is our attitude about them and how we want to deal with them.
Control
"I'm not a coward I've just never been tested
I'd like to think that if I was I would pass
Look at the tested and think there but for the grace go I
Might be a coward
I'm afraid of what I might find out"

— Mighty Mighty Bosstones
The main reason why the unexpected is so uncomfortable is that it feels like a loss of control. Because it was not what we're were expecting, it's most likely something that we haven't prepared for, so it can disrupt our sense of stability and security.
It can be hard to let go of the way things were before the unexpected event occurred. We are comfortable with how things are and find ourselves resisting the changes that we have to make. Unexpected events force us out of our comfort zone.
Often, it can be difficult to adjust to a new situation or circumstance. It can even reach the point where it  feels overwhelming and stressful. We may not have the skills we need to navigate some unexpected events. We feel out of our depth and unsure of what to do.
Because we had expectations of how we thought things should be, when unexpected events happen, it can cause us to feel uncertain about the future. We get stuck in the idea that tomorrow will be the same as today.
But nothing in life stays the same. Nothing is certain. Life is change.
Wars, disasters, illness, accidents, losing a job, and breakups are just a few unexpected things that we have no control over. These things are life changing and in the moment, the uncertainty can feel overwhelming.
But this is when we need to remember the only things we can control is our perspective on the events that happen in our lives, and how we want to respond to them. In short, our will. To hate the unexpected is to hate life because in truth, everything that happens is unexpected.
Positives
"The truth is that our finest moments are most likely to occur when we are feeling deeply uncomfortable, unhappy, or unfulfilled. For it is only in such moments, propelled by our discomfort, that we are likely to step out of our ruts and start searching for different ways or truer answers." 

—M. Scott Peck
So what are the positive side of unexpected things that happen to us?
They can shake things up and lead to new opportunities or experiences. Often our lives are just going along and we fall into ruts or are stagnating. We may not seek out the things that we need to grow. We may be always seeking comfort or safety. The unexpectedness of life is the thing that gives us a chance to step up to challenges and see what we're made of. It calls upon us to step out of our comfort zone, to change our perspective, and try new things.
Often times, the unexpected and challenging things that happen to us are the things that help us find our life's purpose. For me, a great example of courage in the face of the unexpected is Malala Yousafzai. At the age of 15, she survived an assassination attempt from the Taliban because she was advocating for education girls in her region of Afghanistan. Rather than letting her life threatening injuries scare her from her mission, she used what happened to her as a way to draw attention to the treatment of girls in her country. Through this terrible event, she found her life purpose.
Unexpected challenges can help us appreciate the good things in our lives that we may have taken for granted. As humans we get used to the routine of daily life. We get used to things being a certain way. When things get shaken up, we may find appreciation for the things in our lives, or we may even recognize that we just put up with things because that's just how they have been. When life is shaken up a little, we may reevaluate things and get rid of things that don't serve us, but we wouldn't have even noticed that if our life hadn't been knocked out of balance.
"The path to success will leave you callused, bruised, and very tired. It will also leave you empowered." 

— David Goggins
The unexpected can challenge us to grow and develop new skills or perspectives. If we never had unexpected challenges pop up in out lives, then we would never gain new skills. Without challenges outside of our comfort zones and realms of expertise, we'll never learn how to deal with anything new. If everything stays the same as it is, we never develop a new perspective on life, and honestly, we'd get bored.
The unexpected can foster resilience and adaptability. Learning to deal with the unexpected helps us to roll with the things that life sends our way. It helps us to develop courage to face things that are uncomfortable or scary. If we're only dealing with predictable problems then we lose our flexibility and adaptability. Life gets pretty boring if nothing changes.
"Why does he smile when misfortune strikes? He knows it is an opportunity to cultivate virtue. Death, loss, decline. These things come for us all. Facing pain is how we make ready. Adversity sharpens the blade of will. Greet the test gladly. Endure."

— @TheStoicEmperor (twitter)
The unexpected can provide a sense of adventure and excitement. Life is change. Even when you think things are stable, they are always changing, we just aren't noticing it. It is dealing with change that makes life interesting. If we never had anything unexpected and everything went according to plan and stayed the same, life would be incredibly boring and we'd fail to grow. We'd stay in our comfort zones and never have anything exciting or interesting happen in our lives.
When you think about it, the best movies and books are about everyday people who have something unexpected or interesting happen to them. We get to see how they try and fail and get up and try again while dealing with the with the twists and turns that happen in their lives. The best jokes are the ones you hear with an unexpected punchline. The best songs are often the ones with unexpected or dissonant notes. If everything was predictable, then it would be extremely boring. There would be no reason to watch or listen or read anything.
Dealing With the Unexpected
"To bear trials with a calm mind robs misfortune of its strength and burden."

— Seneca
So how do we deal with the unexpected? How can we take steps to manage things in ways that we not only get through them, but thrive because of them?
First and foremost, take a deep breath. Getting yourself into a space where you can look at things rationally and calmly will help you keep your mind open to more options and better decision making. Panicking never helps, and will most likely make things worse. When you panic, you're driven by fear, and you start catastrophizing everything around you. Keeping calm helps you weigh your options better, and help you choose what is best for you in the long run.
"It does not matter what you bear, but how you bear it."

— Seneca
Next is acceptance. When we practice amor fati, and we love our fate, then we are able to welcome the unexpected. We accept that life is never going to go exactly like we think it should. We take each unexpected thing that happens, and see what opportunities are being given to us. It may not feel like an opportunity at the time. In fact it may feel like the worst thing that has ever happened. But sitting around bemoaning how things are not as you would like them to be, wastes time in dealing with things are they are.
By practicing acceptance, we also let go of the things that we can't control. We stop wishing that things were otherwise, and focus on what we can control. We shift our perspective to help us see things in a way that is more advantageous to us. We look for the choices in front of us and take actions to move ourselves in the right direction.
"The first rule is to keep an untroubled spirit. The second is to look things in the face and know them for what they are. 

— Marcus Aurelius
Once we've gotten ourselves into a more rational and calm mindset, we can prioritize and problem solve. We can look at the most important parts of the problems we're facing, and focus on what you can do in the moment to deal with the situation. Sometimes the situation is about triage, meaning it's something that we have to respond to quickly. Sometimes we have time to reflect on the choices we have in front of us. The important thing is to calmly assess our options and begin to take action.
Another important part of dealing with the unexpected is to lean on your support system. Reach out to those you trust for support and perspective. You don't have to solve everything on your own. Often times when we're stressed or panicked, having a reassuring friend can be the thing that helps ground you, especially if they are not directly involved. Take advantage of the fact that they have some distance from the problem so they may see things a little more clearly.
Lastly, be kind to yourself. It's okay to feel overwhelmed or upset, so don't be too hard on yourself. Life is going to throw you curveballs, and many of the unexpected things you'll have to deal with, happen through no fault of your own. Do the best you can, and recognize that you might make mistakes. The goal isn't perfection, but to make the best choices you can, learn from your mistakes, and try again.
Expect the Unexpected
"This is why we need to envisage every possibility and to strengthen the spirit to deal with the things which may conceivably come about. Rehearse them in your mind: exile, torture, war, shipwreck. Misfortune may snatch you away from your country… If we do not want to be overwhelmed and struck numb by rare events as if they were unprecedented ones; fortune needs envisaging in a thoroughly comprehensive way."

— Seneca
The last idea that I want to talk about is something that I've mentioned many times on my podcast. It's the practice of premeditatio malorum, which means "premeditated malice". This is when you take some time to consider the worst things that could happen in a situation so that you can prepare for them. Now, this is not the same thing as catastrophizing, but rather you do this when you are in a good mental space, and you dispassionately consider what you would do if certain things happen. This is what good crisis planners do, which helps them to prepare for as many things as possible.
Conclusion
The unexpected is there to teach us something we didn't know we needed. The unexpected gives us opportunities that we wouldn't have found otherwise. We may find a challenging situation which calls on us to rise above what we thought we were capable of. We may meet someone who changes the course of our lives.  Sometimes an unexpected event is the thing that sends our life in a direction that we never could have dreamed of. As much as we want the expected and the routine, the unexpected offers us surprise and joy and pain and anxiety and delight. It's the spice of life and the thing that makes life interesting.
---
Hello friends! Thanks for listening.
Want to take these principles to the next level? Join the Stoic Coffee House Community! 
Stop by the website at stoic.coffee where you can sign up for our newsletter, and buy some great looking shirts and hoodies at the Stoic Coffee Shop.
Like the theme song? You can find it here from my alter ego. 🙂
Find me on instagram or twitter.
Lastly if you know of someone that would benefit from or appreciate this podcast, please share it. Word of mouth is the best way to help this podcast grow.
Thanks again for listening.