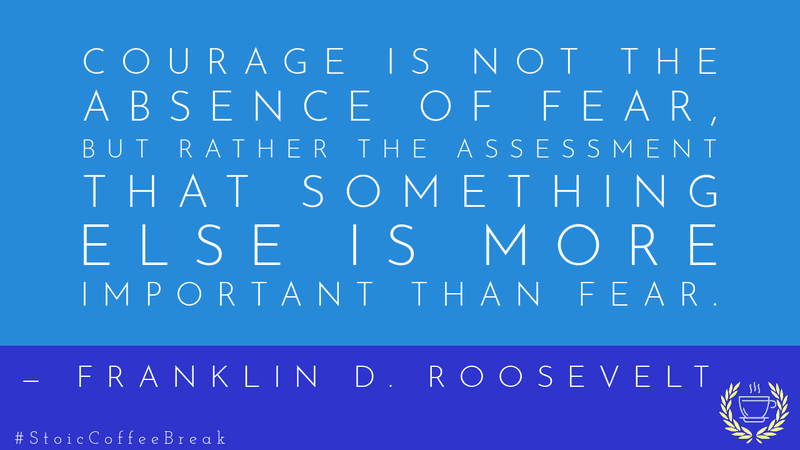 Do you live in fear? Are there things in your life that you are afraid to try? Today I want to talk about why courage is the foundational virtue of stoicism, and how to develop a courageous mind.
"Courage is not the absence of fear, but rather the assessment that something else is more important than fear."
— Franklin D. Roosevelt
Courage
One of the four virtues of Stoicism is courage. For me, this is the most important virtue. There are a lot of things in this world that cause us fear or anxiety. Most of these things are not things that can actually physically harm us, but still trigger the same physiological response in our body. Courage enables you to face and overcome adversity, which is a prerequisite for living virtuously. It takes courage to practice the three other virtues of wisdom, temperance, and justice because these virtues require you to reign in your ignorance, control your desires, and act against injustice in the world. Without courage, it would be difficult or even impossible to practice these other virtues consistently.
But first, let's define courage. According to the dictionary, courage is:
"The state or quality of mind or spirit that enables one to face danger, fear, or vicissitudes with self-possession, confidence, and resolution; bravery."
When we dig a little deeper we find that courage comes from the Latin word "cor", which means heart. In one of its earliest forms, courage meant to "speak one's mind by telling all one's heart". Over time it has changed to its current definition, but I really like the idea that courage in our words and our actions is about what is really in our hearts.
So now that we've established a basic definition of courage, let's talk about why I consider courage to be the foundational virtue, meaning it helps us to live the other 3 virtues.
Wisdom
"To make good decisions, you need wisdom. To gain wisdom, you need experience. You get experience by making bad decisions."
There are many facets of courage, and if you ever want to read an interesting dialogue on courage, I recommend Plato's Laches in which Socrates and several other discuss the nature of courage. Within that dialogue they talk about how courage is not just enduring something, but is also about doing so wisely, which I thought was great because it helps to show how the virtues are interconnected.
To gain wisdom in our lives we need to be willing to step up and make choices. If we stand back and don't take any actions in our lives and we aren't willing to take risks, then we never gain experience. It is through trying and failing that we learn, and accumulate wisdom in our lives. It takes courage to step up and be willing to fail.
Justice
The universe is not fair in the way that most people think it should be, and justice is not something that is built into the world. This is why justice is one of the 4 virtues. Justice is something that we need to advocate for. It is through our courage that we stand up for fairness, rationality, and the equal application of the law to all that we are able to get closer to having a more just society.
Temperance
It takes courage to moderate ourselves. Whether that is moderating our emotions, how much we eat or drink, or our other desires, it takes courage to reign in the darker parts of ourselves. Courage is the core of self-discipline. It is the thing that helps us make better choices for ourselves.
Courage itself is a moderating virtue. Courage helps us to balance fear, not eliminate it. Fear is a useful emotion, but like all emotions it needs to be managed. If we have too little fear, then we're likely to be overconfident and reckless. Whereas if we have too much fear, then we are paralyzed and are unable to take action.
The Courageous Mind
"The tranquility that comes when you stop caring what they say. Or think, or do. Only what you do."
— Marcus Aurelius
"Courage is resistance to fear, mastery of fear – not absence of fear."
— Mark Twain
Next I want to talk about the idea of the "courageous mind". The courageous mind is one that is able to act according to reason and wisdom, rather than giving in to fear, anger, or other emotions. When you cultivate a courageous mind, then you are able to see and manage the emotions that may arise when you are in challenging or stressful situations. Cultivating the ability to be dispassionate at important moments can help you to make choices that are not only beneficial, but also avoid ones that you may regret later.
The courageous mind is one that is able to remain calm and objective in difficult situations. A courageous mind is one that is able to see the big picture and act accordingly. In this way, courage is not just about being physically brave, but also about being mentally and emotionally brave.
Responsibility
When we develop a courageous mind, we step up and take responsibility for our own actions, rather than blaming others or making excuses. This type of courage is often called "moral courage." It takes moral courage to admit when you are wrong, to apologize when you have made a mistake, and to change your behavior when necessary.
Growing up, it was often hard for me to take responsibility for things because if I made a mistake and it upset my father, there was a good chance that I could get a beating. I got pretty good at coming up with excuses or placing the blame on someone or something else. Once I was out of that environment I started to make active choices to take more responsibility for my actions and my choices.
Integrity
When we develop a courageous mind, we live a life of integrity. This means that we act according to your principles and values, even in the face of persecution. Often, because we are afraid of the opinions of others, we may find it challenging to step up and do what we feel is right. When we have developed courage, we don't let the opinions of others hold us back when it matters.
Honesty
A courageous mind enables you to be honest with yourself and others, even when it's difficult. One of the hardest things about self improvement is learning to be honest with yourself. Our egos would rather hold on to the self deceptions that we have. We like to think that we are smarter, kinder, or more selfless than we really are. The more honest we are with ourselves, the faster we can make progress because we are actually being aware of our shortcomings and failures, and we can address them head on.
Self-Discipline
"Self-control is the chief element in self-respect, and self-respect is the chief element in courage."
— Thucydides
Courage is at the core of self-discipline. Courage is what is needed for us to get ourselves to do the things that we want. It takes courage to get up and exercise when we don't feel like it. It takes courage to limit the amount we drink or cut down on the desserts we like. Courage is what we need to step up and take control of our desires, and not let them control the us.
Boundaries
"Keep company only with people who uplift you."
— Epictetus
One of the areas where courage is needed the most is when it comes to boundaries. When you change the dynamic in a relationship by setting boundaries, others may not like it and may get upset with you because they want to keep things as they are. Learning how to set and enforce healthy boundaries is something that takes a lot of courage because the other person may put a lot of pressure on you to keep things the same. Sometimes it can even mean the end of a relationship.
This is an area that I've struggled with a lot in the past. Often, I would try to set boundaries with others, only to let things slide when the other person would get upset with me. My people pleaser behavior would want to resolve the tension. I would also think that maybe I was doing something wrong because they were upset with me.
When you set a boundary with someone, and you hold to your principles, it can feel scary. It can cause a lot of anxiety. It takes courage to hold to your principles, and the confidence that comes from holding to your principles can help you stand your ground while being polite but firm.
Resilience
"He who does not prevent a feeling of fear is not brave; but he who overcomes fear, is."
— Seneca
"Don't let your fears paralyze you into becoming a lesser version of yourself. Eliminate fear by confronting what you're afraid of."
— David Goggins
So how do we get better about being more courageous in our lives?
One important thing to keep in mind is that having courage is not the same as having no fear. If you aren't afraid of something, then you don't really need courage to step up and do it. When you have courage, you are willing to do what needs to be done in the face of fear.
When we allow fear to control our lives, then we end up living less of a life. We avoid things that are scary, or uncomfortable. We don't take risks that would benefit us in the long run and help us to live our best lives. We often end up regretting the opportunities we didn't take.
Developing a courageous mind is something that needs to be practiced. It takes consistently stepping outside your comfort zone and exercising your will. It means that you need to consciously make choices and take actions in spite of fear and anxiety. The more you practice facing up to and pushing through your fear, the easier it becomes. It is courage that helps us to step up, feel the fear, work through the discomfort, and do it anyway.
When we have the courage to face our fears we don't have to take them all on at once. We can start small and work our way up to bigger challenges. You can step into things that are uncomfortable and get used to them. The more we face our fears, the more resilient we become, and the easier it will be to bounce back from adversity.
Self-Compassion
Another key component to developing courage is self-compassion. When we make mistakes or fall short, the best thing we can do is to treat ourselves kindly. Beating yourself up makes it more likely that you will be less willing to try again. When you treat yourself with compassion, then you're giving yourself a safe space to try, fail, and try again.
Mindfulness
"Fear is the basis of all suffering. Both desire and anger are manifestations of fear. Fear itself is a creation of your mind. It does not exist independently. Since it is a fabrication, you don't have to fight it. Just understand it. Understanding is the key to freedom."
— @TheAncientSage (twitter)
Practicing mindfulness helps us to be more aware of our thoughts and emotions. If we are unaware of what we are feeling, then we tend to led by our emotions rather than our principles or rational thinking. The more we are aware of our thoughts and emotions, the easier it will be to stay calm and rational in the face of fear.
One area of fear that I have is when I fly on an airplane. I know that it is an irrational and visceral fear, but it grips me every time I fly. This last week I flew out to Salt Lake City to visit with friends and family. It was a challenge for me because even though I know that I'm more likely to die driving to the airport than I am in the plane, it still spikes my anxiety. The flight to Salt Lake was so rough that they didn't even serve drinks. I sat in my seat and did my best to get my body to relax while I listened to music and talked with my neighbor. I have to say, even though it still spiked my anxiety a bit, it was better than the last time I flew. I think that was a results of my mindfulness practices over the years. I hope that it will be even better the next time I fly.
Optimism
"Why does he smile when misfortune strikes? He knows it is an opportunity to cultivate virtue. Death, loss, decline. These things come for us all. Facing pain is how we make ready. Adversity sharpens the blade of will. Greet the test gladly. Endure."
— @TheStoicEmperor (twitter)
Courage is also closely linked to optimism. If you believe that good things are possible, then you're more likely to take risks and go after the things you want. You'll be willing to face discomfort and fear because you believe that you'll be able to push through and achieve your goals. You'll be more willing to practice self-discipline because you believe that your efforts will pay off. You'll also be less likely to self sabotage because you'll be less focused on all the things that could go wrong and more focused on the things that you can do right.
Conclusion
There's a lot in this world that is challenging, uncomfortable, or scary. It's easy to fall into a place of negativity and complacency. Developing a courageous mind is a lifelong endeavor and needs to be practiced daily. Cultivating courage is like strengthening a muscle. It is something that needs to be done consciously and mindfully in order to keep fear and anxiety from hijacking our minds. It is something that is necessary for developing and improving our self-discipline. Lastly, courage helps you become more optimistic because you believe that your efforts will be worth it, and you will be able to make the progress you want.