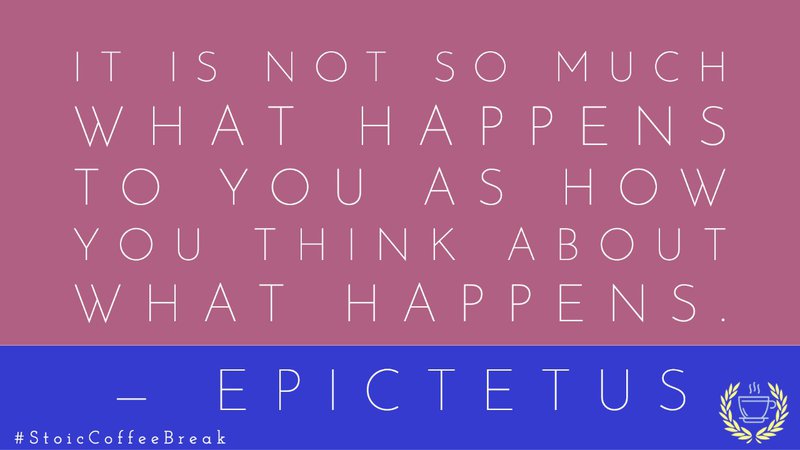 Do you think of yourself as a "self"? What if we had no part of us that was an enduring self? How would that change how you acted in the world? Today I want to talk about the idea of how we would view the world different if there was no self.
Who Am "I"?
"It is not so much what happens to you as how you think about what happens."
― Epictetus
"Your happiness depends on three things, all of which are within your power: your will, your ideas concerning the events in which you are involved, and the use you make of your ideas."
—Epictetus
How do you think about yourself? Meaning, when you refer to the "I" that is you, what do you think of? I know for me, and a good number of people, we think of this "I", the "me" part of us, as our core, as the pilot of our bodies and our consciousness. This is the "I" is also referred to as the ego, and we consider is a core part of our identity.
The reason that I'm talking about this idea is that this morning I stumbled on an article (https://bigthink.com/the-well/eastern-philosophy-neuroscience-no-self) that claims that the self as most of us think about it does not exist. At first, I was skeptical, but as you well know, I'm always curious to take in other perspectives and if there is something useful that I can add to my world view. The author, Chris Niebauer is a neuropsychologist, and he does a pretty job of convincing me that there might not be a "self" in the way that we know it.
Thinking of the "I", the pilot that is us the navigates us through the world is pretty consistent in the western world. But in the eastern world, in traditions such as Buddhism, Taoism, and others, they hold the idea that there is no self and that what we think of as the "I" or ego, doesn't actually exist. The self is just an illusion. The self then is a phenomenon that happens because of the process of thinking. That without thinking, the self does not exist.
I think the best line in the article is when he says, "The self is more like a verb than a noun", meaning that unless the mind is thinking there is no self. The self is a process, and only exists when thoughts are happening. As a side note, this might explain why we have around 60,000 thoughts a day, as the mind is in a constant cycle of reinforcing the self.
He points out that neuroscience has made tremendous progress in the last few decades as far as mapping out what parts of the brain handle which tasks. We know where the language centers are. We know which areas of the brain handle recognizing faces or the emotions of others, but there is no place in the brain where the "self" resides.
Split Brain
Niebauer also talks about different experiments and incidents that have happened throughout the last century have taught us much about brain is creating our sense of self on the fly, that it is not something that is permanent and fixed.
Where they made some real progress in this area was working with patients who had suffered from severe epilepsy. These patients had the corpus callosum, which is the communication layer between the two hemispheres, severed, so that they now live with what is called a "split brain". In doing this, the patients no longer suffered from debilitating seizures, but their hemispheres no longer communicated properly. This allowed scientists to perform some fascinating experiments.
They would give instructions to the right side of the brain by showing them cards with instructions to just one eye. The right brain is the acting portion, and so when they would show them cards with actions such as "stand" or "laugh", the patient would stand or laugh. But when they would ask them why they stood or laughed, the left brain, which is the "interpreter", would answer the question. Since the left side had no knowledge that the original instruction that came the right side of their brain, it would try to explain things by using what information it did have, and would make something up in an effort to make sense of what was going on.
No-Self
"You have power over your mind — not outside events. Realize this, and you will find strength."
— Marcus Aurelius
So what exactly does this mean? According to the author it means that there is no single self or pilot that is in control of us. The left hemisphere is constantly interpreting what it thinks is going on and gives meaning to it on the fly, which guides our actions. This interpreting process is what tells us in real time what we like or don't like, if someone else is angry or sad. In other words, unless this interpreter is giving meaning to something, there is no self that is acting or piloting us.
The other part that was interesting to me, is that the left brain was wrong, but was convinced that it was right. Even those of us with normal brains will try to make sense out of what we are experiencing and come up with an explanation. We hold onto that explanation and believe it to be correct, but we can see through those experiments that it is just a perspective and not necessarily the truth.
For me as a software developer this idea of the self being a combination of thinking processes is easy to imagine. When you work on code in most modern languages, a program is not just some big monolithic file of code. It is usually built with different modules that handle different aspects of what the application needs. There's the UI library that handles the visual elements and user interactions such as pushing a button, or clicking a checkbox. There are modules that help you make calls to external datasources. Each of these are combined and stitched together to create an application. There is no application unless all of these elements are working together and doing the things that they were designed to do.
This also reminds we of how memories work in the human mind. We know for example that memories are not something that are just held in our minds like videos stored on a hard drive. Our brains actually recreate our memories on the fly each time we recall them, so each time we remember an event, we are not watching something fixed, but we are recreating something slightly different. It's like our brain has the basic story and tries to fill it in. This is why when people are asked about things in the past at various times, they may remember things that are generally the same but over time they begin to change into something that isn't really all that close to the original event.
I Am Who I Think I Am
"I think, therefore I am who I think I am."
— 2NU2
"There are two of the most immediately useful thoughts you will dip into. First that things cannot touch the mind: they are external and inert; anxieties can only come from your internal judgement. Second, that all these things you see will change almost as you look at them, and then will be no more. Constantly bring to mind all that you yourself have already seen changed. The universe is change: life is perspective."
— Marcus Aurelius
So why is this important? Why should we worry about whether there is a self or not? For me, it is an interesting way to think of the mind. It shows that the stoics were quite ahead of their time. If the self is really just a construct of our thinking, and that, according to stoics, our thinking is one of the things that we have control over, then we have a lot more control over who we are as a person than we thought we had.
In this view, the self is not some static unchanging entity sitting somewhere in our brain. We are a unique combination of ever changing thought processes and sensory inputs coming together at a specific moment in time. How we feel and think at any given moment in time is a combination of all of those elements, and therefore who we are is in a constant state change.
If we look at the self as a product of our thinking, then who we think we are and how we think about ourselves is very important. Our self image, who we imagine ourself to be is something that is up to us. It is not a static thing. It is something that is always changing and more malleable than we like to think. I think this is why we are often easily swayed by the opinions of others. If our self is a product of our thinking, if we let others have too much influence over how we think, they can influence how we think and thereby change who we are.
We Are What We Do
"The happiness of your life depends upon the quality of your thoughts."
— Marcus Aurelius
Because we are in a constant state of change, and the self is always in flux, it is important that we have tools to help us on a daily basis. Because the self is not just a static, fixed thing, we can't just do something once and expect it to be a lasting change. It is something that needs constant attention. This is why mindfulness, practices, rituals, and habits that help us to think better are so important for us to implement. By thinking better, we become a better person. We create a better self.
The habits that we develop are thought patterns that have become engrained into a part of us to the point to where they are almost automatic. Therefore our habits are a part of our "self" as well. We are what we repeatedly do, which is why when we are able to understand the deeper thought patterns that drive our bad habits, it makes it easier to change them. Just trying to change a habit without understanding it is possible, but you are more likely to succeed when you understand why you have the habit.
If we think of the self as thought, then meditation an important way to get to know ourselves. If you are unaware of the thoughts that you have each and every day, then it's really hard to know who you are. Therefore a daily meditation practice allows us to know what we think. The more we know what we think, the more we understand what makes us who we are.
As always, I'm going to recommend journalling as another way to get to know ourselves. If we hold this view that the self is nothing but thinking, then recording our thoughts is another way that we get to know ourselves. These podcast episodes are often an outgrowth of me just sitting down and writing about what I'm thinking in an effort to get to understand myself better. I'm also a strong proponent that clear writing leads to clear thinking, so the more time you spend writing and organizing your thoughts on the page, the better your thinking, and the better self you create.
Conclusion
The idea that there is no real "self" and that we are simply a product of our thinking is a fascinating perspective. Just as with other theories of consciousness, it's hard to say whether it is correct, but for me, I think it is certainly a useful model. If our self is created by our thinking, then we have the opportunity to choose who we want to be, and by improving our thinking, we improve our "self".
---
Hello friends! Thank you for listening. Stop by the website at stoic.coffee where you can sign up for our newsletter, and buy some great looking shirts and hoodies at the Stoic Coffee Shop.
Want to help support this podcast? Become a patron on patreon!
Like the theme song? You can find it here from my alter ego. 🙂
Find me on instagram or twitter.
Lastly if you know of someone that would benefit from or appreciate this podcast, please share it. Word of mouth is the best way to help this podcast grow.
Thanks again for listening.