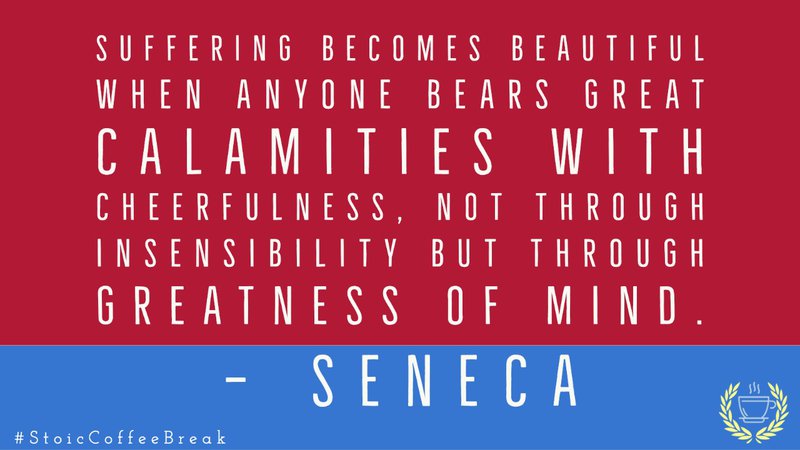 Do you give up on things because they're hard? How willing are you to suffer for the things that you truly want in your life? Today I want to talk about how to get what you want, and why it's important to learn how to suffer well.
"Suffering becomes beautiful when anyone bears great calamities with cheerfulness, not through insensibility but through greatness of mind."
— Seneca
Life is Suffering
The first principle in Buddhism is that life is full of suffering. It is something that we cannot avoid. But, once we accept that life is full of suffering, it makes it so the suffering isn't so bad. The idea that there should not be suffering, actually leads to more suffering, because we waste time and energy on what we think should be, rather than what actually is. When we accept that life is full of suffering, it is acceptance of reality.
We can see the importance of suffering in religious traditions. Jesus is said to have fasted in the desert for 40 days and 40 nights before he began to preach. The Buddha spent many years fasting and putting himself through physical hardship to reach enlightenment. Shamans in many cultures must endure physical trials before they are considered worthy to guide others. Prophets and teachers were not considered worthy unless they have suffered.
In our time, so much of our lives are centered around seeking comfort, but what if we took the time in our lives to practice suffering well? What if rather than avoiding uncomfortable things, you embraced them? What if rather than seeking comfort in your life, you sought out things that were hard, things that made you suffer by choice?
Suffer By Choice
The reason I was thinking about this topic is that yesterday I went out for my longest bike ride for the season yet. It was just under 30 miles and was quite challenging because I haven't been out riding as regularly as I'd like to. As I was out straining and climbing the hills south of my home, I was thinking about how I had missed riding, and how much I loved pushing myself to see how much faster and stronger I could get. I thought about how much I was willing to suffer to become a better rider.
For a little backstory, I started cycling back in 2003. I was living in Minnesota at the time, and I was not in very good shape. I had been overweight for a number of years, mostly out of laziness. I wasn't in very good health and had all kinds of digestive issues because my diet was very unhealthy.
One Sunday afternoon, I watched the Ironman triathlon that takes place in Hawaii every year. This was the first time I'd ever watched it, and I was entranced. Watching the stories of the participants and what it took to get there was pretty intense, and very inspiring. Here were people who were willing to sacrifice and suffer to see how hard they could push themselves.
It reminded me of how intense wrestling practices had been in high school. I remembered how I looked forward to that intensity because even though it was hard. On the mat, I learned how to push myself further that I thought I could. I learned that even when I thought I was done, I could pull a little more out of me.
So on that day in 2003, watching those triathletes push their limits, I decided that I needed to get off my ass and get back in shape. I decided that I would start training for triathlons. I began attending spin classes at my gym. I hit the treadmill. I even started swimming laps, which was something I had never really liked.
At first, it was really hard. I would finish up spin classes completely drenched in sweat. My pace on the treadmill and my lap times in the pool were embarrassingly slow. But I kept at it. I decided that I was going to be a triathlete, and that was that. It was worth suffering for.
A little over a year later, I did my first triathlon. It was a short course, so nothing near as hard as a full Ironman. I had also lost a lot of weight, and was in the best shape of my life since high school wrestling.
After that I found that I was drawn more to cycling than triathlons, so I changed my focus. Nonetheless, I still appreciated the struggle and was happy to suffer a few times a week in the saddle. There's just something incredible feeling about pushing yourself to those limits.
Now please note, I'm not saying this to toot my own horn. Over the past 10 years, I let my riding fall by the wayside. I could have carved out time for it, but I found excuses for why I didn't get out and ride. Even this week, I could have ridden at least one more day, but came up with some excuse of why I should skip it. It's challenging, and sometimes I don't feel like I have it in me to suffer that much. Sometimes it's only after I'm done that I appreciate the struggle.
Resilience
"Pain is neither intolerable nor everlasting if you bear in mind that it has its limits, and if you add nothing to it in imagination."
—Marcus Aurelius
So why is it important to suffer for something?
When we suffer for something we learn to be resilient. When other things in our life fall apart, we are able to draw upon the lessons we learned from suffering and apply them somewhere else. We know that even though things seem really bad, that we can keep pushing through till things get better. We can handle uncomfortable things, because we have practiced doing so. We increase our tolerance for the slog. We know that we can continue to push through the parts that suck. We step up and face things that we are afraid of. We learn how to focus under stress.
Embrace Discomfort
When we suffer for something, we learn to not avoid discomfort, but we turn to it and embrace it. We recognize that if we want to grow we need to go towards the things that are hard, the things that we might rather avoid. We can see that these are the things that will make us grow. When life throws challenges your way, because you know how to handle suffering, you are better able to navigate life's challenges. You've already practiced how to keep going and how to manage yourself when things suck.
Discipline
Probably the most obvious thing we learn from suffering, is discipline. When we have decided that something is worth suffering for, and we continually push ourselves through it, we develop the skills to get ourselves to do what we want to do, even when it sucks. When we look at what we need to do to accomplish our goals, we don't seek out the comfortable option. We seek out the most effective option, even if it's hard because we know that we can handle hard things.
Learning to suffer well also helps develop emotional discipline. Because we have increased our capacity to suffer, we are far less reactive. We can sit with discomfort because it's something we're used to. We're okay with not everything being comfortable in our lives.
Confidence
"The greater the difficulty, the more glory in surmounting it."
— Epictetus
One of the things that happens when we learn how to suffer well is we become more confident in our abilities. We learn where our edges are and that we can push ourselves much further than we previously thought. If we are continually taking the easy path, we never really discover our strength. We don't know how much we can really take until we push our limits.
We also find inner strengths that we may not have even known we had. We learn how to function well in hard situations. Since we are rarely actually pushed to our limits, when we practice doing so, we're more likely to keep a clear mind when disasters strike or we find ourselves in challenging circumstances.
Purpose
Another reason why we should learn to suffer well is to develop a stronger sense of purpose. If you have never worked hard for something in your life, you have never really stretched yourself. You've never pushed yourself hard enough to see what you really can do. If you've never sacrificed for something you've never worked for something that you have found to be valuable enough to sacrifice for. It means that you have lived a pretty unremarkable life.
The harder we have to work, the more we have to overcome to achieve something, the more it means to us. If it's too easy, it's boring. If it never tests your strength or stretches you, then it doesn't feel all that rewarding to accomplish it. This is something that I constantly have to remind myself when I hit something hard that I'm working on. There's a part of me that wants it to be easy, and to just work the way I want it. But if it's something that I have to put effort into, the feeling that I get when something finally clicks, or something works out after I put effort into it is very rewarding.
Do I Really Have to Suffer?
Now I know that I've talked a lot about physical suffering in the episode, but that's because physical suffering is a good teacher. Your willingness to push through when something is physically demanding takes a lot of mental discipline to keep at it when your body wants you to turn away and quit. When you can develop the necessary mental fortitude to push through something physical, you can transfer the skills onto other areas of your life.
This is often why people join the military. They want to develop the mental and physical toughness to help them face the challenges of life head on. When you develop this kind of skill, it makes it easier to set goals and to go after what you want. When you hit a roadblock, you don't just throw up your hands and quit. You know how to stick with things even when it's difficult.
The other reason why I think physical challenges and suffering are helpful is because progress is pretty easy to measure. When you push yourself physically you will get stronger. You'll be able to run or ride further and faster. You develop mastery over your body, and since we experience the world in our bodies, experiencing the full capabilities of your body is truly a wonderful experience.
Doing something physical is also really good for your mental health. I know that when I come back from a long ride my mind is usually clearer. I have a sense of calm from both the exertion and the endorphins, which often spills over into the next day.
Pain Or Pleasure?
I want you to consider this idea – that we really only truly suffer because of what we make something mean. When I'm climbing the hills on my bike, I don't really consider it suffering in the traditional sense. Yes, my calves burn and have to generously use my massage gun on them once I get home, but because it's something that I enjoy, I don't really consider it suffering. It doesn't mean that it's not hard and at times painful, but I consider it pleasure because I know that it's making me stronger, and I love how it feels when I've finished a ride.
What Are You Willing To Suffer For?
"Start living in discomfort. Gradually increase it little by little, and you will steadily grow. If you want sudden growth, deluge yourself in great discomfort and do not retreat from it. The more discomfort you are willing to bear, the more you can grow."
@TheAncientSage (twitter)
So what are you willing to suffer for? Is there something in your life that you would like to do that is hard and would push you to your limits? Maybe running or swimming or rowing? If you're not in good shape, consider just getting outside and walking every day. Do something that challenges you physically, and note how it affects your mental state. I would bet after 30 days of challenging yourself physically that your overall mental state would be much improved. If you're willing to share, I'll put post on instagram @stoic.coffee where you can share with me what you're willing to suffer for. I'd love to hear what you're willing to suffer for.
Conclusion
When we seek a life of comfort, we're playing things safe. We aren't pushing our limits. We aren't living our best lives. When we decide to actively push ourselves and suffer for something, we not only improve our physical health, but the mental discipline and resilience we develop spill over to other parts of our lives. We know that we can push through discomfort to reach the the goals that we want, all because we learned how to suffer well.
---
Hello friends! Thank you for listening. Stop by the website at stoic.coffee where you can sign up for our newsletter, and buy some great looking shirts and hoodies at the Stoic Coffee Shop.
Want to help support this podcast? Become a patron on patreon!
Like the theme song? You can find it here from my alter ego. 🙂
Find me on instagram or twitter.
Lastly if you know of someone that would benefit from or appreciate this podcast, please share it. Word of mouth is the best way to help this podcast grow.
Thanks again for listening.