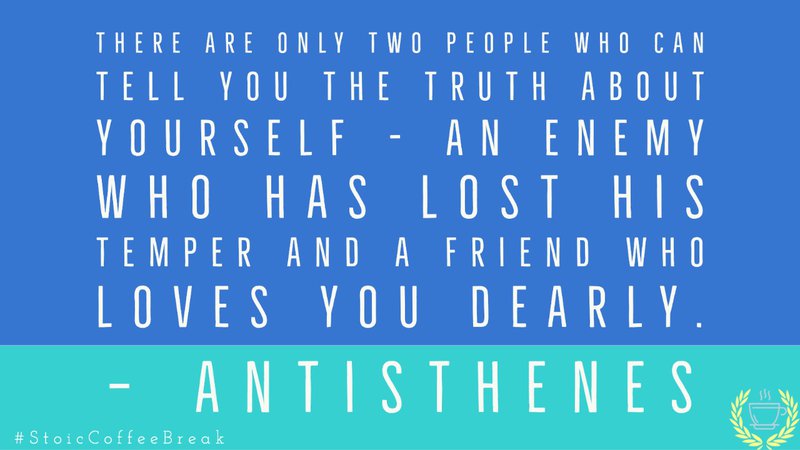 Do you have enemies? Are there people that you don't like? Are there people who don't like you? May there is someone who makes your life more difficult? Today I want to talk about the importance of having people in our lives that challenge us.
"There are only two people who can tell you the truth about yourself – an enemy who has lost his temper and a friend who loves you dearly."
— Antisthenes
One of the hardest things for us as social creatures is to deal with our enemies. Now when I use the word enemy in this episode, I mean everyone from people in our social circles that we don't like, to romantic or business rivals, and everything in between. There are plenty of people that we probably don't like and plenty that may not like us.
And believe it or not, it's a good thing to have enemies.
Enemies
"Your friends will believe in your potential, your enemies will make you live up to it."
— Tim Fargo
"Pay attention to your enemies, for they are the first to discover your mistakes."
— Antisthenes
One of the hardest things for us to do is to be honest with ourselves. Our mind likes to play tricks on us, so we will often change how we remember things so that it put us in a better light. We will change our interpretation of things so that when we make mistakes, that we still come out looking good. We will fudge reality so that we are still the good guy in a story, even if we have done things that, deep down, we know were not things that aligned with our principles.
Our friends will let things slide and often let us get by with not being our best or taking the best course of action. They may be more likely to comfort us and say the things we want to hear. They might not call us out when we backslide or try to weasel out of owning up to our mistakes. If our friends approve of everything we do and let us get away with everything, we would never improve. We should seek out those who tell us when we're not holding up our principles. We should listen to those who are honest enough to call us out.
This is why having enemies is important. Enemies will not let us forget the things that we have done. When we make mistakes or screw up, they are the first to point them out and call us out when we don't act according to our principles and values. Our enemies are the ones that challenge us to live up to what we say we will do and call us out when we don't. They will find our smallest flaws and are not afraid to point them out. This is why our enemies can be our best friends. This can be very frustrating and we might even get angry about it, but it can be the fastest way to see if we are living up to our principles.
The Truth
"If evil be spoken of you and it be true, correct yourself, if it's a lie, laugh at it."
— Epictetus
Recently, I found out that an old friend of mine that I used to be closed to quite dislikes me now. At first I was upset and thought they were being unfair because they disliked me for some of my behavior in past that had nothing to do with them. But as I was talking to a mutual friend they pointed out the fact that I had actually done these things in the past, and rather than complain about them not liking me, I needed to step up and do better.
While I didn't like to own up to my past behavior, they were not wrong. Some of my behavior in the past wasn't great. I realized that how they perceived me was not under my control. There is nothing I can to do change the past, nor little I can do to directly change their opinion of me. The only thing I can do is to be the person that I want to be. I have no control over what others think of me, only my choices and the actions I take. If this person dislikes me, and I'm holding to my principles and values, then they are not the kind of person I want to be around.
Hold To Your Principles
"You have enemies? Good. That means you've stood up for something, sometime in your life."
— Winston Churchill
Now, just because someone is unhappy with something that we do doesn't mean that they are right and that we need to change to make them happy. There are times when we will do things that others may not like, but it's the right thing to do.
We need to have the courage to be ourselves regardless of what other people think of us. We need to build our character and follow our principles in such a dedicated manner that the choices we make and the actions we take are aligned with who we want to be. If we constantly change our choices and actions based upon what others might think, then we really need to take a look at ourselves and make sure that we know what our core principles and beliefs are.
When we live by building our character and not worry about what other think of us, we rarely need to apologize for how we act. If someone is upset with us because they don't like something we have done or said, we should see if we have done something against our principles.If we find that we haven't lived up to our standards when dealing with other people, we should be quick to apologize.
We don't apologize because someone is upset with us, but because we have failed to uphold our principles. If someone is upset with us and we have upheld our principles, then there is no need to apologize. We never need to apologize for upholding our principles and doing what we think is the right thing.
Expand Your World
"If anyone can refute me' show me I'm making a mistake or looking at things from the wrong perspective' I'll gladly change. It's the truth I'm after."
— Marcus Aurelius
One of the main reasons why we should listen to those we don't like is because we don't have all the answers. When I was in the Mormon church, there was a strong emphasis of not reading or listening to those that disagreed with the teachings of the church. This close-minded way of acting in the world was something that always rubbed me the wrong way.
I mean, why should we be afraid of listening to those who don't think like we do? Shutting yourself off from ideas don't support your worldview will actually make you mentally weaker. If your way of viewing the world is so good, then you should be able to listen to new ideas, logically see the mistakes in them, and dismiss them. By engaging with opposing points of view we make our own arguments stronger because our opponents can point out the weaknesses.
By taking the time to listening to ideas we don't agree with, we may actually find some new ideas that we can use to make our lives better. No one has a monopoly on good ideas. As smart or as great as we think you are, we don't know the best way to do everything. We thrive as a culture because we have all kinds of new ideas and we challenge old ways of thinking. If it's a good idea, there's a good chance that it will stand up to scrutiny. Then we take what works, and do our best spread those ideas.
I mean, that's what I'm doing with my podcast. I try to take the best ideas that I can find, apply them in my life, and help spread them around to others so that they can use these ideas to improve their lives. Hopefully, they can improve on these ideas so that I can learn and use the new and improved versions. Don't get so attached to your own ideas such that you think they are the only way something can be done. Doing so means that your ego is in the way.
Defeat Your Enemy
"Your enemies cannot make you hate them, define you, or make you obsessively think about them, only you can do that."
— Carmine Savastano
One of the most important reasons why we should try to understand our enemies, is because spending energy on hating others makes your life miserable. When we consider someone to be our enemy, we are blaming them for something that is wrong in our lives. We believe that if they would just act a certain way, then everything would be fine. In a sense, we are trying to control something that we do not have control over. Letting go of anger makes your life more positive and focuses your energy on things that are more useful.
Conclusion
"An honorable man is fair even to his enemies; a dishonorable man is unfair even to his friends!"
― Mehmet Murat ildan
If you have someone in your life that you consider an enemy, I want you to think about why. Do they act in a way that you find distasteful? Are they mean or cruel to others? If their behavior is something that goes against your principles, then it may be it's someone that is not good to have in your life. In that case, use them as an example of what not to be and learn by watching their mistakes.
But, if it is because they make you uncomfortable by pointing out the truth, it may be time to try and build a bridge. Then maybe this person is more of a friend than you might think. This may be someone with enough character to tell you what you need to hear, and an honest enemy is better than a friend who only tells you what you want to hear.
---
Hello friends! Thank you for listening. Stop by the website at stoic.coffee where you can sign up for our newsletter, and buy some great looking shirts and hoodies at the Stoic Coffee Shop.
Want to help support this podcast? Become a patron on patreon!
Like the theme song? You can find it here from my alter ego. 🙂
Find me on instagram or twitter.
Lastly if you know of someone that would benefit from or appreciate this podcast, please share it. Word of mouth is the best way to help this podcast grow.
Thanks again for listening.