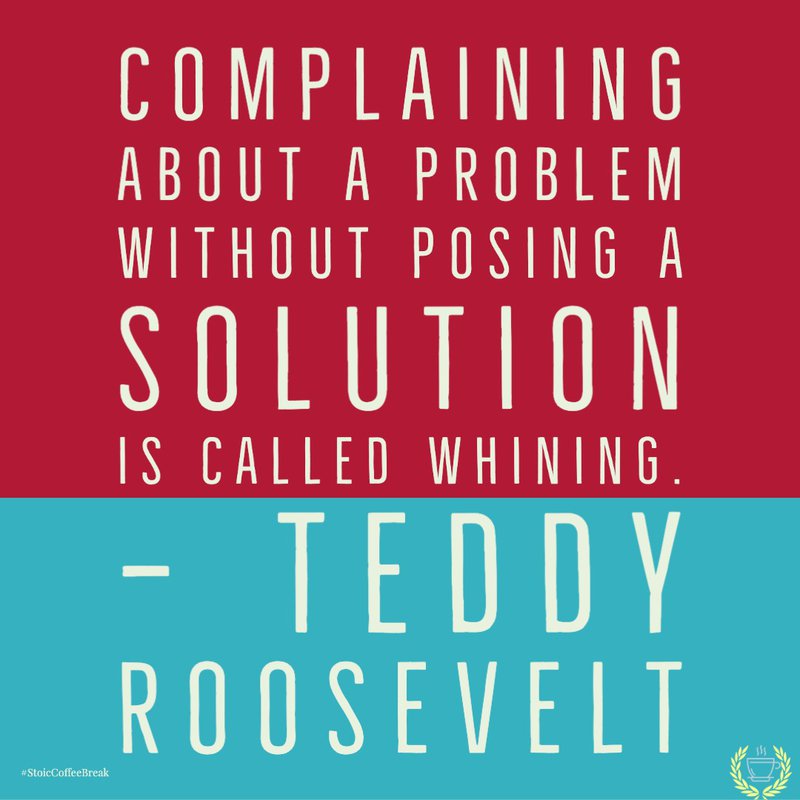 Do you think that life is fair? Do you think it's unfair? Are others "winning" when you are not? Today I want to talk about how fall into a pretty bad way of thinking that reduces our ability to take responsibility for ourselves, and blame our unhappiness on the world outside of us.
Complaining about a problem without posing a solution is called whining.
— Teddy Roosevelt
There is only one way to happiness and that is to cease worrying about things which are beyond the power of our will.
— Epictetus
From time to time, I like to hop on the stoicism sub reddit and participate in discussions. I really appreciate is that most people are pretty thoughtful and respectful, and I often learn something new or see things in a new light.
But there's a kind of post that I see on there from time to time which I find is pretty sad. It is usually some who is upset that they are not getting all the things in life they think they deserve. They complain that the job sucks or they're struggling with school and the teachers are mean and out to get them. Or they're afraid to talk to someone they're find attractive and are upset that they can't get a date. They talk about how how they tried to be stoic, but they still aren't getting what they deserve. They complain that other people still treat them poorly even though they are trying to be stoic. There is often a lot of blaming of others for their misfortune and lashing out at the world in general.
So today's episode is going to be a little bit of a rant, but I hope that you can bear with me.
Fairness
Don't be overheard complaining…Not even to yourself.
— Marcus Aurelius
One of the hardest things for us to wrap our heads around in this world is this:
We are entitled to nothing in life. We deserve nothing in this world.
Now, I'm sure that might be upsetting to those of us who think that life should be fair. I'll give you a hint:
Life is not fair and never will be.
How could it be? There is nothing in the universe that would be able to enforce some external rule of fairness. And if we tried to create a society of absolute fairness, who would be given the task of deciding what is fair?
You?
Me?
As much as I'd like to think that I could be a good arbiter of fairness, I know that because of my own biases and personal failings, I could make a system that I think would be fair that plenty of others would disagree on. We could never get everyone to agree on what the definition of fairness is. As much as we might wish it, fairness is not something intrinsic in the universe. It is not a natural law like gravity. It is something that we have to create on our own as a society.
Interestingly enough, I think this is proven out because one of the core virtues of Stoicism is that of Justice. What that means to me is that we need to help bring justice to the world because it is not already a natural or intrinsic part of the world.
What's ironic is that most people I see complain about the fact that world isn't fair, are those that want the world to bend in a way that benefits them. If this were to happen, wouldn't that make it so that world was again unfair because it benefits them and not someone else?
Character
Don't demand that things happen as you wish, but wish that they happen as they do happen, and you will go on well.
— Epictetus
Another part of this post that I wanted to talk about is the idea that if you act virtuously then everything will work out for you exactly the way that you want it. That people around you will change who they are simply because you are trying to be a good person. That because you "act" like a good person, then everything will simply come to you because you deserve it. This is never going to be the case.
Let me spell it out clearly for you:
You don't deserve anything.
Just because you want or think you deserve something doesn't matter. You can think that all you want. Just because you are nice doesn't mean that you should get to date someone you find attractive. Just because you act virtuous doesn't mean that other people will be nice to you or not try to take advantage of you. Or that good things won't happen to bad people (of course who are you to decide if they are bad people?).
The reason that you act virtuously is not so that others will change for you. It is so that you act in a way that you feel good about. That you are living a life that you are proud of. Life will happen to you regardless of your character. Having a good character does not mean that everything will go your way.
In fact, I would argue that you if you think that you deserve something because you think you have good character, you probably don't. I think that someone with good character would recognize that they don't deserve anything by just thinking that they are a good person. You cultivate virtue, and build your character because it's something you want. You want to be a good person not so that you get something or you earn something. You cultivate virtue because that's kind of person that you want to be.
Doing The Work
Happiness is not the absence of problems, it's the ability to deal with them.
— Steve Maraboli
Another common thread I notice is that most of their complaints are based on the outcomes they want. They complain about how they are are not getting the things they want. Rather than looking at what they are doing and finding where it doesn't work and making changes to trying to figure out why things aren't working, they are blaming others for why they are failing.
When you get something without having to work for it, you miss out on the lessons you need to learn in order to handle the success that you have. If you haven't learned to be a charming, fun, or interesting person and you happen to land a date with someone you're attracted to, why should they stick around? You haven't given them any reason to do so. Have you put in the work to be a good partner? What do you bring to the table that would make them want to date you? What about their preferences and free will? Just as you wouldn't want to date someone that you're not interested in, why should they be forced to?
What they are asking for is all the reward without the work. If you get a college diploma, but you didn't earn it and do the work, what happens when you get hired and after a few weeks your manager realizes that you don't have the skills to do your job?
Doing the work is how you gain the skills to be good at what you do.
Doing the work is how you are able to maintain what you earn.
Let's say that you want to be a firefighter. Maybe someday you'd like to be a leader of a fire fighting squad. And let's say that on the your first day on the job, they just give you that position. Would you be very good at it? Would you know what to do to safely put out a fire and help those in danger and keep your team safe?
No you wouldn't. In fact, if you were simply given that position without the experience or training, then you would be a bigger danger to yourself and those around you. It is only through putting in the work that you learn how to safely and effectively fight a fire and lead a team.
Closing Thoughts
Happiness is not something ready-made. It comes from your own actions.
— Dalai Lama XIV
You are responsible for the results of your life. If you want to be successful in life, study successful people. You'll find those that are truly successful are those that take responsibility for their actions. They don't blame others for why they are failing. Recognize the things that are blocking your path and figure out how to work around them. When you put the work in, you gain the skills to overcome any obstacle in your path. In my experience, when you stop complaining and take a good look in the mirror, you see that that the biggest blocker to your success is you.
---
Hello friends! Thank you for listening. Stop by the website at stoic.coffee where you can sign up for our newsletter, and buy some great looking shirts and hoodies at the Stoic Coffee Shop.
Want to help support this podcast? Become a patron on patreon!
Like the theme song? You can find it here from my alter ego. 🙂
Find me on instagram or twitter.
Lastly if you know of someone that would benefit from or appreciate this podcast, please share it. Word of mouth is the best way to help this podcast grow. Thanks again for listening.