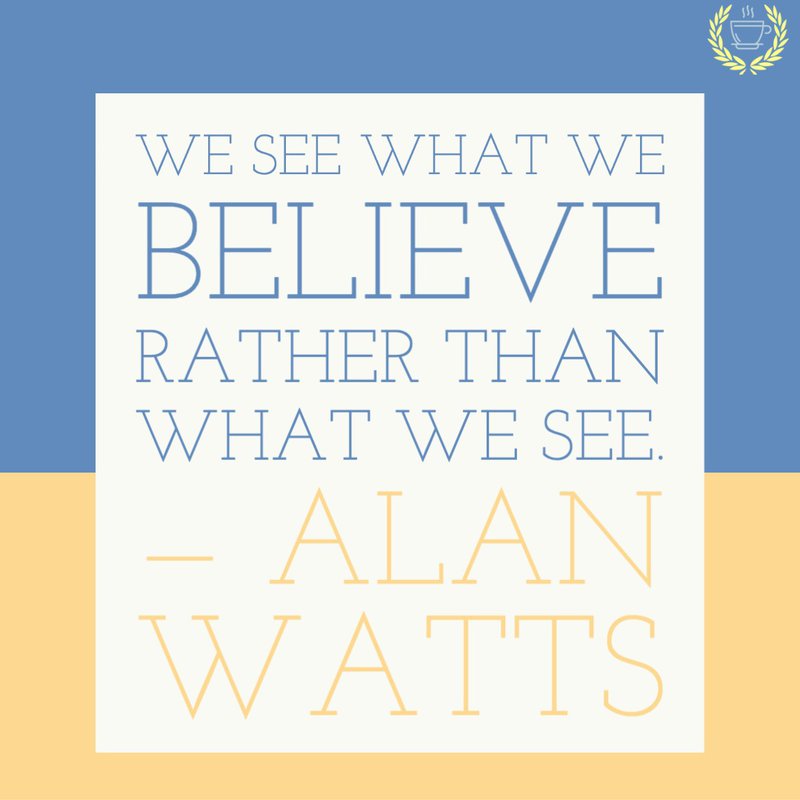 One of the things we talk about a lot in stoicism is that it's our perspective on something that causes our distress. So how do we change our perspective on things? Are there tools that we can use to help us view things differently? Today I want to talk about some of the things that get in our way of broadening our perspective, and what tools we can use to help change our perspective.
It is not the things themselves that disturb people, but their judgments about these things.
— Epictetus
Great minds do not always think alike.
— Anonymous.
One of the most important ideas in stoicism is that our perspective is what informs and colors our opinion about things that happen in our lives. Being aware of our own perspective is very challenging because we really only interact with the world through our own point of view and filters.
We have attitudes and biases that we are often not aware of which affect how we interpret the world and how we decide to respond to events and other people. Basically, we act based on our judgments, and our judgments are formed by what we think about a situation.
For example, say that we have two people, Jane and Tony, and they are walking down the street to a coffee shop. They pass by a group of teenagers with skateboards hanging outside a convenience store. Now when Jane sees them, she smiles and remembers how she used to ride a skateboard at that age and how fun it was to hang out with her friends. When Tony sees the same group of kids, he becomes tense and anxious because he remembers some kids in his neighborhood where he grew up that rode skateboards and used to chase him and beat him up. Each of them are seeing the exact same situation, but having completely different emotions about it based on their experience and their thoughts about the group of teenagers.
Reframing is a when we actively work on changing our perspective on something. First, we become aware of our thinking. Second, we question our thinking by looking for evidence, and using logic to prove or disprove our thoughts. Third, we correct errors in our thinking which helps us change what we make something mean.
So why is it important for us to improve our ability to change our perspective of how we view the world? When we learn how shift our perspective on things, then we are better able to see things as they are, and not just act on our first impressions. We need a fuller picture and have a clearer understanding, which helps us make better choices. Sometimes, just getting slightly different perspective on something can completely change how we view something.
One of the clearest examples of how reframing can radically change how we understand something is from the movie, The Sixth Sense. If you haven't seen The Sixth Sense, I'm warning you now that I'm going to reveal some big spoilers. If you haven't seen it, I recommend you watch it then come back and finish this episode.
The Sixth Sense opens with psychologist Malcolm Crowe, who is played by Bruce Willis, and his wife Anna, played by Olivia Williams, getting ready to go out to dinner. A patient of Malcolm's break into their house and ends up shooting Malcolm and then killing himself. After this indecent, the movie introduces us to Cole, played by Haley Joel Osment, a frightened and withdrawn boy, who is now a patient of Malcom's.
As the movie progresses we see that Malcom has been struggling to communicate with his wife and their relationship seems very strained. We also learn that Cole has the ability to see dead people, which is the cause of his fear. Malcolm helps Cole to try and understand how to deal with this ability, and the two begin to form a strong bond. Near the end of the movie, which up to this point has seemed like a relationship between a boy and his therapist, it is finally revealed that Malcolm is actually dead, but didn't know that he was dead.
When it finally clicked for me that Malcom was dead, it shifted my whole perspective on what the movie was actually about. It was also fascinating how it changed Malcolm's perspective on who he was, and what was really happening. When I went back and watched it again, it felt like I was watching a completely different movie. Scenes where it seemed like Malcolm was interacting with his wife or with anyone other than Cole, were completely changed knowing that Malcolm was dead, but was unaware of it. It was an extraordinary instance of my perspective shifting with new information.
So what can we do to get better with reframing the world around us so we can make wiser choices? There are a few practices that we can do which can really help change how we view a situation.
One of the first things we can do it to is identify cognitive distortions, which are common patterns of thinking that lead to negative or irrational thoughts. This is very inline with what Seneca meant when he wrote:
We are more often frightened than hurt; and we suffer more in imagination than in reality.
— Seneca
We see what we believe rather than what we see.
— Alan Watts
Some cognitive distortions include the following:
All-or-Nothing Thinking: This is where we think that things are one way or another, such as good or bad or black or white. This pattern makes it hard to see that there are shades of gray, that there are nuances in every situation, and in every person. It also makes is challenging to see that sometimes both options can be true.
An example of this comes from a listener who asked me how to reconcile self acceptance with self improvement. They felt that if they accepted themselves for who they were, it meant they were giving up on self improvement. But these things are not mutually exclusive. You can accept yourself and all your flaws, AND still want to improve. Just like how you accept a young child for who they are and all the things they are not good at, and want them to grow and improve.
Mind Reading: This is when we think that we know what other people are thinking. We may make assumptions of their opinion of us, or what their motivations or intent are without any evidence. This is something that I have struggled with throughout my life, much of it came from having to stay on my toes around my father. I was constantly guessing what he was thinking so that I could stay safe.
Personalization: This is when we take responsibility for things that are not our fault, or blame ourselves for things that are out of our control. This type of thinking can lead to feelings of guilt, shame, and inadequacy. Often, this behavior comes from living in a dysfunctional home. If there is one or more parent that doesn't take responsibility for their actions and puts the blame on other members of the family, children learn to accept blame for things they haven't done in order to keep the peace.
Catastrophizing: This is the tendency to exaggerate the significance of negative events, and to expect the worst possible outcome. This type of thinking can lead to feelings of anxiety, fear, and hopelessness. This pattern of thinking can lead people to feel easily overwhelmed because of the emotional weight they put on even minor events. It can also stop us from making progress in challenging situations because it makes them seem far more difficult than they actually are, leading to bad decisions or just outright giving up.
Once you become aware of these distortions, you can challenge them and reframe them into more balanced and realistic thoughts. Writing down your thoughts in a journal and answering questions such as, "Is this thought really true?" or "Is there any evidence to support or contradict this thought?" is one of the best ways to become aware of these kind of patterns and notice how they impact your thinking.
You can also discuss them with someone you trust if you find that more helpful. The point is to find a way to recognize those thoughts and question them in a rational and logic manner so that you can see things for what they really are.
Once you have a handle on what you are thinking and have made the effort to logic through cognitive distortions, you can use what you have learned to change how you view something. For example, rather than assuming that you know what someone is thinking, you recognize that you don't know until you ask, or they volunteer the information. Rather than taking blame for things that you have no control over, you only take responsibility for your choices and actions, and let go of the rest.
For any of these practices to be effective there is a core skill that we need to develop. For me this one skill is the most important in Stoicism, and that is the skill of mindfulness. Now, I know that sound like a broken record because I talk about mindfulness and meditation a lot. The reason for this is that all other practices and processes we might use to improve ourself are dependent on awareness. If we are unaware of our thoughts, perspectives, and cognitive distortions, then it makes it nearly impossible to change anything.
Until we make the unconscious conscious, we will call it fate and it will rule our lives.
— Carl Jung
I've used this quote by Jung many times because it is such an important insight. Even just taking 15 minutes a day to sit and pay attention to you mind and observe your thinking can make a big difference. Remember, mediation is not about zoning out, it is about focusing your attention on your thoughts, your body, and your environment. Just as you would take time to work out to strengthen your body, meditation is taking time to strengthen your mind.
The ability to change and broaden our perspective is probably one of the most important skills that we can develop in our lives. It is also one of the most helpful, since the ability to see things from multiple perspectives gives a more holistic picture of a situation or event. A fuller picture can help you see and understand things you may have missed if you only rely on your own narrow perspective. It can help us understand other people and how they think, and handle situations in a way that is more beneficial to ourselves and those around us.
---
Hello friends! Thank you for listening. Stop by the website at stoic.coffee where you can sign up for our newsletter, and buy some great looking shirts and hoodies at the Stoic Coffee Shop.
Want to help support this podcast? Become a patron on patreon!
Like the theme song? You can find it here from my alter ego. 🙂
Find me on instagram or twitter.
Lastly if you know of someone that would benefit from or appreciate this podcast, please share it. Word of mouth is the best way to help this podcast grow. Thanks again for listening.