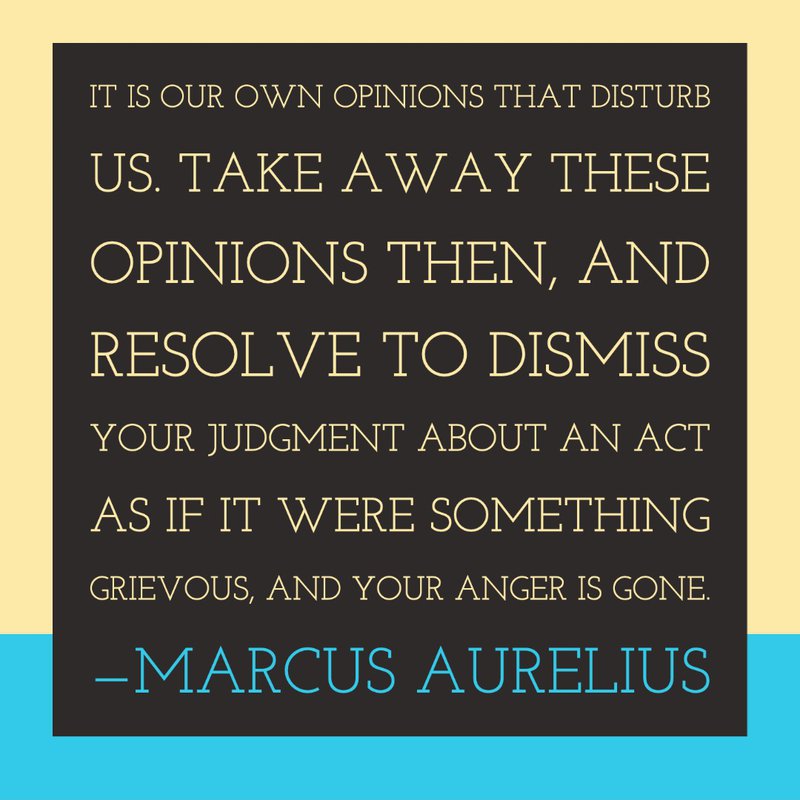 How often do you take what other people say and do personally? How often do you feel like you have to "fix" someone else's mood? Today I want to talk about emotional responsibility, and how it can lead a stronger sense of self and keep you from getting pulled into other peoples emotional mayhem.
Not to display anger or other emotions. To be free of passion and yet full of love.
—Marcus Aurelius
The other day I was talking with my therapist about how I feel like I'm dealing with conflict a little better in my life. I was talking about how I was getting better about not trying to control or change other people's emotions, and how that was very liberating. In doing so I'm able to just let them be annoyed or frustrated or upset with me without having to do anything about it. And she used a great turn of phrase, she said, "QTIP. You quit taking things personally." I laughed because I'd never heard that before, but it was a great shortcut to keep that idea in mind.
If we seek social status, we give other people power over us: we have to do things calculated to make them admire us, and we have to refrain from doing things that will trigger their disfavor.
—William B. Irvine
Why do we find it so hard to just let other people be annoyed? Why do we so often feel like we have to fix how they feel?
For many of us, we confuse trying to fix other people emotions with being nice. We're raised to find ways to keep the peace, and often that includes us finding ways of placating others or take on other peoples emotions. We may even take the blame for things that we had no control over just to try and keep others happy.
One of the hardest things that I've had to learn in my life was how not to taking things personally. If someone is upset with me, I find it very challenging to just let them be upset with me. I usually try to either fix whatever is upsetting them, or I try to change how they are feeling by arguing with them about why they are wrong to be upset with me. And you know, that never really works. When you try to change how someone feels about something, they often get even more upset or resentful because you are invalidating how they feel. You are letting them know that their emotions are not acceptable.
Think about how you feel when you tell someone about how something they did impacted you, and rather than listening and hearing what you have to say, they start trying to argue about why you shouldn't feel the way you do. Talk about feeling dismissed and invalidated. When someone is upset with you, it is not your job to fix their emotions. You don't need to change how other people feel. Let them be mad, frustrated, and upset with you. It's their right to feel what they feel. It is not your place to try and change them. And the thing is, that's not something you need to take on. It's not your job to manage their emotions. It's theirs.
Now many of us this can be challenging. When people are responding to you, often it really has nothing to do with you but more to do with their trauma and baggage. I know that when I'm upset about something, I've often reacted in way that later, upon reflection, wasn't really even related to what the other person did. I reacted to what they said or did in a way that had more to do with my past than what happened in the present.
Our brains are constantly using past data to try and predict future outcomes. If you have lots of bad data from growing up in a dysfunctional family or suffered some kind of trauma or abuse, sometimes your responses aren't going to be appropriate to the current situation.
For example, because my dad was so unpredictable, when he was annoyed about something it could quickly escalate into something very volatile. So when someone close to me is annoyed, my brain screams "danger!", and will often overreact. It's gotten much better, but it has taken tremendous effort to reprogram those responses.
As a recovering "people pleaser", I often feel like it's my job to try and fix other people's moods. A big reason for this is because growing up, I had to be conscientious of my dad's emotions because if I didn't, I could end up being beaten. I had to be on guard all the time and find ways to soothe him or make him happy to keep myself safe.
So does this mean that you should just be calloused and not care about how other feel? I mean it's their emotions to deal with, right? I think there is a fine balance between not taking on other emotions and being an ass. Humans are always trying to subtly and not so subtly manipulate and persuade each other. Most times it's harmless and often beneficial. But there are those that try to emotionally manipulate others to try and take advantage of them. Blaming others for their moods or for the problems in their lives, throwing tantrums, and guilt tripping are all things that I've seen people do to each other, and I've done my fare share of it as well.
It is our own opinions that disturb us. Take away these opinions then, and resolve to dismiss your judgment about an act as if it were something grievous, and your anger is gone.
—Marcus Aurelius
So how can we get better about not taking on others emotions and not taking things personally? By taking responsibility for your own emotional management, and encouraging others to do so as well. When you are responsible for your emotions, you have a good handle on where those lines are. You don't take responsibility for emotions and actions that are not yours.
When you take the blame for things that you have no control over, it does little to really solve an issue. This also robs others of the chance to take responsibility for themselves. Each of us need to be clear about what is ours to manage, and was is not.
The other thing is that you can't fix someone else's emotions anyway. The stoics teach us pretty clearly that out thinking is what distresses us. If the other person is upset abr something, it's their perspective on things that is causing their distress, and it's something they need to figure out. What we can do on our side is support them and do our best to reign in our emotions to help defuse situations whenever possible.
We've all been on both sides of arguments where we blame others for how we feel, and have had other blame us for how they're feeling. Neither of these perspectives do a very good job of helping us manage ourselves and support others. When we practice being a little more dispassionate and to quit taking things personally, the more we'll be able to be in control of ourselves, and support others in managing their own emotions, which helps create more emotionally balanced relationships, and helps each of us be a little more kind and patient with each other.
---
Hello friends! Thank you for listening. Stop by the website at stoic.coffee where you can sign up for our newsletter, and buy some great looking shirts and hoodies at the Stoic Coffee Shop.
Want to help support this podcast? Become a patron on patreon!
Like the theme song? You can find it here from my alter ego. 🙂
Find me on instagram or twitter.
Lastly if you know of someone that would benefit from or appreciate this podcast, please share it. Word of mouth is the best way to help this podcast grow. Thanks again for listening.