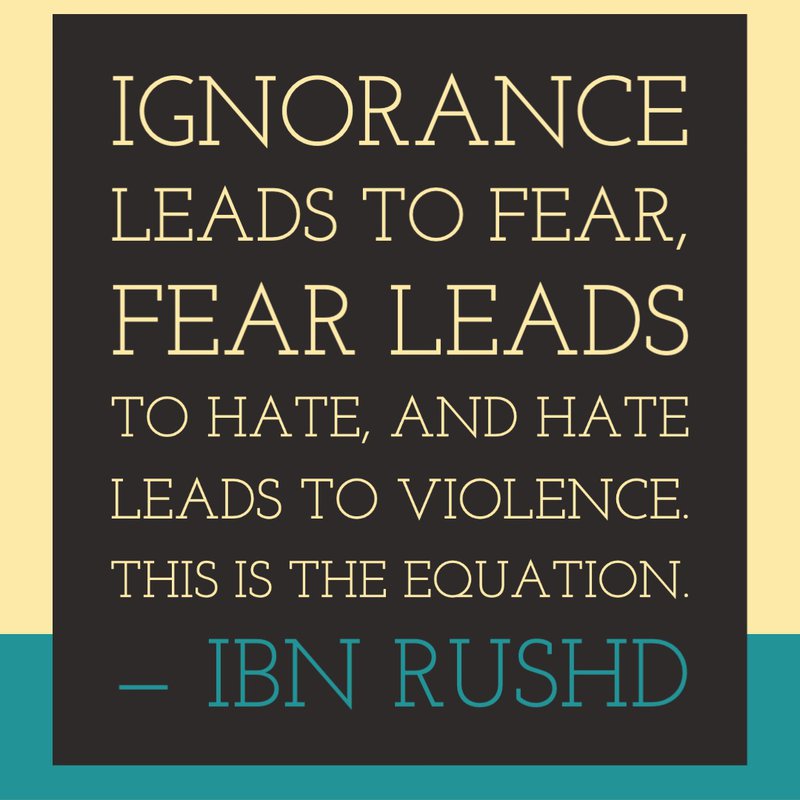 Is it ever okay to hate someone as a stoic? Is there ever a time to have "righteous anger"? Today I want to talk about anger, hate and violence in our ever more divisive world.
Ignorance leads to fear, fear leads to hate, and hate leads to violence. This is the equation.
— Ibn Rushd
Today the world feels like it in chaos. Everything from political violence, war, and ethnic clashes to threats of violence and down right viciousness on social media. Alongside that, the sensationalist news media leading with crime and vilification of those with the "wrong" political opinions. We have politicians excusing and even encouraging violence against one group or another based on their race, ethnicity, sexual orientation, gender, or social status.
With all of this going on, it can at times feel like there is justification to be angry at some group or another. There is always someone else to blame as to why things aren't going the way that you think they should. It's easy to fall into this trap of declaring that if everyone else just thought and acted the way that you wanted, then everything in the world would be much better.
Anger is such an important topic in the stoic philosophy that it's in the first sentence of Marcus Aurelius' Mediations. He says, "Of my grandfather Versus I have learned to be gentle and meek, and to refrain from all anger and passion."
So why do the stoics believe that anger and hatred are so paramount that they warn against them so strongly over and over? Because what they call the "temporary madness" of anger can cause us to do things that we would never do when we are calm and relaxed. We limit our capacity to make better decisions, we will underestimate risk, and at times even cause harm to ourselves just to cause injury to the target of our anger.
But most importantly, the stoics teach us that the harm that anger can cause doesn't just cause damage to those on the receiving end, it also damages our character. It causes us to be ugly on the inside. We alienate those around us. We push people away from us, cause harm to others, and spend time in a dark and hateful place of our own creation. We make really bad decisions that have lasting consequences, often by split second decisions. As Donald Robertson puts it, "Anger allows us to do stupid things faster and with more energy."
I have, at times when I've lost my temper, said some pretty mean and vicious things to people that I genuinely care about, only because I let that temporary madness take over. I felt hurt about something and want them to hurt as much or more than me. As soon as I calm down I truly regret those things that I said, but sadly, they're out there and the damage has been done. Looking back on my marriage, I know that my anger was certainly a contributing factor to my ex wife asking for a divorce.
The more unjust the hatred, the more stubborn it is.
— Seneca
Have you ever met someone that is angry a lot? How pleasant are they to spend time around? Do you look forward to your time with them or do you make excuses to limit your time with them? I know that I do my best to limit my time around others like this. There were even times when I have been on dates that I fond very attractive, but because of bitterness or anger I was not interested in pursuing any thing further. I would even go so far as to say that hate and anger make a person very ugly inside and out.
One of the saddest things I can think of in my own life are the bittersweet memories of my father and his violent temper. It's really sad because there were plenty of great things about him. He was funny, kind, smart, and generous, but so many of my memories of him are overshadowed by his anger and the mental toll that it took on me. I've spent the last few years working through the trauma caused by his anger, and stoicism has been a big help for me as I've worked through these issues.
Whoever does wrong, wrongs himself; Whoever does injustice, does it to himself making himself evil.
— Marcus Aurelius
A few years ago I was in a stoic group on Facebook and was very shocked to see a discussion going on where a few members of the group were using stoicism to try and justify racism. They were posting things like pictures of people living huts in Africa as proof that these people were inferior to them. While I tried patiently to discuss this with them and talk about how stoicism is not compatible with racism, I found it was worthless and gave up on the conversation. Fortunately they were shortly banned from the group.
So can one be a stoic and be racist or misogynistic or bigoted? No. I don't think you can for several reasons. First, one of the most important things that stoicism teaches us is that there are things we can and cannot control and it's incumbent on us to determine the difference, and to work on the things we can control and let go of the rest. It's therefor illogical to hate someone for the color of their skin or their sex or gender or any other factor that they cannot control. Secondly, anger and hatred are called out as some the most important "passions" or negative emotions that we should avoid.
Epictetus also makes it very clear that we are to do good and help all humans, not just those that we like or who are on "our side":
One cannot pursue one's own highest good without at the same time necessarily promoting the good of others. A life based on narrow self-interest cannot be esteemed by any honorable measurement. Seeking the very best in ourselves means actively caring for the welfare of other human beings. Our human contract is not with the few people with whom our affairs are most immediately intertwined, nor to the prominent, rich, or well educated, but to all our human brethren.
— Epictetus
You cannot continue to hate someone without repeatedly wasting, on them, some of your precious time and mental energy.
— Mokokoma Mokhonoana
So is there ever a time when anger is justified? Again, I would have to say no. Hate and anger diminish your ability to be rational, and the stoics teach us to use our rational minds over emotions. And the idea that there is justifiable or righteous anger has led to so many atrocities throughout history. Anger is not an easy thing to control. I know that I might think I'm justified in how I feel about something, but even that justified anger can quickly spiral out of control and I end up saying or doing things I regret.
Mobs that start off feeling justified can spiral out of control and end up doing horrendous things to satiate that righteous anger. Throughout history we see that every tyrant, fascist, and dictator has believed in the righteousness of their cause which has caused immense suffering for so many people. Others in feeling that they have the right to be angry about something, have taken out their anger and rage on others in ways that completely destroy their own life and the lives others.
So what can we do to better manage our anger? How can we work on getting rid of hate? The stoics give us many ways to work on anger, but I think the most important is from Epictetus:
It is not things that upset us, but our opinion of them.
— Epictetus
It really comes down to our thinking. If we spend our time thinking about how awful the world is, or that we deserve something, or how much we hate another person or group of people, we are the ones creating these feelings inside of us with our own thoughts. It is our choice to focus on hate and anger, or to direct our thinking and opinions in ways that help improve our lives. When you spend your energy on hating others, you create a prison of unhappiness in your own mind. When you put hate and anger out into the world, you don't just cause damage to the target of your anger, but to your own character, and you bring that anger into the world.
If you hate a person, then you're defeated by them.
— Confucius
I know that some people feel like they have to prove their strength with anger or violence. But as a simple though experiment, if you see two people arguing and one of them is getting more and more worked up and yelling, while the other is remaining calm, who do think has more control of themselves? Who do you think has the stronger will? Anger is a sign of weakness. Giving into anger and hate is easy. Self control and mental discipline is hard.
As I mentioned earlier, the stoics teach us to identify what we can control, and that the only things we really control are our thoughts, our will, and our choices. You have control over your thoughts. You can change them at any time. When you choose to focus on anger and hate, you are blaming someone or something else for how you feel. You are not taking responsibility for your own thinking and emotions, which is one of the only things you actually do have control over.
As a simple practice, any time you are feeling riled up about something, try to take time out before making any decisions. Before you say those awful things, send that angry text, or post that vicious comment to social media, take a break. Go outside for a walk. Read a book. Play some music and dance. Whatever it is that you do to distract yourself and get your mind to calm down. Once you've given yourself some time to cool off, take some time to examine your thoughts that are causing these angry feelings. Then decide if there is a better way to handle the situation. Take the anger out of your text or post. Can you change it to be something purely factual? Is it something that even needs to be communicated at all?
The last and most important thing you can do is to be careful about what you watch, read, and listen to. There is so much hate fueled media out there and the more attention you give it, the more susceptible you are to falling into hate and violence. Extreme political media, conspiracy theories, and anyone that puts out violence and hate are things that bring no value to your life. Anyone that promotes the idea that you should hate one group or another is someone you really should avoid.
There's a lot of anger in the world right now and it's easy to get swept up in it. Part of being a stoic is learning how to master your emotions and learn to be dispassionate about things so you can view them rationally, and act in ways to promote the greater good. There is no reason to spend your time and energy on hate. There are so many problems in the world that we need to work on together to help make the world a better place. Don't be a part of the problem by adding to the hate and violence out into the world.
---
Hello friends! Thank you for listening. Stop by the website at stoic.coffee where you can sign up for our newsletter, and buy some great looking shirts and hoodies at the Stoic Coffee Shop.
Want to help support this podcast? Become a patron on patreon!
Like the theme song? You can find it here from my alter ego. 🙂
Find me on instagram or twitter.
Lastly if you know of someone that would benefit from or appreciate this podcast, please share it. Word of mouth is the best way to help this podcast grow. Thanks again for listening.