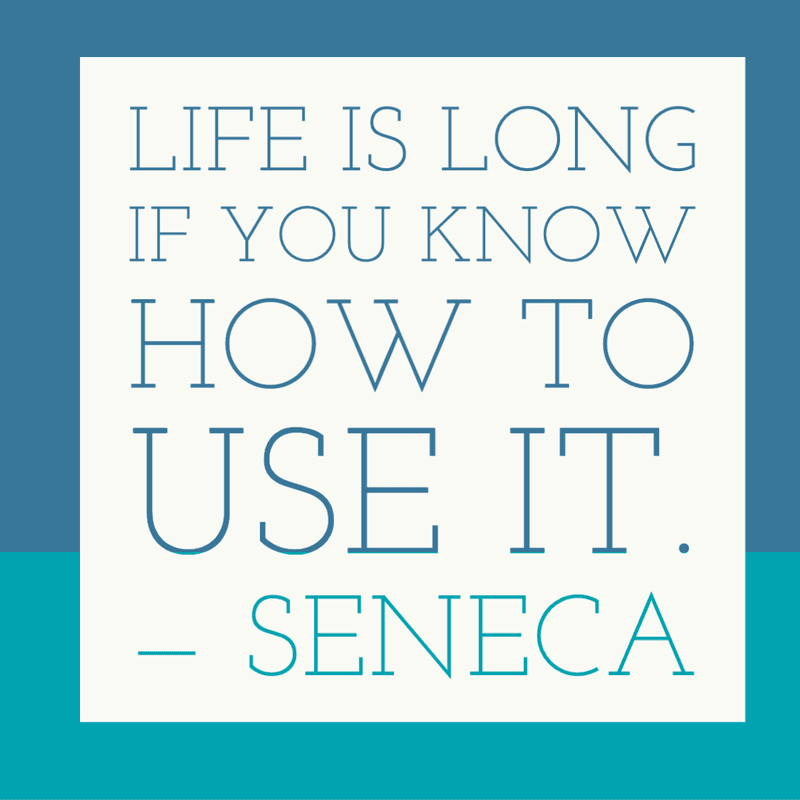 Like what you hear? Become a patron!

"While we wait for life, life passes."

— Seneca
Time is the most important, the most in demand resource that we have in life. Are you spending yours wisely or do you let it go to waste? Today I want to talk about time, and how we can take some steps to be mindful of how we spend it.
"It is not that we have a short time to live, but that we waste a lot of it. Life is long enough, and a sufficiently generous amount has been given to us for the highest achievements if it were all well invested. But when it is wasted in heedless luxury and spent on no good activity, we are forced at last by death's final constraint to realize that it has passed away before we knew it was passing. So it is: we are not given a short life but we make it short, and we are not ill-supplied but wasteful of it… Life is long if you know how to use it."

— Seneca
How Much Time?
The most finite resource that each of us has is our time. We can always make more money, but making more time is not something that any of us can do. We only have a finite number of hours in our life, and we don't even know how many we truly have. Which is all the more reason we should work on spending our time more wisely.
"Were all the geniuses of history to focus on this single theme, they could never fully express their bafflement at the darkness of the human mind. No person would give up even an inch of their estate, and the slightest dispute with a neighbor can mean hell to pay; yeta we easily let others encroach on our lives — worse, we often pave the way for those who will take it over. No person hands out their money to passersby, but to how many do each of us hand out our lives! We're tightfisted with property and money, yet think too little of wasting time, the one thing about which we should all be the toughest misers."

— Seneca, "On the Shortness of Life,"
Wasting Time
What are the time-suckers in your life? How much time do you spend on social media? How much time do you spend on watching Netflix on a given night? None of these things are bad in and of themselves. I enjoy good movies and art because those are things that I enjoy in this life. Life doesn't need to be so serious and all about work, but we need to be thoughtful about how we spend our time, just as we should be thoughtful about how we spend our money. For example, I limit my time on Facebook since it such an easy rabbit hole to fall into. I can waste hours just scrolling and trying to stay up on everyone's posts, soI limit myself to about 15-20 minutes a day to catch up with friends and see what's happening in their lives.
When I was in college, I saw a talk given by movie critic Micheal Medvid. While I don't see eye to eye with him on a lot of things, he said something that really stuck with me. He said talked about how at the time the average American watched an average of 28 hours of TV a week. And this was before we had Facebook or Netflix. He talked about the fact that it's not that there isn't enough quality media to watch. There's plenty of good material. It's that we lose a lot of our lives if we're immersed in that much TV. We miss family connections. We miss out on living our own lives when we live by proxy of watching someone else's life, real or fictional.
Intentionality
I want you to ask yourself, "what do I want to accomplish in my life?". Do you know what that is? When you know that, every choice you make then becomes a simple question: "Does this get me closer to the vision of my life?" When you have a clear filter of what you want, it makes it easier to decide. Be aware though, once you know your purpose, there will be times when you have to pass opportunities that seemed more fun but do not help to fulfill the vision and purpose of your life.
But to be sure, it doesn't need to be all about work and achieving your vision. I think part of having a good and happy life is to choose things from time to time that enhance your life that have nothing to do with your purpose of life. Watch films just for fun. Read books that are guilty pleasures. Have variety in your life and make sure that you enjoy the pleasures of being human! What it really comes down to is being clear and deliberate about the things that you choose to spend your time on. It comes to making sure that you really think about each "yes" and "no".
Priority
Multi tasking is not really something we can do as humans, and yet we continue to think that we can do more than one thing at a time. But for me, the question is why? Why would you want to focus on multiple things? When you are not focused on the task at hand, then you are not deeply immersed in what you are doing. You do it less well, take longer to do it, and can easily miss out on some of the more subtle aspects of the task. I know that for me when I'm writing or working on music, the more focused I am, the more I enjoy the work, and the better my work is. I'm able to be more creative, come up with more interesting ideas, and discover concepts that I would have missed if I had not been immersed in my work.
I often hear the term that you have to "set your priorities". The thing is, you can't have priorities. Priority means "fact or condition of coming first in importance or requiring immediate attention", meaning the concept is singular – at any given time, there can only be one priority. You may have a hierarchy of tasks on your todo list, but there can be only one priority at a time.
So what is your priority? This is going to be different for everyone. For some, family is their priority. For others, it may be their work. Others it may be service to a cause. There is nothing that dictates what your priority should be. Each person needs to decide for themselves what is most important for them. And why is important to have your priority figured out at any given moment? Because if you aren't clear about what you are trying to focus on, it's very easy to get distracted, and to get off track. If you don't have a clear vision of where you want to go, then you'll end up exactly where aim – nowhere.
And the thing is, it's going to vary for each person. Everyone has different things that are of more or less importance than others. And we need to understand that what we find important is not going to be the same for others. And that's okay. If everyone had the exact same priority, we'd have a very much less interesting world to live in. Understanding what your priority is at any given moment can help guide you in focusing on the things that are most rewarding.
Core Values
One of the areas that can help you choose what your priority is at any given moment is by understanding your core values. I've talked a lot about figuring out what your core values are in order to help you understand what should be at the top of your list. Knowing what is important to you and filtering things through the lens of your core values can help you quickly determine what is worth your time and effort and what you bump off your todo list.
Changes
As you move through the different stages of life, you'll find that the things that were important to you in your teen years will be far different from those in your twenties. Those things that seemed so important in your twenties will change dramatically in your thirties. Every stage of life is space of learning new things. You'll have different responsibilities and different things competing for your time. You'll find that some things you thought were so important when you were in college seem ridiculous when you've you look back on them 10 years later. As we learn and grow as people, we're always going to be changing.
Indecision
When we don't know what we want to achieve in our lives, we can easily fall into a space of indecision. We get suck on trying to find the "right" path and often find ourselves with many interesting choices and unsure which way to go. I have often struggled with deciding where to focus my time outside of work. For a long time I would go back and forth between my different hobbies, choosing to focus on one for a while and then another. I felt guilty about it for a while, but looking back on how things have evolved in my life over the past few years, I wish that I would have been more gentle with myself and just enjoyed what I was working on. I was so worried about being successful at what I was doing that I didn't always enjoy it while I was doing it. I can see now that switching back and forth was actually what I needed because, at certain times, I need different things in my life. I also needed to experiment with my different hobbies and see what worked and what was fulfilling. I think that is why I taking a year and a half off from the podcast was actually really helpful for me. It took the pressure off, so when I returned, I returned to it with pleasure because I missed the process of creating episodes and the personal growth that it helped me with.
If you're in this place of indecision, that's okay. What I would suggest is that you just do something. Even if you don't know exactly what you want to do, just do something that seems interesting or fulfilling. You don't have to be successful at it for it to be a good thing in your life. Focusing on being successful at something can take the enjoyment out of doing something. Not everything has to lead to some accomplishment, and you can always change your mind. Just doing something you truly love for the joy and pleasure of it as part of being human!
Conclusion
Anytime is a good time for us to look at what we're spending our time on in life. Taking time to be sure that the things we're spending our time on are moving us forward towards the kind of life we want to have is something we should do on a regular basis. By taking the time to evaluate if the goals that we have line up with our priority and our core values, we can be better at choosing those activities that enhance our lives. We can be sure to use our most precious resource wisely.
—
Hello friends! Thank you for listening. If you like what you hear, head on over to patreon.com/stoicoffee and help support this podcast by becoming a patron. Also stop by the website at www.stoic.coffee where you can sign up for our newsletter, and buy some great looking shirts and hoodies at the Stoic Coffee Shop. Also, if you know of someone that would benefit from or appreciate this podcast, please share it. Word of mouth is the best way to help this podcast grow. Thanks again for listening.