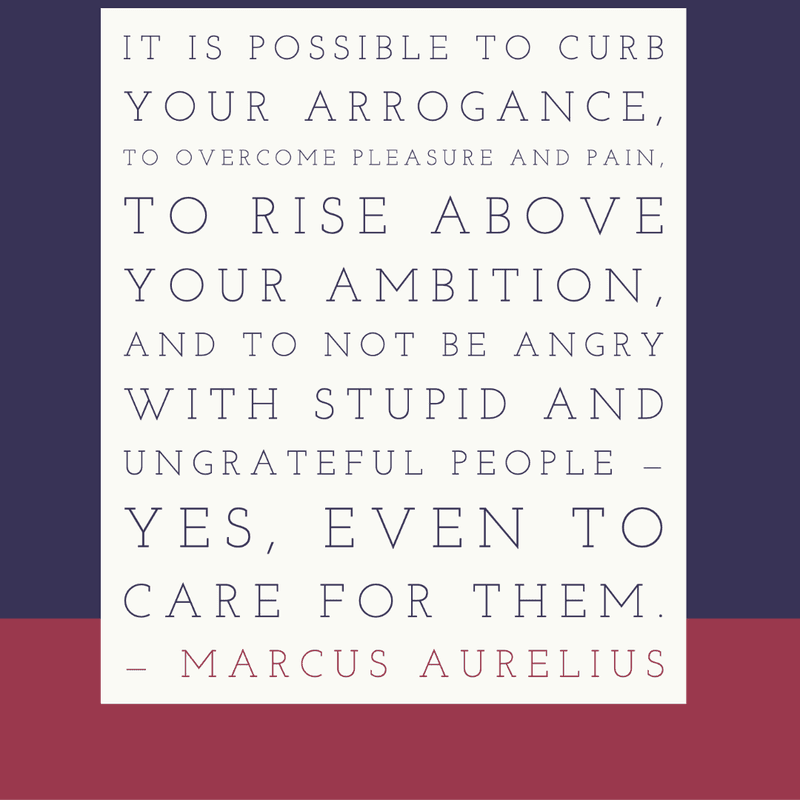 How do you win an argument? All of us have to deal with conflict in our lives. To think otherwise is completely unrealistic. But when we have an argument, what is our goal? What do we hope to achieve? To change the other person's mind? To prove that we are right?
Today I want to talk about why we argue, and the best way to win an argument.
It is possible to curb your arrogance, to overcome pleasure and pain, to rise above your ambition, and to not be angry with stupid and ungrateful people — yes, even to care for them.
— Marcus Aurelius
Why do people argue? If you asked most people, they would probably tell you that they don't like to argue, that they don't like conflict. But if this is the case, why do we have so many arguments as humans? But so much of what we read, see, and hear in our media is people arguing about what they see as the "right way" for things to be done or how someone else is wrong.
The nature of conflict
At its core, the main reason we have so much conflict is that we each experience a distinct reality. Every person in the world has a unique perspective on reality. This is a combination of so many factors including their past experiences, biological makeup, current state of mind, education, and general outlook on the world. External factors include the culture they live in, the culture they grew up in, the language they speak, the country they live in, and their physical environment, to name a few.
Because of the large number of variables to go to make up a persons perspective on reality, no two people are ever going to see the world in the same way, and there is bound to be conflict in any area of life as people interact with each other. The only way to completely avoid conflict with others is to completely avoid all contact with any other person.
In religion, people have settled on a set of beliefs that strongly influence what they believe about the world. Some believe that there is a grey-haired man in the sky who is watching every action you take and knows every thought you think and is judging you for every thought and action, and will punish you once you die. Some claim that because of thoughts and actions of others, bad things happen as a punishment from god. Hurricanes, tornadoes, and even earthquakes are a manifestation of this god's wrath upon one part of humanity for the alleged sins of another part of humanity. This capricious nature of some higher power that would punish people for the sins of others is one thing that drove me from religion.
When it comes to politics, peoples political views are strong enough for them to take actions that can be highly detrimental to those less fortunate, have the wrong skin color, or speak a different language. We find people on opposite sides of the political spectrum holding wildly different ideas about how things should be run. Often we see how people will often oppose an idea, not on its merits but because the other side supports the idea. They may even believe the idea is good, but are completely unwilling to support it simply because their side did not propose it.
Some people believe that there is a certain hierarchy of humans based upon factors such as education, family, class, money. Some believe that there is a ruling class and that others are simply meant to be ruled. Some believe that others are born inferior, based upon their family, race, sex, or gender identity and therefore are lesser beings. This often leads them to act in ways where they feel they have privileges not afford to others. When someone fundamentally believes that they have the right to control another person without their consent, there's bound to be conflict.
In our personal relationships we find that most of our conflicts arise from when we believe that the other person's ideas or actions are incorrect and we try to change them. When we feel like we have the right to coerce others to change their opinion or change their actions, we're going to have issues. We are trying to control something that we do not have control over. We might think that because of our relationship with this person we have that right. This happens frequently with romantic partners. We might find that we disagree with our partners on something that we find troubling. Maybe they have a point of view about something that we think is just plain illogical or frivolous. Even so, we do not have the right to coerce them either through arguments or physical means into chaining their minds simply because we disagree with them.
In the case of parents, depending on the level of maturity, we have the duty to take care of our children. We need to take care of their physical needs, and do our best to teach them how to manage in the world. But even though we are in charge of them, we do not have the right to force our children to change their opinions to suit us. Our job as parents is to teach them how to form their own opinions and teach them the skills they need to survive in the world. The less we focus on making sure they have the right opinions, and help them understand how to form opinions and apply critical thinking to the world, the better they'll be able to cope with the challenges of life. They may have less experience, and may not have skills in many areas, but this does not mean that we have the right to violate their personal autonomy. When you beat your kids or verbally abuse them, your are violating their person, and trying to force them into conforming to your will. You are trying to control something you cannot control. Think about how many times your parents told you something, and you just agreed with them to avoid an argument, even though you did not agree with them. Beating your children as punishment causes trauma in your kids that is not easily remedied. As the provider and protector of children, your children should not fear you, but should be able to lean on you to get their physical, mental, and emotional needs met, and to help them learn how to navigate the world
"As you move forward along the path of reason, people will stand in your way. They will never be able to keep you from doing what's sound, so don't let them knock out your goodwill for them. Keep a steady watch on both fronts, not only for well-based judgments and actions, but also for gentleness with those who would obstruct our path or create other difficulties. For getting angry is also a weakness, just as much as abandoning the task or surrendering under panic. For doing either is an equal desertion— the one by shrinking back and the other by estrangement from family and friend."
— Marcus Aurelius
How To Win An Argument
First and foremost, we need to accept that we all have a different version of reality.
Second, we need to recognize that we do not have the right to force anyone else to agree with or believe in our version of reality.
Third, we need to understand our goal for the argument. Are we trying to convince someone of the rightness of our position and the wrongness of theirs? I know that if someone if trying to push me over to their opinion, I almost automatically resist. If they aren't interested in why I hold the opinion I do, then it makes it really hard to want to listen to what they have to say. It says right off the bat that they think I'm wrong and they're setting out to prove it. No one likes to feel this way.
The other thing is that if you don't understand why a person believes what they do, you won't be able to address the factors that caused them to believe it in the first place. Often, when you listen and try to understand why they hold their opinion, they may even discover the flaws in it, and you may discover flaws in your own thinking.
I propose that the goal of any argument you have is that you act honorably. That upon reflection, you can feel good about your behavior. For me, that includes not yelling or name calling. It means listening to why they feel the way they do. It means that I care that something bothered the other person. It does not mean that I have to do anything about it. It does mean that I have concern that something bothered them. That's it. I don't have to agree with them, but I should care.
If you are unwilling to be open to changing your opinions, why should you expect someone else to be willing? Remember, the only thing you can control is your thinking, your opinions – not anyone else's.
Any time we deal with other people in any situation, there will be conflict. We will never agree with someone else 100% of the time. It's just not possible, nor is it going to help you grow. If your goal is to act honorably, with compassion and caring and not just to change another person's mind, then you can win any argument.
---
Hello friends! Thank you for listening. If you like what you hear, head on over to patreon.com/stoicoffee and help support this podcast by becoming a patron. Also stop by the website at www.stoic.coffee where you can sign up for our newsletter, and buy some great looking shirts and hoodies at the Stoic Coffee Shop. Also, if you know of someone that would benefit from or appreciate this podcast, please share it. Word of mouth is the best way to help this podcast grow. Thanks again for listening.