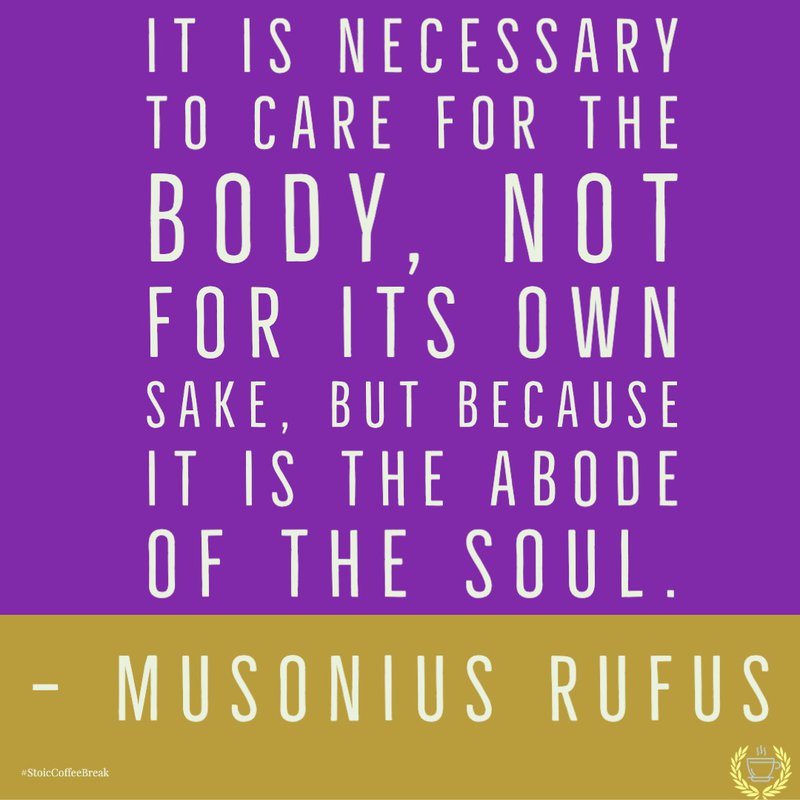 Do you take care of your body? To you treat it like a temple? Do you exercise it and strengthen it as much as your mind? Today I want to talk about how important it is to treat your body as good as, if not better than your mind.
It is impossible to live a pleasant life without living wisely and well and justly, and it is impossible to live wisely and well and justly without living a pleasant life. And the wise man needs to take care of his body just as a farmer takes care of his land.
— Epictetus
The stoics teach us that it is our mind and our perspective which creates our reality, and on this show I talk a lot about understanding our thinking so that we can be the kind of people that we want. We spend a lot of time focusing on the mind. But the other day I was thinking about some of the changes I've made to my physical environment that have made a big impact on my life, so today I want to talk less about the mind and more about the body.
It is necessary to care for the body, not for its own sake, but because it is the abode of the soul.
— Musonius Rufus
One of the most important things that we need to remember is that we experience the world physically, that is, through our bodies. It is through the senses that we perceive the world. If we didn't have a body and senses, there would be no way to experience or interact with the world. The brain is reliant upon the input that it receives from the body. To neglect the body means that we experience the world in a less than optimal way.
The state that our body is in can have a very large impact on our perceptions of the world. If you're tired or feeling unwell physically, it colors how you view the world. It can have a big impact your mood. It can also lead to poor decision making, which is why we are better served by making important decisions when we are well rested.
Physical Health
I maintain that the first step to freedom is to take care of one's health. If a man is diseased in body, his mind will also be diseased.
— Seneca
I think that a good number of mental health issues can trace their source to physical health issues. If you aren't taking care of your body, if you are eating only junk food or not getting the proper nutrition your body needs, it can make it challenging for you to think clearly.
If your body is not in good condition, then you are already starting at a disadvantage. This doesn't mean that you need to become a gym rat and spend every free moment working out. It does mean that you eat a healthy diet, exercising every day, and getting enough sleep. It also means that we seek help if we have substance abuse issues with alcohol or drugs.
Alcohol
Over the past few months I've made number of changes that have impacted my life in a very positive way. The first major change was that over a month ago, I stopped drinking alcohol. I found that I was using it to avoid having to deal with difficult emotional situations and emotions. It had also became an almost nightly habit, though I found that I was drinking more on nights when I was particularly stressed. It also made me more impulsive and less able to manage my emotions and my temper.
Sugar
Around the same time, I decided to change my diet because I was having digestive issues fairly regularly. I stopped eating refined sugars, and replaced them with fresh fruits and vegetables. I've paying attention to things that don't sit well, and avoid them. At times it has felt a bit restrictive, but then one night when I was out for dinner I decided to splurge on chocolate cake, and while it tasted delicious, I suffered for the next two days as my body processed all that sugar.
I had put on weight during the pandemic from drinking soda every day, as well as having desserts fairly often. Just removing alcohol and sugar from my diet has made a quite a difference. I've lost 8 pounds in last month. I had made other changes to my diet, but did not lose any weight until I removed them. I have been feeling much more mentally aware. I have a lot less problems with my digestive system, and I just feel better overall. I feel like I'm clean on the inside.
Exercise
The last big change I've made is that I've been doing 20 minutes of yoga or stretching every morning, as well as a minimum of 20 minutes of more strenuous exercise during the day such as waking, cycling, or rowing. Because a of healing shoulder injury I have not been lifting any weights, but with these exercise I find that I am building muscle. As I lose more weight I can also feel some of the formerly flabby areas of my body starting to tighten up. I also feel more awake and find that my mind and thinking have been much clearer. My mood is improved and I handle stress significantly better.
Sleep
In study after study, science has shown that sleep is one of the keys to good health. I know that when I don't get enough sleep over an extended period, I'm more prone to catching colds or developing a sinus infection. Unfortunately, sleep is an area where I have been struggling over the years, and especially over the last 3 months. For some reason my body has gotten into a habit of waking up after 4-5 hours and most nights I'm unable to fall back asleep. I've been working to get better sleep and some nights I'm more successful than others.
In my quest of a good nights sleep, I have found a few things that increase my chance of a good night sleep. As I mentioned before, I'm eating healthier, reducing alcohol, and exercising everyday. I've been heading to bed at a reasonable hour, and I have wind down routine that includes some nice piano jazz, and a few minutes of meditation before my head hits the pillow.
Discipline
Another benefit that we get when we focus on taking care of out physical health, is that we develop more self discipline. If you find that you have problems with mental discipline, then practicing a sport or marshal art or almost any physical activity can help you develop more discipline that can be applied in other areas of your life. I find for me that they go hand in hand. When I'm taking care of myself physically, it is much easier to take care of myself mentally.
Conclusion
Moderation is freedom from that which is disgraceful and servile, while intemperance is the contrary.
— Epictetus
Now, I'm not saying all these things to brag about myself. I'm not saying that you need to stop drinking or enjoying dessert or that you need to hit the gym every day. I'm sharing what I've changed in my life that has been helping me live a better life. Many of these are things that I knew that I needed to change for quite some time, but I resisted.
Many of them I resisted for years.
I think that some of these, especially the alcohol, were ways of coping with stress in my life. I think as I made some of the bigger mental health breakthroughs in my life, it made it easier to finally decide to make the changes I knew would be beneficial for me. I didn't need these things as crutches. I could face my challenges head on.
The stoics speak often of temperance, which means finding moderation and balance in our lives. For me, this means that I focus on keeping my mind and body healthy. It means that I make choices that are more beneficial in and help me feel better in the long run. And I'm finding that as I improve my physical health, I'm enjoying the the fact that I look better, feel better, and think better.