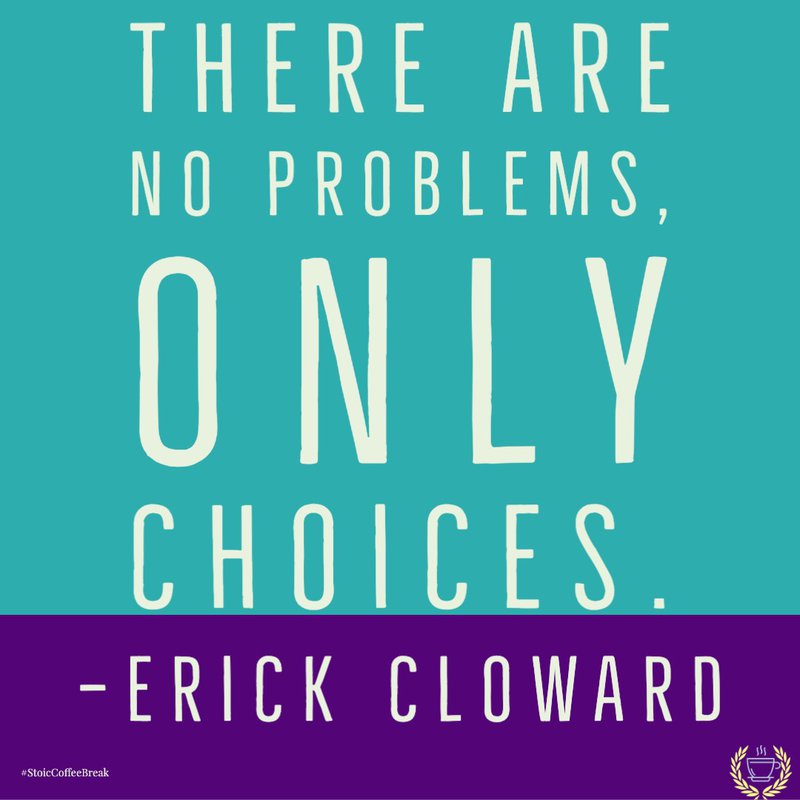 The stoics teach us that our perspective on life is one of the most important things that we can control. It's our perspective that informs how we approach everything. Today I want to talk about a powerful way to look at the world using stoic principles that can help us become more resilient, and better able to handle stresses in our lives.
If you are distressed by anything external, the pain is not due to the thing itself, but to your estimate of it; and this you have the power to revoke at any moment.
— Marcus Aurelius
What if there were no problems in your life? I don't mean that you don't have things that are challenging, but what if, rather than fretting about something and framing it as a problem, you could just look at something as a choice to be made?
I've been thinking a lot this week about an idea of how to approach challenges in life. It's very different than how I currently see things, and this podcast is an attempt to try and solidify these ideas into a kind of operational framework.
But what if we decided that nothing was ever a problem? That every situation you came upon didn't carry a judgment of being good or bad? Is there a way to look at each situation as an opportunity to just make choices?
Problems
When I have things in my life that I'm struggling with, I view it as a problem. This creates a whole kind of frame around it, and makes it kind of an object in my mind, and makes it something that I can focus on. And though this can be helpful for being able to focus attention on something, when I cast it in the role of being a problem, it immediately has a negative connotation to it. I attach worries to it. I can ruminate it on it to an unhealthy degree.
At times, this worrying about the future can be stressful and even overwhelming. This kind of worry is not helpful, wastes tremendous amounts of energy, and colors my mood in the present.
So today I'm going to show you how to use some key stoic principles to help you change your perspective, worry less, and make better decisions.
Making Choices
There's an old saying that I try to remember when I get stuck in making decisions.
Good decisions come from wisdom.
Wisdom comes from experience.
Experience comes from making bad decisions.
The more choices we are willing to make, the better we get at making them. So how do we get ourselves to make more choices without feeling overwhelmed? What can we do to help us make better decisions and take actions that help us move in the direction we want?
Amor Fati
Never let the future disturb you. You will meet it, if you have to, with the same weapons of reason which today arm you against the present.
— Marcus Aurelius
The first principle I want to talk about is Amor Fati. Amor Fati means "to love your fate", which means to love everything that happens to us.
This is often a hard concept to truly embrace. I think that most of us are happy to embrace the good things that happen to us and just try to tolerate everything else. But there are a few reasons why loving your fate is one of the best things that you can do to let go of worry.
The first reason to love everything that happens to you is because it is happening to you. The fact that you love it or not doesn't change that it has has happened or is happening to you. You loving or hating is just your reaction based on your judgment of it. So, since it's happening anyway, why not love it?
Second, if you can love everything that happens to you then everything is an advantage. Nothing is a disadvantage or something that you can't learn from. Since everything is an opportunity for you, you become anti-fragile.
A simple example. If you are short, love the fact that you are short. Don't lament that you aren't tall, because it's a waste of time and cannot be changed. Then, find all the advantages life gives you for being short, and use them. For you Game of Thrones fans, Tyrion Lannister is a great example of someone playing to their strengths.
Or, let's say a tornado comes along and destroys your home. You can stress out about everything that you've lost, get mad at the universe or god, and allow yourself to feel terrible. Or, you get to see it as an opportunity to build a new house. You can see it as a signal that living in that particular city or town may not be a good option, and move somewhere else.
Or, let's say your partner breaks up with you and breaks your heart. You can hate them and feel like they ruined your life. You can be bitter and hurt. Or, you can understand that there are reasons that the relationship didn't work out. You can appreciate all the good things, think about what you've learned. You can go into your next relationship a bit wiser.
No Opinion
You always own the option of having no opinion. There is never any need to get worked up or to trouble your soul about things you can't control. These things are not asking to be judged by you. Leave them alone.
― Marcus Aurelius
One way that we can reduce the number of "problems" in our lives is to have no opinion on something for as long as possible. Now, this may seem counterintuitive, but think about it this way. How many things in your life do you really need to have an opinion about? For example, do you really need to care what someone on twitter said? Do you need to have an opinion on what someone was wearing on Instagram?
This doesn't mean you need to ignore things. It just means that you see events as happening, as information to take in. You can observe as long as you need and only make an opinion if it is something that truly needs you attention. Once you have an opinion on something, then you have something invested in it, so be miserly with your opinions.
Mindfulness
When you are able to see things as choices, then you are more present. When you aren't running away from or avoid problems, then you are able to be more mindful. You aren't stuck worrying about things that may happen in the future because you are focused on making choices in the present.
You can think more long term. You can ask yourself, "What choice can make that will have a better long term outcome?" You're not focused on that fact that you have a problem to deal with. You focused on what choices you can make.
Don't Sit in Confusion
One of the most important things we can do is to not sit in confusion. If you see things as insurmountable problems, you will fret over those things, and you feel a lot of fear and distress. We will often sit in this place of confusion and indecision because we're afraid to make choice.
I know for me, a lot of stress comes when I don't make a choice, or I worry to much about which choice to make. I can fret about something for days or weeks, all the while feeling the tension of indecision. When I finally make a decision, there is often a feeling almost bliss because I've finally relieved that stress. Making choices helps clear away confusion.
Take Action
We should not be so taken up in the search for truth, as to neglect the needful duties of active life; for it is only action that gives a true value and commendation to virtue.
— Cicero
Life is not a series of problems to solve, but something to experience. You experience it by making choices and taking actions.
If you see the world as something to be experienced, then you have less fear around making a choice, because if your goal is to have an experience and learn from it, then any choice you make will help you reach that goal.
When you see the world through the lens that life is about choices to make, then you are no longer being acted upon by the world, and so you are no longer a victim. You are moving through the world making choices and taking actions. When you see things a choices, rather than problems, you are focusing on what you can control. You are always looking for what choice you can make in any situation, which, if it is something you can choose, then it's something that's under your control.
Priorities
If you find yourself getting stuck in trying to make a decision, one of the most important tools you can use is find the choices that most align with you priorities and core principles. Taking the time to clarify your values can help you see what is most important to you, and how the options align with your priorities.
Small Steps
If you get stuck in making a choice, make a small one. Just test it out. See how it feels. Sometimes we just need to get started moving in a direction so that we aren't stuck. We can change our minds and move in a different direction if it doesn't work for us. But sometimes we just need to keep swimming.
Conclusion
The closer we can get to seeing the world as choices rather than problems, the closer we can get to being a flow state in our lives. What I mean by flow state is when you're playing a sport, or an instrument, or even a video game, you can hit a state where everything just feels like you can't fail. When a problem comes up, you make decisions easily. You can easily marshal whatever resources you need, and easily handle any situation.
Working on seeing the world through the lens of choices to make rather than problems to solve is not an easy shift to make, but I think that the more you can adopt this perspective, the more you can enjoy the experience of living, and not get bogged down in the challenges in your life. You are more present and mindful, and worry less about the future. By improving your ability to make choices and take action, the more you will be able to live the kind of life you want, because you will see that there are no problems, only choices.
---
Hello friends! Thank you for listening. Stop by the website at stoic.coffee where you can sign up for our newsletter, and buy some great looking shirts and hoodies at the Stoic Coffee Shop.
Want to help support this podcast? Become a patron on patreon!
Like the theme song? You can find it here from my alter ego. 🙂
Find me on instagram or twitter.
Lastly if you know of someone that would benefit from or appreciate this podcast, please share it. Word of mouth is the best way to help this podcast grow.
Thanks again for listening.