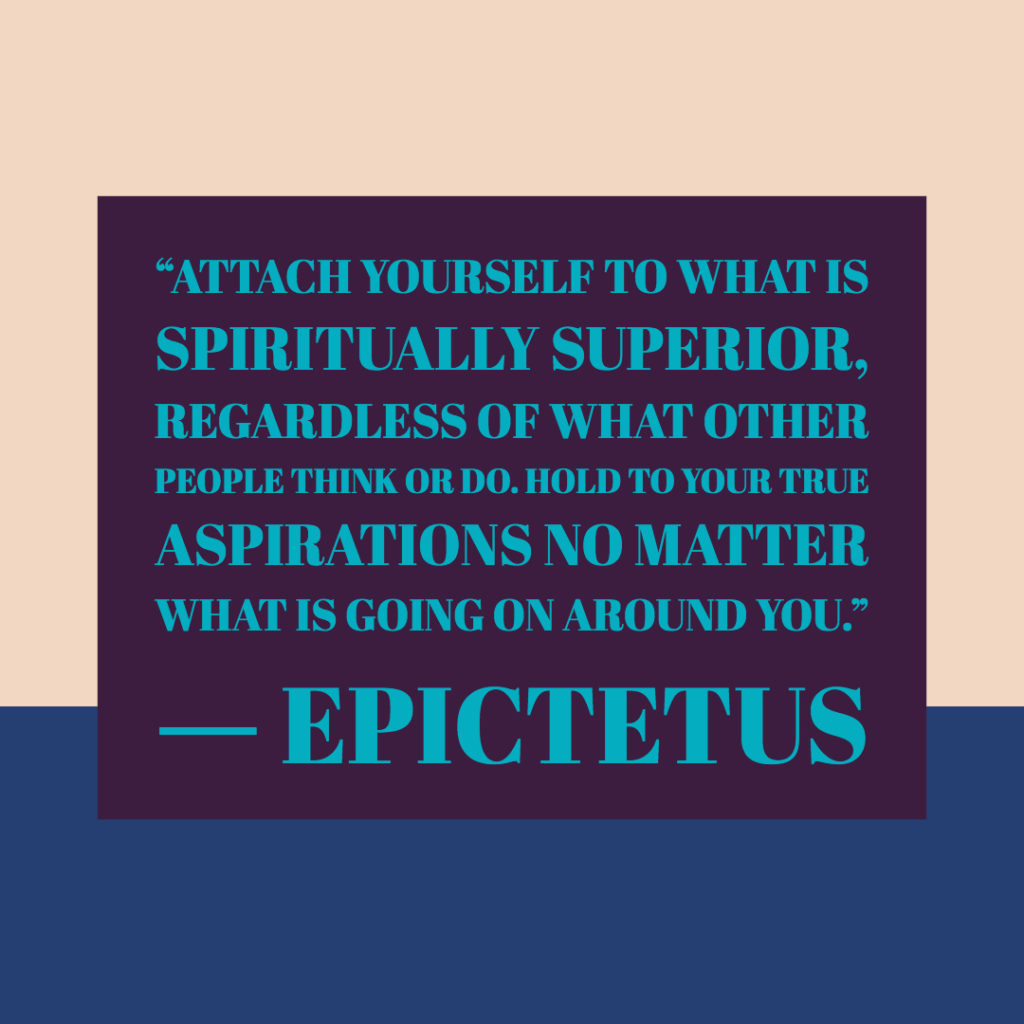 "Attach yourself to what is spiritually superior, regardless of what other people think or do. Hold to your true aspirations no matter what is going on around you."

— Epictetus
This weeks episode is about finding your values and holding true.
As children, we're taught how to get along with others, how to be congenial, to fit in. Kids that are seen as different or weird are often ostracized or teased. As we grow up, I think that most of us have a time in our lives where we feel like we're not like everyone else, and we try so hard to fit in, and we try to change ourselves into something that we really aren't. When we do this we have a feeling of being inauthentic. Even if we are "liked" in the moment, it's a hollow feeling because we know that we fit in by being fake.
As we get older, most of us generally find a way to fit in and get along. We may hold onto the religion that we grew up, even if we don't really believe it, simply because it's easier to get along. If we are not careful we can take on attitudes and ideas that are not really our own. We may just simply default to the values of the culture that we live in.
"You need to get used to winnowing your thoughts, so that if someone says, 'What are you thinking about?', you can respond at once."

— Marcus Aurelius
How well do you know yourself? If someone were to ask you today what your values are, what would be in that list? Would you know right offhand or would you have to think about for a while? Would those beliefs be truly yours, or would you simply say what the people around are saying?
"I stood for nothing, so I fell for everything"

— Katy Perry
My partner and I were talking the other day about the fact that I will sometimes not really share my own opinions because I'm afraid of that she'll get upset with me. This, of course, annoyed her, because she wants to know my opinion on things. She may disagree with it, but it's still valid for me to have my own opinion. As we talked about it, the more I could see that I often censored myself around others because I don't want to upset them. That people pleaser in me still pops up sometimes without me really noticing it.
As we talked about it, she came up with an idea that I should write down what my values are, then if someone didn't agree with something I said or was offended, I could go down my list of values and as long as I didn't violate my own values, then I could feel good about my actions, regardless of what someone else thinks. So that's what I did. I did a search on personal values and compiled a list of those that I feel are important. I came up with five core values: self-respect, compassion, openness, growth, and leadership. Under each of these values, I have a set of traits that clarify that value, as well as a question I can ask myself when I go down this list.
For example, my first, and for now most important value is self-respect, to love and value myself. The traits or sub values under that are:
Authenticity – Am I be true to myself, and are the beliefs I hold ones I have chosen?
Honesty – Am I being truthful to myself, and taking responsibility for my actions?
Humor – Can I relax and laugh at myself and be okay with my mistakes?
Autonomy – Am I being my own person, and not behaving differently because I'm worried about what others think of me?
If I can answer each of these questions honestly, then I am holding to my value of self-respect.
What are the values that you hold for yourself? What are the things that you hold as your core beliefs? Now when we start off figuring out what we truly believe in, we often have a hard time articulating what we truly believe in. We may have a clear idea of what we don't want, and that's not a bad place to start. Knowing that we don't want intolerance or racism as part of values is a good place to start.
I would encourage you to take some time this week and list off the things that are important for you. If you are having trouble coming up with some ideas, go to my website www.stoic.coffee and you'll see a link to a worksheet that has a list of about 45 personal values, examples, and place for you to fill out your values.
The first part of being able to hold to your values is to know what they are. Whenever you find yourself unsure if you are being true to the things that are important, you can run down this list, and see where it may or may not fit in. If you can check off everything on your list, then you can feel comfortable with your actions and "hold to your true aspirations no matter what is going on around you."